What a year! Since it's inception in January of 2012, PHSH TANK has provided Philadelphia with the only event of it's kind: A SIMULTANEOUS DANCE PARTY AND ART SHOW.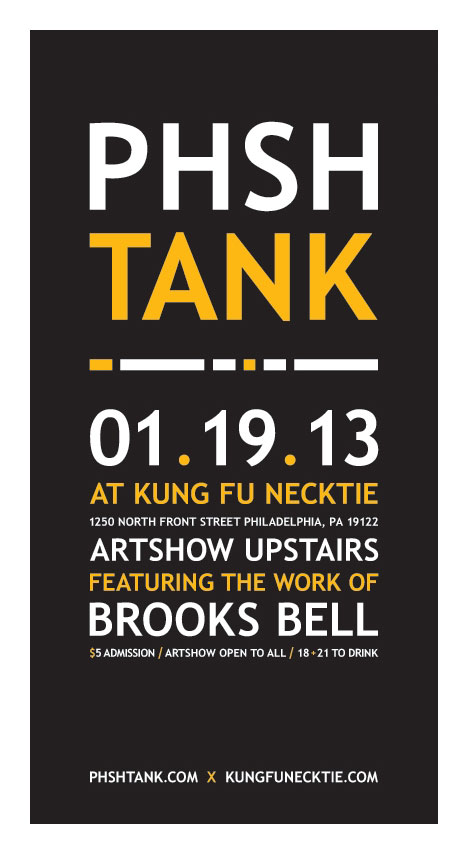 A collaborative effort between DJ PHSH & SEDSO DESIGN, the event showcases artwork through video projection while the party-goers get down on the dancefloor. The moment that one steps inside of the TANK, they will immediately see the large projected works of the months' featured artist illuminating the wall of the club.
After a year of building up a great following at Fluid Nightclub, the PHSH TANK team has decided to expand their vision. In an effort to give the featured visual artists the shine they deserve, the TANK is moving to a new home: Kung Fu Necktie!
Using the 2nd floor of the club, SEDSO DESIGN will curate a pop-up art space every month from 7pm-10pm. This space will offer attendees a chance to see the physical artwork in person, but also purchase & collect limited edition pieces by the months' featured artist. This month's featured artist is non other than BROOKS BELL (Decades Hat Co.). Bell is an extremely talented street artist & clothing designer...you won't want to miss this show, folks.
The show, entitled "EVERYTHING'S 4 SALE," is his take on the age old understanding (and misunderstanding) of "selling out."
DJ PHSH of the ILLVIBE COLLECTIVE will provide the soundtrack downstairs from 10pm-2am. His original mixing style paints a sonic picture of old & new, always keeping the dancefloor going.
Also, when you see DJ PHSH, remember to congratulate him on advancing to the East Coast regional round of the Red bull Thre3style DJ Competition last week. We're pulling for you Phsh!
Gallery show starts at 7pm // Dance party starts at 10pm. Heineken specials from 7pm-10pm.
For more information on DJ PHSH, make sure you follow him on Twitter and Instagram.
For more information on BROOKS BELL, follow him on Twitter and Instagram.
Phsh Tank Kung Fu Necktie1250 N Front St. Saturday, January 19
7 pm - 2 AM$5 for the gallery show & party
Sponsored by Heineken Green Room