It seems that everywhere you turn lately there's a new park, garden or other hangout spot popping up for the summer. The latest is The Oval at Eakin's Oval on the Benjamin Franklin Parkway. The outdoor cultural spot has hosted gatherings throughout the year, but now is—for the second summer—offering a full lineup of programming throughout the summer starting Wednesday, July 16.
For six weeks until Sunday, August 17, every Wednesday through Sunday, a variety of family and community friendly events and activities, bring more excitement to the Parkway.
It all starts Wednesday, July 16 with a special kick-off event, unveiling the space's art theme for the summer: Magic Carpet by artist Candy Coated. The five section piece comprising of color, 3D elements, sand boxes, a stage, games, and other sensory details, the Magic Carpet runs through the park's eight acres.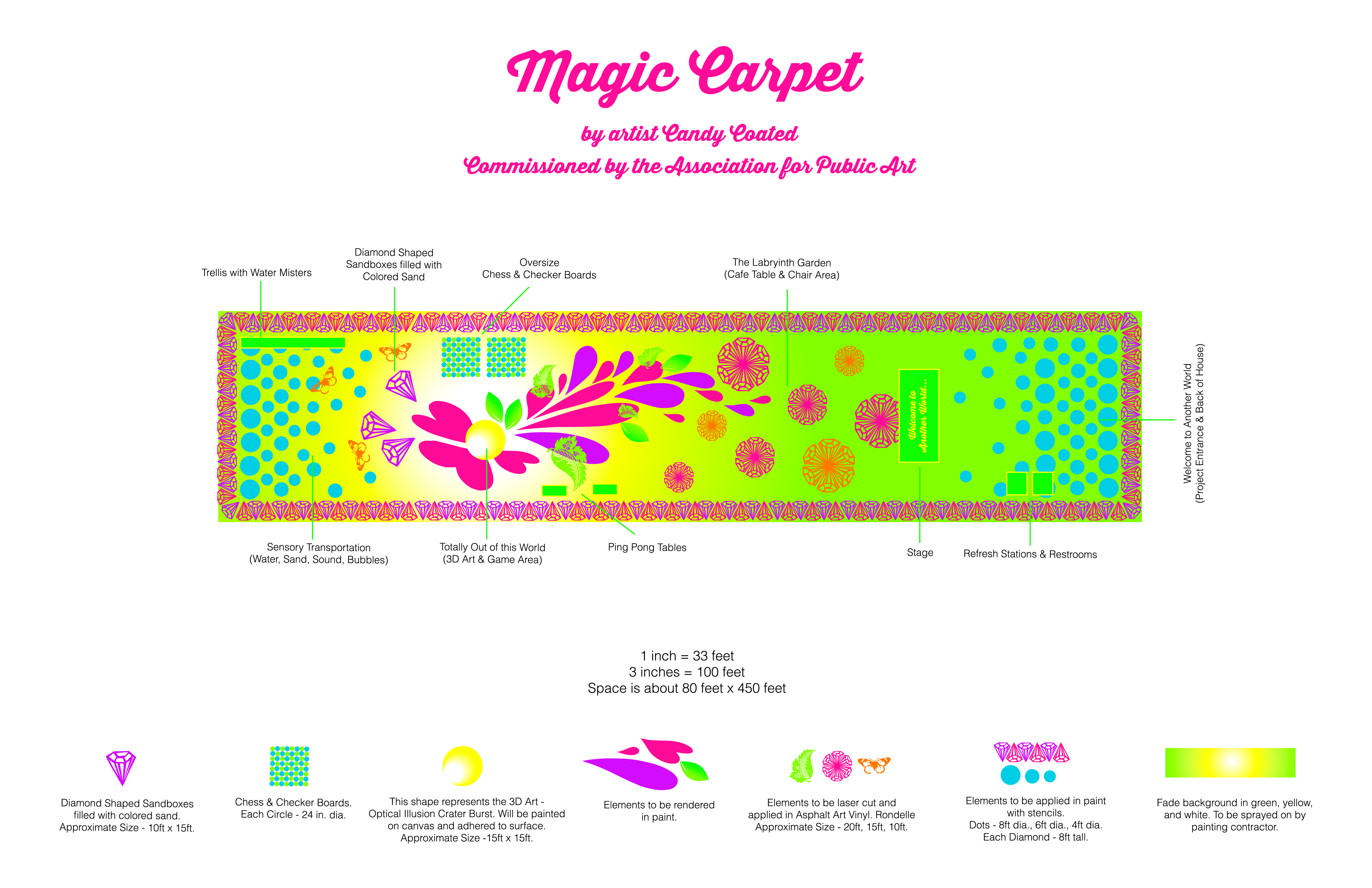 (Click here to see a larger version.)
The event kicks off at 5:30 p.m. with a Magic Carpet-inspired dance from the Philadelphia Rhythmic Academy, an appearance from Fleisher Art's ColorWheels (for your Wednesday night art fix), face painting and artist meet and greet with Candy Coated, music from DJ Danophonic Dan and games, like mini golf, bocce, chess, checkers and ping pong.
Another part of the evening soiree, running until 10 p.m., is the introduction of the newly designed beer garden, decorated with repurposed materials like manhole covers, granite benches and tree grates.
Bring your appetite: food trucks Street Food Philly, Mama's Meatballs, Dapper Dog and Cupcake Carnivale will supply the edible goods.
The good times keep on rolling throughout the next few weeks. Every Thursday from July 17 through August 14, The Oval opens at 11 a.m. for art and storytelling until 1 p.m., a music or clay class from 1 p.m. to 3 p.m. and live performances from 6 p.m. to 8 p.m.
Starting July 18, every Friday kids can monkey around on the Play Station by Smith Memorial Playground from 11 a.m. until 2 p.m., attend a nutrition class at 12 p.m. on July 25 and August 8 or a youth growers and farm explorers session from 11 a.m. to 2 p.m. on August 1 and August 15 and listen to some tunes starting at 4 p.m.
Also on Fridays, the Awesomefest film series comes to The Oval for screenings of Teenage Mutant Ninja Turtles (July 18, 9 p.m. with Macaulay Culkin's pizza-themed cover band playing that night!), School of Rock (July 25, 9:30 p.m.), Apollo 13 (August 1, 8:30 p.m.) and Wayne's World (August 15, 8:30 p.m.). The only week without a flick is August 8 when you're encouraged to wear your best 90's attire for a 90's Prom Night at 8:30 p.m.
Saturdays bring a wealth of fun for gamers. From noon until 7 p.m., the extra large games will be open for free play starting July 19, tiny tots soccer camp, Soccer Shots, will play from 12:30 p.m. to 2:30 p.m., weekly quizzo runs from 4 p.m. to 6 p.m. and live music will close out the day from 6 p.m. to 7 p.m.
Families can go crazy for four hours of activities from noon until 4 p.m. on Sundays starting July 20. Face painting, The Franklin Institute's Brain Waves and the Free Library's Techmobile will be on-site all day while a kid-friendly DJ, kid's karaoke and hoop dance demo and performance will keep the kids entertained throughout different hourly sessions.
Wednesdays, beginning July 23 are perfect for fitness. 11 a.m. to 1 p.m. is devoted to Baby and Me Yoga, 1 p.m. to 3 p.m. is for bike riding and water education classes, 1 p.m. to 2 p.m. starting July 30 are Grow Up Green sessions for environmental youngsters. An hourly fitness boot camp comes later in the day at 6 p.m., followed by bocce and cornhole leagues from 6:30 p.m. to 8:30 p.m. and a variety of one-hour fitness dance classes close out the day starting at 7 p.m.