Building on Michelle Obama's national call to action to help improve the physical and emotional health of children, Tariq "Black Thought" Trotter will be hosting Let's Move It Philly! On February 16th.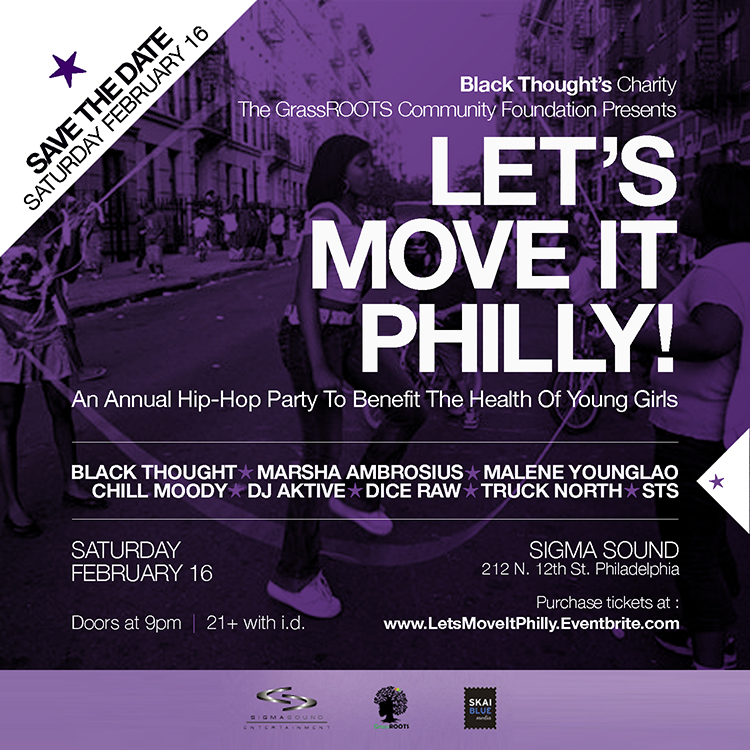 Let's Move It Philly! is the first step in the Grassroots Community Foundation's 10 city initiative to address childhood obesity and health inequality for African Americans and those living in low-income communities.
Taking place at Sigma Sounds, Let's Move It Philly! will be raising funds for the GrassROOTS Community Foundation. Proceeds will go to C.H.I.C.K.S. (Creating Healthy Informed Confident Knowledgeable Selves) a GCF-supported after school health program for girls at Harding Middle School located in the Frankford area of Philadelphia. In addition to hosting, Black Thought (who is also the co-founder and Chairman of the Board for GCF), will perform along side singer-songwriter and fellow Philadelphian, Marsha Ambrosius. Philly's own Chill Moody and Malene Younglao will also be performing.
For a chance to meet and greet with Black Thought, stop by St. Mark's Church at 4442 Frankford Avenue, from 10 am – 1 pm, where a Health Forum will be hosted. This will be a free, family-friendly event that is open to the public. Viewers will also be enjoying a performance from Ursula Rucker.
Need more convincing? Check out this video of last year's Let's Move it Philly!
You can purchase tickets here.