This First Friday, join Dahsar at Corsa as they celebrate the official release of their first line, the Devil's Pull collection.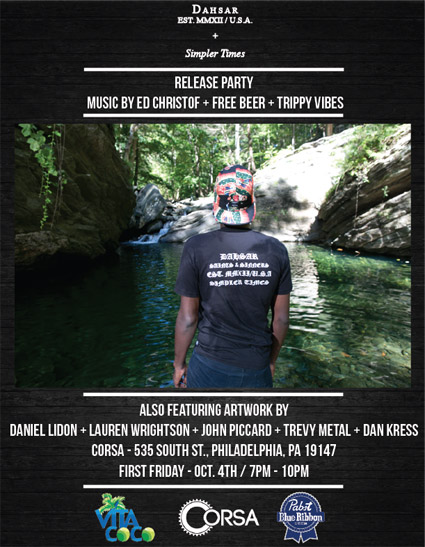 The original, new collection was inspired by the youthful feeling of exploring the unknown and living life to the absolute fullest – just dive right in.
The Wissahickon Creek and what lies in the woods of Philadelphia, the Devil's Pool, a swimming hole we discovered when we were young, is based on this collection. Combining the swimming holes we swam in Eugene, OR and the Devil's Pool, we would attempt ridiculous stunts either jumping off the highest cliff or flipping off the bridge.
Celebrate this bright new collection on Friday, October 4 and enjoy free adult beverages, music by Ed Christof and artwork by Daniel Lidon, Lauren Wrightson, John Piccard, Trevy Metal, and Dan Kress.
Friday, October 4 Corsa, 535 South St. 7 – 10 PM, free & open to the public