Whether you're looking for love, lust or just some good ol' fashioned fun for Valentine's Day, Philly is filled with fabulous parties for you to attend. Here are 15 Valentine's day parties to attend:
*Note: Not all of these events are on Valentine's day, so read carefully!
1. Down and Derby at the Blockley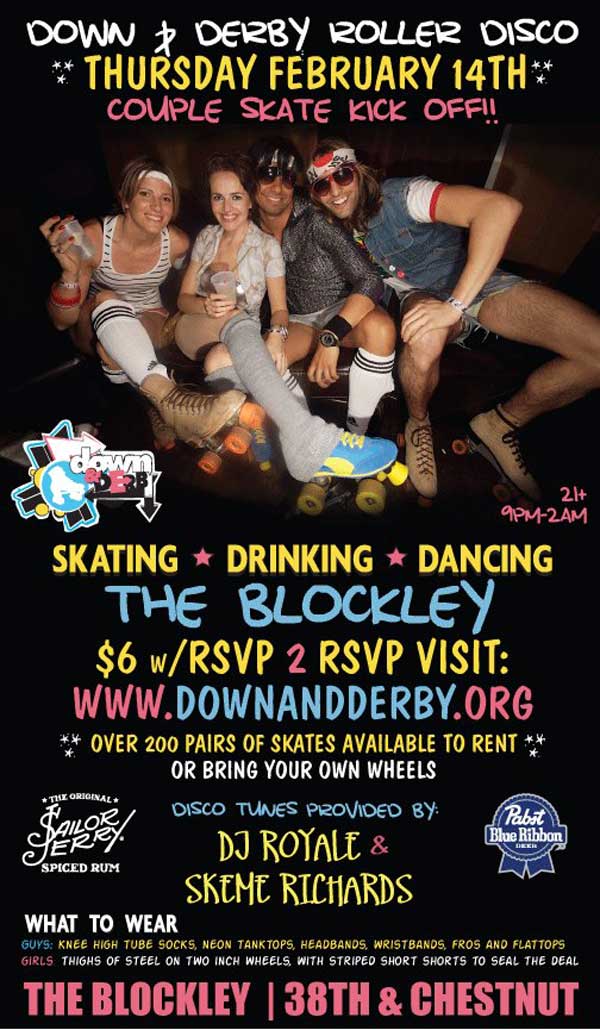 On Thursday, February 14, The Blockley will be converted into a roller rink for Down and Derby's Couple Skate Kick-off. Grab your short shorts, knee high socks and a date and set Valentine's Day off the right way with a little couple skate kick-off.
No date? No problem. There will be plenty of people to meet and mingle with, so don't be shy! To commemorate this joyous occasion the Down & Derby Roller Disco will be hosting R.Kelly tunes and Disco Jams provided by resident DJ, ROYALE.
The entry fee is $6 with RSVP, $10 at the door, and quad skates of every size will be available to rent for an additional $5. Guests are welcome to bring their own roller skates to the event. More info here.
2. Twurkaholics: Valentine's Edition
Celebrate Valentine's Day with some heavy-bass royalty at Soundgarden Hall on Saturday, February 16th. Get down with the one you love or dance like you're single and you just don't care! Bringing you the non-stop dance-floor jams will be AC Slater (Trouble & Bass), Damn Kids (Trouble & Bass), Star eyes (Trouble & Bass), BHB, GABONGHI (Factory Girls) and more. Advance Tickets Only $10! More info here.
3. Best buds Galentine's Day at The Barbary
Forget about Valentine's Day because on Wednesday, February 13th, you can celebrate your best friend on Galentine's Day at The Barbary. Hosting and DJing the event will be the baddest besties in town: K|REX & Suga Shay and Gun$ Garcia & Yolo Ono.
Snack on traditional Galentine's day treats like cupcakes, cookies, and brownies while you make your own Valentines at their Valentine's station. Or you can test your best friendship at the best friend quizzo and win super sexy prizes. Take a break in between dance sessions and get your nails done by the lovely ladies of Nail Tite, and make sure you're looking right because Shadowscene will be out and about snapping flicks. More info here.
4. Anti-valentine's day party at Devil's Den
For all of you Valentine's Day haters, Devil's Den is offering $1 off beers that remind us of our exes. Enjoy delights such as Weyerbacher's Blithering Idiot, Stone's Arrogant Bastard, AleSmith Horny Devil and others, while you reminisce about all of the bad times. Be there at 7 pm.
5. Fascination at Trestle Inn
Feeling indifferent about V-day? You can still party without all of that mushy, romantic stuff. DJ Snakpak concocts a Post Punk, New Wave indulgence with a bit of glam and garage mixed in on February 14 at the Trestle Inn. Enjoy $7 Old Forester Manhattans & Old Fashioneds + $5 Old Forester cocktails, from 10 PM-Midnight. $3 cover at the door after 11 PM.
6. $tuntloco at Silk City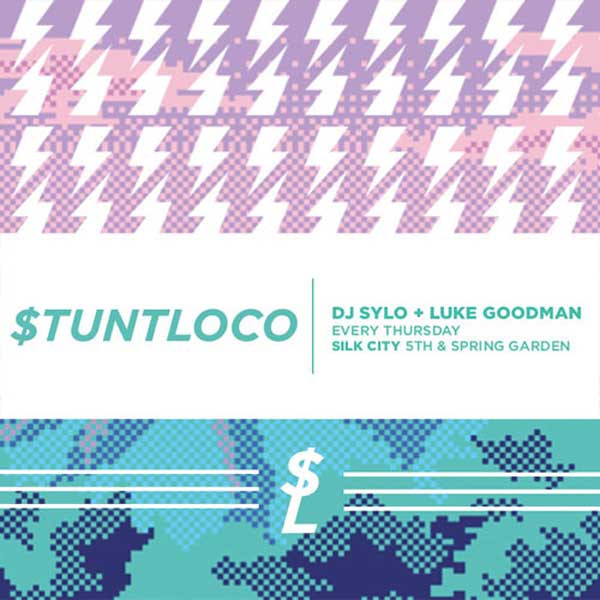 Drown out your V-day sorrows or celebrate your love by jamming out at DJ Sylo and Luke Goodman's weekly $tuntloco event. Your host for the night, Matt Ford, will be keeping you on your toes while photographer Alley Belle will make sure to get your good side. More info here.
7. Eastern State Penitentiary V-day love stories tour
Eastern State Penitentiary is bringing you a special edition of their winter tours for Valentine's Day. Valentine's Day love stories tour will be running from February 14-17. Tour guides will bring guests around the prison and share the love stories that occurred behind prison doors; love letters and prison marriages will be explored to show that love really can exist anywhere. If you buy one ticket, you get one free.
8. Philadelphia Magic Gardens
South Street's magic gardens will be having their Love Is In The Air event on February 14 at 6 p.m. Sip on some wine and get a romantic, candlelit tour of the gardens with a focus on the dreamy aspects of the Magic Gardens. Guests also get to hear the love story of creator Isaiah Zagar and his wife and how their love has influenced his artwork. Reservations are required. This event is $12 per person.
9. Moonshine and Valentines at the National Constitution Center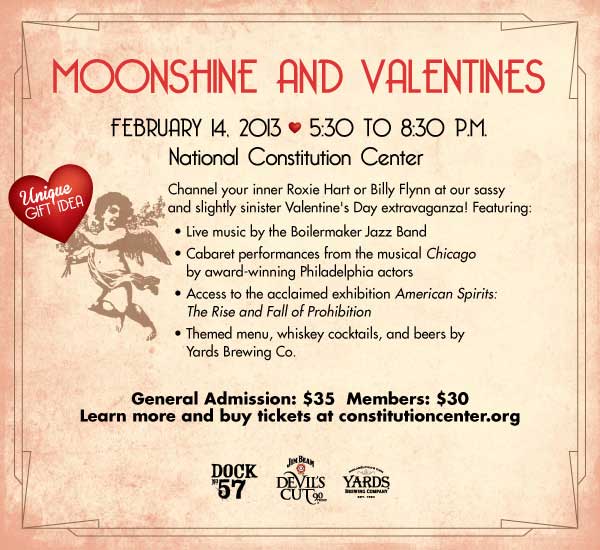 On Thursday, February 14, channel your inner Roxie Hart or Billy Flynn at the Nation Constitution Center's edgy yet glamorous Valentine's Day extravaganza, featuring live music by the Boilermaker jazz Band and cabaret performances from the musical Chicago by award-winning Philadelphia actors. Strike a pose on the red carpet before exploring the must-see exhibition American Spirits: The Rise and Fall of Prohibition. Sweethearts and singles alike will enjoy a sinfully decadent menu, exquisite whiskey cocktails, and beer by Philly's own Yards Brewing Company, including their popular Brawler and sought-after Love Stout. More info here.
10. Cupid's Revenge at Rumor
Come out and party with DJs Gaurav and Bishnoize at Rumor this Valentine's Day. Vibe out to the best in hip-hop, R&B, house, mash-up, and international jams. More info here.
11. Booty Call Karaoke: Anti-Valentine's Day Bash at Sisters Nightclub
Come enjoy Valentine's Day party with the most awesome drink special ever and sing your little hearts out at karaoke night at Sisters. $10 admission will get you 8 Drink Tickets for mixed drinks, draft beer, house wine and soft drinks from 9:30 pm-11:30 pm. There will also be a buffet and beats by DJ Kash.
12. Blow me a kiss: Peek-A-Boo Revue Valentine's Day Special
On Friday February 8th, Peek-A-Boo Revue dances their way back into our hearts. For this year's Valentine's extravaganza, Philly's premier neo-burlesque troupe pulls out all the stops from their heart-shaped box. They're whipping out classic crowd pleasers along with some brand new sweet treats that will surely give you a toothache. Warning: Avoid the heart break and buy your tickets today! Last we checked, only 150 remained at the Troc box office.
13. Valentine's Day Mix Massacre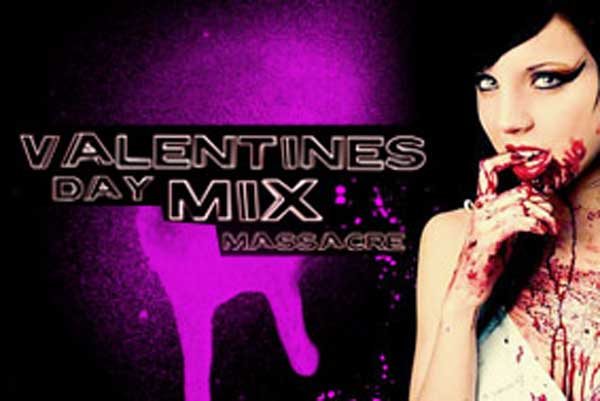 Get down and dirty on February 14th at The Balcony's A Valentine's Day MixMassacre. The event will feature Man World Order, The Final Statement, Of Dukes & Capulets, Here & Gone, Seany Hags & Spark Up Music. Find your tickets here.
14. 6th annual puppy love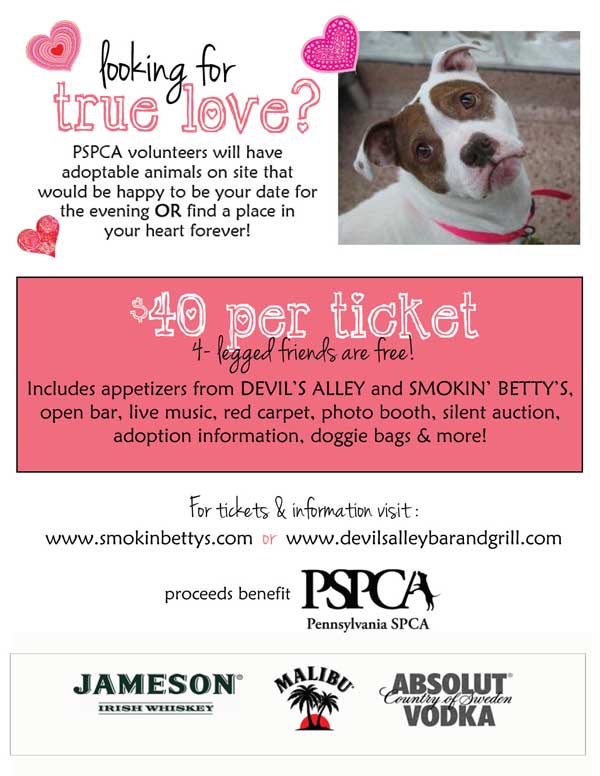 Smokin' Betty's and Devil's Alley will host the6th "Puppy Love Valentines Party," on Tuesday, February 12, 2013 at the 23rd Street Armory (22 S. 23rd Street). This popular Valentine's themed bash returns to celebrate the one you truly love, your pooch. Ardent animal lovers and upscale comfort food fans will enjoy a night on the town with their dogs. Evening highlights will include cocktails, appetizers by Smokin' Betty's and Devil's Alley, sweet treats by Ms. Goody Cupcake, silent auction items, live music, dancing, puppy photo booth, red carpet, doggie swag bags and homeless pets available for adoption. Tickets are on sale now for $40 here.
15. MAMBowl Valentine!
A Strikingly different V-day date night for you and your special someone! Begin the night with a complimentary glass of champagne & a rose for the lady/sir. Indulge in a delicious aphrodisiac buffet and spike chocolate fountain (with patron de cocoa)! Learn the moves with an introductory salsa lesson led by professional instructor, Ralph Benitez. More info here.