Allie Volpe, philly.com
The Kimmel Center has a full schedule for the rest of April and into May featuring exclusive premieres of theatric and musical performances at the center's new SEI Innovation Studio, accessed through a special entrance on Spruce Street.
The world premiere of award-winning playwright Deb Margolin's solo comedy 8 Stops, takes place Thursday, April 24 through Saturday, April 26. The one-woman show poses the question about the limits of time and how to leave a lasting impression on a child over the duration of eight subway stops. 8 Stops previews on Thursday, April 24 at 8 p.m. and officially premieres on Friday, April 25 at 8 p.m. followed by another 8 p.m. performance on Saturday, April 26.
The performances don't stop there: jazz group Jon Batiste and Stay Human round out their year-long residency at the Kimmel Center on Friday, April 25 at 7:30 p.m. Hear works from their recent album, Social Music at the Perelman Theater.
Allie Volpe, philly.com
Let's round out the last weekend of April in style with these killer events and activities.
Mozart's opera Don Giovanni opens at the Academy of Music on Friday, April 25 at 8 p.m. The famous production—in which six of the eight leads have ties to Philadelphia—also has a 2:30 p.m. show time on Sunday, April 27.
Eagles fans who've always had the dream of playing for the team can get their chance at the Eagles Academy for Men. The two sessions, held from 9:30 a.m. until 3:30 p.m. on both Saturday, April 26 and Sunday April 27 give men the chance to learn from Eagles coaches, players and alumni both in the classroom and on the field at the NovaCare Complex. Please note that this academy is for men ages 18 and older.
Allie Volpe, philly.com
As we slowly come out of our post-polar vortex fog (that's essentially what this winter was, right?), we're greeted with fun, outdoor nighttime activities since we're finally able to sit outside during the evenings and not absolutely freeze to death.
The first of these events starts this weekend at Philadelphia's Magic Gardens, located on South Street. Every fourth Friday of the month, from April through October, the mosaiced garden hosts Twilight in the Gardens, featuring musical performances, an instructional art demonstration lead by a local artist, refreshments and mini-tours of the Magic Gardens.
The first night of the 2014 season is this Friday, April 25, where percussion duo Loop 2.4.3 will perform, and needle felting is the activity of choice. Philly artists The Late Ancients, Avi Wisnia, Jackie Paper and Andrea Carlson and the Love Police play at May, June, August and September's installments of TIG, respectively. July features a special mid-season celebration of Iranian culture, while October salutes the Day of the Dead.
Gabrielle Bonghi, Philly.com
A hip-hop heavy lineup has just been announced for this year's "Under the Influence of Music" summer tour. Wiz Khalifa (the tour's originator), Young Jeezy, Tyga, Ty Dolla $ign, and Rich Homie Quan will perform at The Pavilion at Montage Mountain in Scranton, PA on Thursday, July 24 and the Susquehanna Bank Center in Camden, NJ on Friday, July 25. Supporting acts include Sage The Gemini, Mack Wilds, IAMSU!, and DJ Drama.
Tickets go on sale Friday, April 25 at 4:20 p.m. – clever. Today, fans can RSVP to get early access to presale tickets that will become available on Thursday, April 24 at 10 a.m. local time. All fans who purchase their tickets online will receive a digital copy of Wiz Khalifa's forthcoming new album Blacc Hollywood. Mobile users can text "LNAPP" to 404040 to download the Live Nation mobile app (available for iOS and Android).
Citi cardmembers will have access to presale tickets available now through Citi's Private Pass Program. Details can be found here.
Kate Bracaglia, Philly.com Music Blogger
A jam-packed week for shows!
Friday, April 25: Low Cut Connie
Philly rock fivesome Low Cut Connie craft brash, booze-soaked, bar-band rockers, hearkening back to a time when rock'n roll was king, and bands balled out with abandon. The brainchild of Adam Weiner, a disillusioned pianist in an NYC karaoke bar who one day decided he was fed up and never coming back—Low Cut Connie is fueled by good times, girls, and moving far, far away from their karaoke roots. Their sophomore record, Call Me Sylvia, is a gritty, high-energy rocker that incorporates bits of classic rock, rockability, British invasion, and more, for a result impossible to listen to without dancing along. Live, the fivesome prove equally inspiring, between Weiner's impassioned Jerry Lee Lewis keyboard banging, and singer/guitarist Dan Finnemore's catchy melodies. They headline Johnny Brenda's this Friday, playing tunes from Sylvia, and possibly some new ones too (we hear there's a new record in the works). Come for the tasty beats; stay for the vibes!
Allie Volpe, philly.com
Since its inception in 2011, the Philadelphia Science Festival has aimed to get Philadelphians to embrace their inner nerd self. After all, this is the city that Ben Franklin discovered electricity in. So grab your kites and keys (no, wait—don't!) and meet us around town for the Philadelphia Science Festival, running from Friday, April 25 through Saturday, May 3.
The 10-day festival officially gets underway at 6:30 p.m. on Friday, April 25 for the kick-off party at the Franklin Institute. This adults-only party will have science experiments and demonstrations tailored to your refined grown-up tastes. Speaking of taste, Yards official Science Festival beer will be available.
Friday, April 25 is the festival's astronomy night. Among the 26 locations throughout the city and the surrounding area, John Jenks Elementary School, Haverford College and Laurel Hill Cemetery are hosting star-gazing sessions, complete with various demonstrations and refreshments. Don't forget to bring your chairs and blankets. Each location's session starts at 7:30 p.m.
Gabrielle Bonghi, Philly.com
It's time to clean out your closet and stock it with the latest warm weather looks, and this weekend's Northern Liberties Sidewalk Sale is the perfect opportunity to do just that!
Saturday and Sunday, April 26 and 27, eight of the neighborhood's premier local boutiques, from Spring Garden to Girard Ave., are coming together for a two-day sale extravaganza (some places marking items up to 80% off).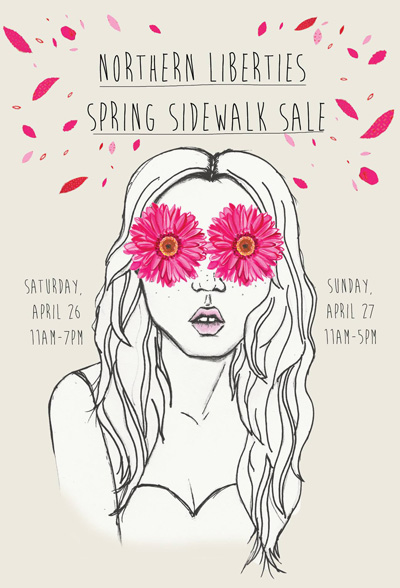 Allie Volpe, philly.com
Despite the fact that we live on the earth every day of our lives, only one day a year is devoted specifically to the round mass of water and dirt that we call home. To celebrate Earth Day in all its glory, attend a few—or all!—of these events Mother Nature would be proud of.
The National Constitution Center goes green on Earth Day, Tuesday, April 22. During museum hours, visitors can test their environment knowledge with eco-trivia and work on earth-friendly crafts.
Do your part in helping the environment at High School Park in Elkins Park, PA for their Earth Day park cleanup on Tuesday, April 22. The cleanup begins at 10 a.m.