Kate Bracaglia, Philly.com Music Blogger
A jam-packed week for shows!
Friday, April 25: Low Cut Connie
Philly rock fivesome Low Cut Connie craft brash, booze-soaked, bar-band rockers, hearkening back to a time when rock'n roll was king, and bands balled out with abandon. The brainchild of Adam Weiner, a disillusioned pianist in an NYC karaoke bar who one day decided he was fed up and never coming back—Low Cut Connie is fueled by good times, girls, and moving far, far away from their karaoke roots. Their sophomore record, Call Me Sylvia, is a gritty, high-energy rocker that incorporates bits of classic rock, rockability, British invasion, and more, for a result impossible to listen to without dancing along. Live, the fivesome prove equally inspiring, between Weiner's impassioned Jerry Lee Lewis keyboard banging, and singer/guitarist Dan Finnemore's catchy melodies. They headline Johnny Brenda's this Friday, playing tunes from Sylvia, and possibly some new ones too (we hear there's a new record in the works). Come for the tasty beats; stay for the vibes!
Allie Volpe, philly.com
Since its inception in 2011, the Philadelphia Science Festival has aimed to get Philadelphians to embrace their inner nerd self. After all, this is the city that Ben Franklin discovered electricity in. So grab your kites and keys (no, wait—don't!) and meet us around town for the Philadelphia Science Festival, running from Friday, April 25 through Saturday, May 3.
The 10-day festival officially gets underway at 6:30 p.m. on Friday, April 25 for the kick-off party at the Franklin Institute. This adults-only party will have science experiments and demonstrations tailored to your refined grown-up tastes. Speaking of taste, Yards official Science Festival beer will be available.
Friday, April 25 is the festival's astronomy night. Among the 26 locations throughout the city and the surrounding area, John Jenks Elementary School, Haverford College and Laurel Hill Cemetery are hosting star-gazing sessions, complete with various demonstrations and refreshments. Don't forget to bring your chairs and blankets. Each location's session starts at 7:30 p.m.
Gabrielle Bonghi, Philly.com
It's time to clean out your closet and stock it with the latest warm weather looks, and this weekend's Northern Liberties Sidewalk Sale is the perfect opportunity to do just that!
Saturday and Sunday, April 26 and 27, eight of the neighborhood's premier local boutiques, from Spring Garden to Girard Ave., are coming together for a two-day sale extravaganza (some places marking items up to 80% off).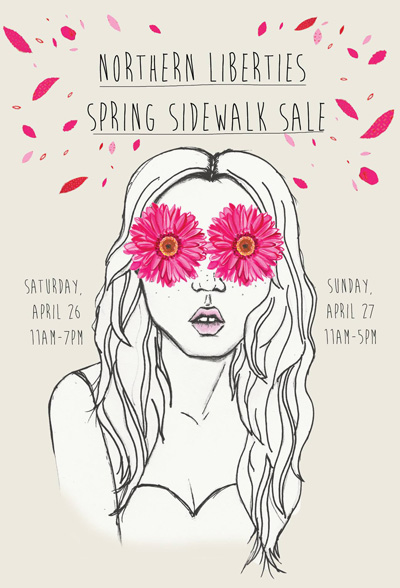 Danya Henninger, Philly.com
Whether you're looking for a multi-course feast from a duo of highly-trained chefs or a chance to sample (and learn how to make) the freshest regional farm fare, there are events for you this week. Got a sweet tooth? Satisfy it this Saturday while helping raise money for hungry Philadelphians.
Tim Reardon, philly.com
Saturday, April 19 marks Record Store Day, the annual celebration of independent record stores who've been supporting your vinyl addictions since day one.
Since 2008, many record labels, artists, and stores alike offer specials to their valued customers. Artists like R.E.M, LCD Soundsystem, Devo, and Tom Waits are just a few who have participated in the past. If you're a newcomer to this tradition, the event appeals to everyone, from those with punk rock taste to those with an ear for hip-hop. Special releases and live shows make this holiday the most fun for music lovers, so check out our picks for the Philadelphia area.
Allie Volpe, philly.com
Despite the fact that we live on the earth every day of our lives, only one day a year is devoted specifically to the round mass of water and dirt that we call home. To celebrate Earth Day in all its glory, attend a few—or all!—of these events Mother Nature would be proud of.
The National Constitution Center goes green on Earth Day, Tuesday, April 22. During museum hours, visitors can test their environment knowledge with eco-trivia and work on earth-friendly crafts.
Do your part in helping the environment at High School Park in Elkins Park, PA for their Earth Day park cleanup on Tuesday, April 22. The cleanup begins at 10 a.m.
Allie Volpe, philly.com
Now that we're fully immersed in the spring season, it's time to embrace the outdoors with our four-legged friends, because here at philly.com, we believe in finding fun things to do regardless of your species.
Philadelphia boasts fifteen off-leash dog parks throughout the city. Schuylkill River Park has a renovated dog run with separate areas for dogs according to size. Numerous pet-centric events are also set in the park like last Sunday's "Pup Rally" to help kick off the Philly baseball season. We should also mention that you'll find biodegradable poop bags as well.
Columbus Square Park's free fenced in dog park allows pups (a maximum of three per owner) to run wild in South Philly. The park also features tree stumps for your pooch to play on.
Allie Volpe, philly.com
The Galleries at Moore College of Art & Design present the second annual "Film al Fresco," an outdoor summer film series featuring work from local independent filmmakers where viewers will watch winning submissions from narrative and documentary genres.
The free screenings, slated to begin at dusk (approximately 8 p.m.), will be held in Aviator Park—on the Benjamin Franklin Parkway—and include delicious eats from local food trucks.
Even if the weather is less than cooperative, the show will go on in Moore's Stewart Auditorium.