Players watch Maurice Edu's header on goal that was later disallowed, resulting in the United States' 2-2 draw with Slovenia at Ellis Park in Johannesburg. (Luca Bruno/AP)
Anyone see a foul in that picture?
I certainly don't. But Koman Coulibaly did, and he's the only one who matters.
Coulibaly made a pile of awful decisions in the United States' 2-2 draw with Slovenia. Among them was his refusal to send off Slovenia's Marko Suler when he decked Jozy Altidore at the edge of the penalty box in the 69th minute.
But the one everyone is talking about, and will be talking about for a long time to come, was his call of a foul on Maurice Edu that disallowed what would have been the game-winning goal.
As I wrote in the live blog earlier, when I first saw the play - and on many replays thereafter - I thought Michael Bradley was offside. I kept watching, and every time I saw Bradley past the defender marking him when Landon Donovan struck the free kick.
But I finally realized I was wrong when I noticed that there was another defender at the edge of the six-yard box who was keeping Bradley onside.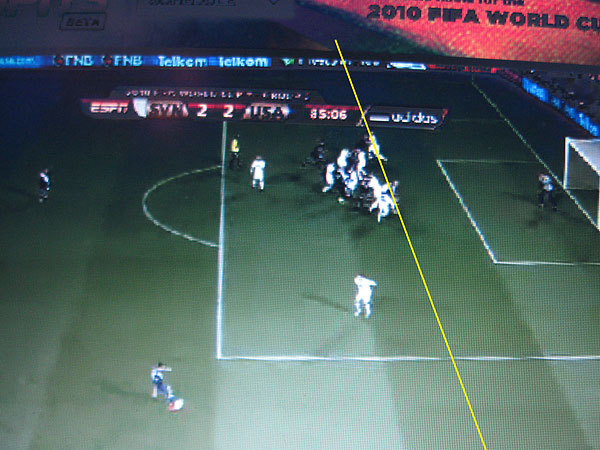 So, to repeat, I was wrong. If you see me on the street and you want to tar and feather me because of it, fine. I can live with it.
I'll say this, though. If the goal had been disallowed for offside, it would have at least been more understandable. It would have been wrong, but if you look at the picture above you can at least get a sense of what the linesman would have seen from field level.
But for Coulibaly to stop the play for a contact foul is a far worse decision than to stop the play for offside. There is absolutely no way that Maurice Edu committed a foul. If anything, Jozy Altidore and/or Carlos Bocanegra were fouled, as shown here: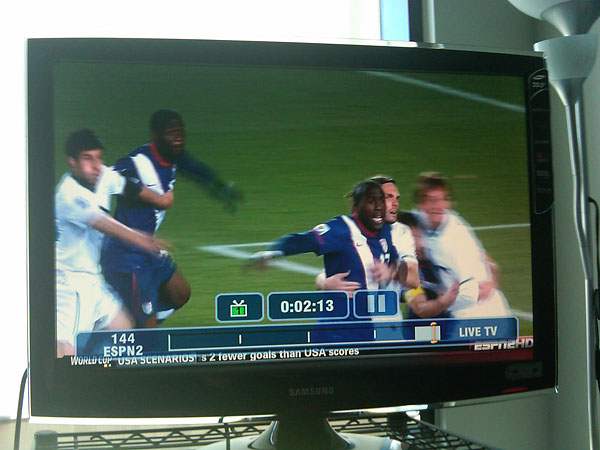 As Simon Haydon of the Associated Press notes here, Coulibaly refereed last year's Africa Cup of Nations final, so it's not like he hasn't called big games before. Haydon takes a long look into the various elements of the call in that piece, so definitely check it out.
Look, I know I got pretty hot under the collar during the game. I'm sorry if I went overboard. I was trying to explain what I saw, and now I've seen something different. I didn't want to change my opinion just because people were saying something and I honestly did not see it.
Now I have seen it, and I've changed my mind. Again, you're welcome to send whatever tar and feathers you have my way if you see fit.
But I still don't think it's a major international incident. It is without question the highest-profile refereeing error to have ever affected the United States - though it didn't knock the U.S. out of the World Cup the way the not-called handball by Germany's Torsten Frings did in 2002.
And I hope we can agree on one other thing: Had the United States scored on any of the multiple chances it had to put the ball into an open net during the first half, this whole thing might not have happened.
Now the U.S. can advance with a win over Algeria on Wednesday, or a tie if Slovenia beats England. The Washington Post's Steve Goff breaks down the scenarios here.
The stakes could not be higher. Algeria gave England all kinds of headaches today, and will also be playing for a trip to the second round. Given how the U.S. started against Slovenia, how confident are you at this point?
I'll say again what I've been saying all day: the best thing the U.S. can do for itself is to score the first goal. In the 15 games the U.S. has played since last summer's Gold Cup final, the U.S. scored first in only five. Coming from behind every time is no way to live.
What's your prediction?