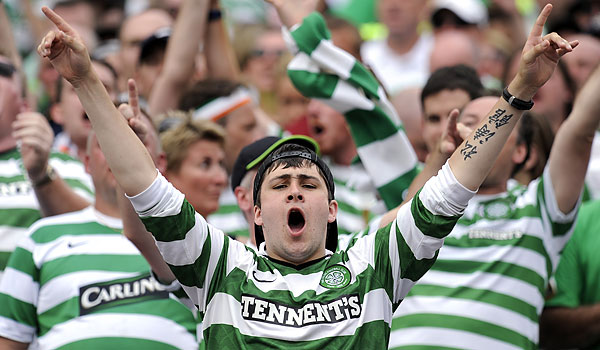 Fans at Lincoln Financial Field Saturday afternoon made plenty of noise, but Celtic and Real Madrid only drew a crowd of 34,018 - about half of the stadium's capacity. (Michael Perez/AP)
As I walked through the Sports Complex parking lots en route from the subway exit to Lincoln Financial Field on Saturday afternoon, I couldn't help noticing a distinct lack of buzz - and a distinct lack of people.
It was about two hours before kickoff at that point. That's a fair amount of time, but for most big soccer events at the Linc - especially on weekends - the tailgate scene is in high gear by then. This time, I heard a few air horns and car speakers, but most of the rest of the crowd was pretty tame.
I wasn't all that surprised. Even though I've been out of the country for the last week, I've still paid close enough attention to the local soccer scene to know that the Real Madrid-Celtic game didn't get much advance publicity. It certainly didn't generate the kind of buzz that last month's Major League Soccer All-Star Game did.
Nonetheless, the word had been out for long enough for me to think that the two clubs' large fan bases in the Northeast Corridor would turn up. In addition to both teams' supporters in Philadelphia, a 2 p.m. kickoff time was just right for fans in the New York and Washington areas to make a day trip to 11th and Pattison.
In the end, though, the total announced attendance was a mere 34,018. That seemed pretty accurate from my view of the stands: the lower bowl was almost full, and there were scattered fans in other levels. That was it.
You would think that a matchup between Real Madrid and Celtic could draw better. That it didn't gives us a talking point worth looking into.
In a way, I think it's a compliment to the soccer fans in this town. Yes, there have been a lot of big games in Philly this summer, and I've heard from plenty of you who haven't wanted to dish out multiple big expenditures in a short period of time. But it also says something that fans here knew not to fall for a contest that probably wouldn't be much of one.
Real Madrid was playing its fourth game in nine days, after stops in Los Angeles, Las Vegas and New York. I suspect the last of those games - a matchup against AC Milan at Yankee Stadium on Wednesday - had an impact on ticket sales in Philly.
If you lived in, say, central New Jersey, would you rather watch a marquee opponent at a unique venue, or a second-tier league champion at another football stadium?
I'd pick the former, even though that game took place midweek. I bet that a lot of you would too. Heck, if you were willing to either get home late or take the next day off, you could have gotten from Philly to the Bronx and back via Amtrak relatively easily.
(Not necessarily cheaply, I'll grant. But tickets to the game weren't either.)
The helter-skelter nature of Madrid's U.S. tour might well have had an impact on the team José Mourinho put out on Saturday.
Of course Cristiano Ronaldo started - he sells tickets better than anyone else involved in the contest - but Iker Casillas, Ángel di María, Mesut Özil and Karim Benzema did not. Even though they all played in the end, being a second-half substitute isn't the same as hearing fans cheer your name when the starting lineup is introduced.
You shouldn't feel any sympathy for Madrid's Galacticos. They'll go home with a plenty-big paycheck, and they'll carry that paycheck on a charter plane that's as luxurious as any on the planet. Ronaldo and his well-coiffed hair will be just fine, no doubt.
You should spare a thought for Celtic, however. The Hoops have a large and loyal fan base, but they don't have nearly the same kind of resources - and certainly not the same kind of talent.
This was Celtic's 10th game since their preseason schedule kicked off on July 10. Their longest stretch between games was right at the start of the slate, from July 10 to July 15.
It began with a three-game tour of Germany, then moved to Amsterdam for a friendly against Dutch champions Ajax. After that, it was back to Glasgow for two more friendlies, against English Premier League club Norwich City and Italian giants Inter Milan.
Four days after that sixth and final friendly, Celtic played the first game of a two-leg UEFA Champions League qualifying tie against HJK Helsinki. But before they could travel to Finland for the return fixture a week later, there was the small matter of the Scottish Premier League season opener at home against Aberdeen.
So in a span of a month, Celtic players got five stamps in their passports. And in case it wasn't quite clear: they played an exhibition game in Philadelphia after their domestic league season had already started.
Celtic's traveling squad for Saturday's game had only 16 players in it. One of them, forward Gary Hooper, wasn't available to play because his hamstring went stiff Friday night. And perhaps Celtic's best player, forward Giorgios Samaras, was allowed to skip the trip by manager Neil Lennon.
"For an educational purpose more than anything else, we've just played the best club side in the world," Lennon said after Saturday's game. "We're used to having plenty of possession of the ball in Scottish football, so it was a good exercise in how we deal with not having the ball."
That's all true, and from a manager's perspective it's certainly all fair. But was flying across the Atlantic and back for an exhibition game really worth it?
I'm sure Celtic got a big check for coming to the States. I'm also sure the club needs all the money it can get, especially since the bankruptcy and relegation of perennial rival Rangers put a huge dent in the value of Scottish Premier League television rights.
I'm as big a fan as you'll find in North America of summer friendlies. But I had doubts about the merits of this game before kickoff. They're even stronger now, because the single worst thing that could possibly happen in an exhibition game came to pass: a player got badly injured.
In the 72nd minute, Celtic midfielder Dylan McGeouch - a 19-year-old product of the team's youth academy - took an elbow to the head from Real Madrid's Nuri Sahin as both players jumped to contest a loose ball.
McGeouch was knocked unconscious by the contact, and lay flat on the turf for over five minutes before being carted off. The injury turned out to be a broken jaw.
In the minutes after the collision, I couldn't help thinking that one of the great catch-phrases in Philadelphia sports history had just taken on a new meaning:
For who? For what?
If you're reading this from outside Philadelphia, those words were uttered 17 years ago - September 3, 1995, to be precise - by legendary former Eagles running back Ricky Watters. He made the statement while reflecting on a play he made in that day's game, in which he moved to intentionally avoid a crushing hit from an opponent.
It so happened that the game in question was Watters' first in Philadelphia. For all the great things he would go on to do as an Eagle, he never lived down the remark.
On Saturday, the scene was once again the Eagles' stadium - albeit Lincoln Financial Field, not Veterans Stadium - and the discussion once again centered around a crushing hit.
We know the answer to the questions this time. The game was played for the fans, and the purpose was to make a profit from bringing two of European soccer's most popular teams to the United States.
The fans who did turn up got to see a lot of stars, and they got to see a very nice individual goal in the second half from Benzema. They also saw all the gridiron lines from Thursday night's Eagles game, and they saw a promising young talent suffer a devastating injury.
Lennon offered a philosophical reflection on McGeouch after the game, calling the incident "just one of those things, one of those cruel footballing injuries."
It was a kind statement, perhaps too much so.
Ideally, McGeouch will make a full recovery, and in as speedy a fashion as is prudent.
But for now, I can't help thinking that if anyone knows the answers to the questions "for who" and "for what," it's surely him.