This wasn't exactly what I was planning to write after the Union's 2-1 loss to Red Bull New York. I was planning to write about Peter Nowak's wisecracks after the game, and about how spectacular Red Bull Arena is.
But then Sons of Ben member (and Rank and File voter) Brad Youtz posted the picture you see at right to his Facebook page. Youtz also posted on Twitter that "Red Bull fans threw rocks at our bus and cracked three windows."
There's simply no place for this in American soccer. Obviously, Philadelphia fans are not saints. They may not be as bad as they used to be... then again, we all know what happened last week at Citizens Bank Park. The reputation is not without some merit. I think it's fair to say, though, that on the whole things are not what they used to be.
My point is that Philadelphia's history shouldn't prevent people from speaking up when things like this happen. The only way anything can be done about such behavior is to bring information about into the public domain. And that goes for the Sons of Ben, too. If I get sent evidence of them doing bad things, it will appear here.
So often when soccer fans in America travel to each other's games, the atmosphere is of camaraderie and fellowship. The friendly interactions between D.C. United and Union fans at Lincoln Financial Field was just one example among a great many that have occured over the years I've been covering this sport. From where I sit, that's how things ought to be.
I don't mean to deliver a sermon. I just feel it necessary to point out that this happened, and to express a hope that Union fans don't do such things themselves.
Now let's talk about the game. As you all know, I only saw the second half of it. In fact, I was literally walking out into the press tribune as New York's first goal went in the net.
The Union did a great job to equalize quickly, but the game turned on Michael Orozco's handball inside the Union's box in the 67th minute. Juan Pablo Angel converted the ensuing penalty, and the wind seemed to really come out of Philadelphia's sails.
There was one last chance to equalize, though, in the 85th minute. After a nifty feint, Fred played a cross to Jack McInerney. But the header went just wide, and New York held on to the ball for most of the rest of the match.
As you'll hear in the audio player below, Union manager Peter Nowak was in a philosophical mood after the match.
"We have to understand that in some cases, we're still beginners in this league," he said. "Sometimes, we make mistakes, and we pay for it."
He was also impressively optimistic for being in charge of a 1-3 team.
"I think the team played pretty good, except there's mistakes," he said. "They call it beginner's luck - this is not the case with our team right now,* but most the important thing is that we created chances... if you don't convert your chances like that, then you struggle."
(* - By which he meant that his team doesn't have such luck - he was not trying to dismiss it as a theory.)
Stefani Miglioranzi summed everything up as "misfortune."
"Things that happen in the game, that happen to one team or another time after time," he said. "We've had the brunt of it in the beginning of this season."
What to do about it, then? Nowak offered an answer.
"The message is very simple: we're not going to slow down, we're going to play like that regardless of the mistakes," he said. "I would say some of the coach is simple, some of the stuff is coming our way in a fashion we don't deserve."
And then the kicker.
"Probably the best thing for us to do right now is go to church and pray together," Nowak said, "and make sure that nothing like that will happen again."
To which I can only respond that Thierry Henry knows a thing or two about divine intervention on a soccer field, and he's been rumored for some time to be interested in coming to MLS. Granted, he'd almost certainly go to New York if he came across the Atlantic Ocean. But perhaps Robert Pires has picked up some of his karma over the years?
Okay, that's stretching things a bit. Better for us to stick to more earthly matters. Such as Red Bull Arena, which really is as spectacular as the hype. Tremendous sight lines, all kinds of modern touches, and a sense that you're in a real soccer stadium. Maybe it's the roof, maybe it's the lighting, or maybe it's the fact that at long last the Empire Supporters Club isn't surrounded by 75,000 empty seats.
(Just 7,500. Zing.)
If you didn't go to Harrison yesterday, try to get up there some time this summer. You won't regret it.
I'll close the post with a picture of the Sons of Ben section at the game. Special thanks to the fans I rode with on the train back to Philadelphia. We had a fun time talking about soccer and lots of other good stuff.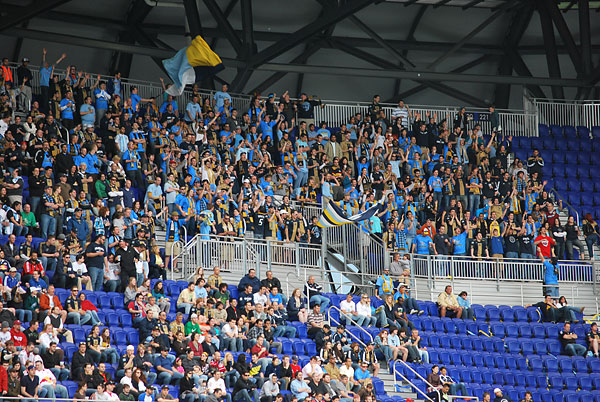 Your browser does not support the audio element.