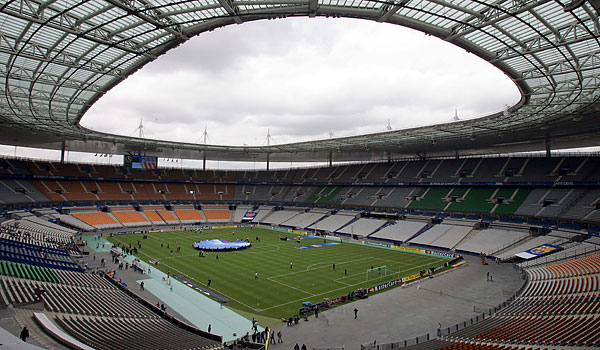 The Stade de France just outside Paris could play host to a friendly match between the United States and France next month. (AP file photo)
UPDATE: France (just barely) did its part, coming from behind to secure a 1-1 draw with Bosnia that qualified them automatically for Euro 2012. Now we wait to see what happens tonight with the U.S.
As the United States men's national team gets set to play Ecuador at Red Bull Arena in Harrison, N.J., tonight, word is leaking out about what might be the national team's next friendly match.
French sports newspaper L'Équipe reported yesterday that there have been discussions for the U.S. and France to meet at the famed Stade de France on November 11, 12 or 15.
The fixture is contingent on France getting at least a draw in their final qualifying match for the 2012 European Championship, at home against Bosnia-Herzegovina today. That would give Les Bleus an automatic berth in Euro 2012, instead of having to play in a qualifying playoff on those November dates.
You can watch the France-Bosnia game this afternoon at 3 p.m. on ESPN3.com. There are also three games on ESPN2 today: Germany-Belgium at 1 p.m., U.S.-Ecuador at 7 p.m. and Mexico-Brazil at 9 p.m.
All of the games on ESPN2 will be simulcast on ESPN3.com, and Univision will also broadcast U.S.-Ecuador and Mexico-Brazil live in Spanish.
Not a bad way to spend the afternoon and evening, is it?
Then again, there are few better places on the planet to spend an afternoon and evening than Paris, and that's where the U.S. could be headed next month.
You've probably heard of the Stade de France before, but just in case you haven't, it's one of the most glamorous stadiums in Europe. The 80,000-seat venue in the Paris suburb of St. Denis was built for the 1998 World Cup. Among the games it hosted was the final, in which Zinedine Zidane led France to a 3-0 triumph over Ronaldo and Brazil.
(That's the original Ronaldo, not the one who plays for Real Madrid. Then again, some people have always thought that there was only ever one.)
Since then, the Stade de France has become the official home of France's national soccer and rugby teams. It is also one of the premier track and field venues in Europe.
We've known for a while that the U.S. men's national team is trying to schedule friendly matches in Europe for the November FIFA international window. Grant Wahl of Sports Illustrated wrote yesterday that the U.S. Soccer Federation is likely to make an announcement later this week, once Euro 2012 qualifying is wrapped up.
I don't have any inside information, but since the U.S.-Ecuador game will kick off after today's European matches are concluded, I would not be surprised if an announcement is made during the ESPN2 broadcast this evening.
One team the U.S. won't be playing on its European trip is Germany. You might recall that during the U.S.' friendly against Belgium back in September, ESPN play-by-play announcer Ian Darke said on air that that the U.S. was considering playing a friendly Jurgen Klinsmann's native country during the November window.
But Germany has already filled its calendar for the November window. On the 11th, they will play Euro 2012 co-hosts Ukraine in Kiev, christening the newly-renovated Olympic Stadium that will host the tournament final. On the 15th, Die Mannschaft will host longtime rival the Netherlands in Hamburg.
It's worth noting that because of the FIFA international window, the MLS Cup playoffs go on hiatus between the conference finals on November 5-6 and the championship game on November 20. Still, I would not expect Jurgen Klinsmann to call in players from the teams in the championship game, and perhaps even the conference semifinals.
Do you think the U.S. can hold its own against France? Which teams do you want to see the U.S. play in November? Have your say in the comments.