In the moments after Carlos Ruiz's goal on Saturday, there was a lot of debate in the press box about whether Ruiz should have been flagged for offside.
Watching the play live, it sure looked to me like Ruiz was past the last defender when the ball was played. I suspect that some of you also wondered how it was that Ruiz was so far behind the back line without being offside.
Well, it's time once again for us to get out the salt shakers, and dig into the Laws of the Game. Ruiz's positioning was legal, and here's my best attempt to explain why.
To start with, here's a replay of the goal sequence:
Just in case you forgot, here's the current edition of the offside rule, courtesy of our old friends at FIFA. From Law 11:
A player in an offside position is only penalised if, at the moment the ball touches or is played by one of his team, he is, in the opinion of the referee, involved in active play by:
- interfering with play or
- interfering with an opponent or
- gaining an advantage by being in that position.
It's not quite the Queen's English (or the President's for that matter), but the key point is "the moment when the ball touches or is played."
In this case, "the moment" was not when Sebastien Le Toux passed the ball to Ruiz. Instead, it was when Stefani Miglioranzi took a first-time shot towards the goal from distance a few seconds earlier. At that point, Ruiz was clearly onside: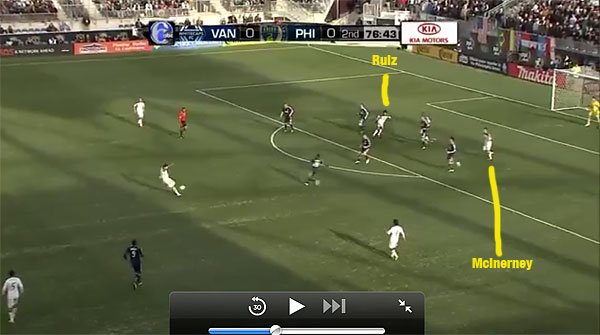 In a moment, I will explain how Ruiz remained onside throughout the entire play even though he was behind the Vancouver back line. But first, we need to focus on Jack McInerney. He appears to be either just barely level with or just barely behind behind the last defender.
Usually, the linesman gives the attacking player the benefit of the doubt in that situation. FIFA ruled a few years ago that an attacking player has to be completely behind a defender in order for him to be offside.
But let's assume that McInerney was behind that defender near him. Although I can't confirm this because there wasn't a good camera angle for it, it seems to me from watching the play a number of times that Vancouver's Nizar Khalfan and/or Blake Wagner may have kept McInerney onside with their positioning out on the right wing.
Khalfan in particular appeared to be lollygaging by the sideline when Sheanon Williams' second cross was played. Go back and watch the build-up again, and you'll notice how slowly he was moving.
After the goal was scored, the Union's TV broadcast showed the play from a different angle. I took this screengrab from right before Miglioranzi's shot crossed the arc outside the 18-yard box. Unfortunately, it's very blurry, but I've highlighted the positions of McInerney, Khalfan and Wagner:
Again, that image is not from exactly when the ball was played, but judging from where Khalfan and Wagner were standing during that play I suspect they kept McInerney onside. I wish I could give you a better answer than that, but if one of you was sitting in that part of the stadium, perhaps you can add your perspective in the comments.
This much is for certain. Miglioranzi's shot deflected off the head of a Vancouver defender, and went all the way over to Le Toux, who was in an onside position when the ball hit the defender's head:
(Apologies to the defender, as I'm not sure who exactly it was. Although in this situation, perhaps he'd prefer to remain anonymous.)
Because the original shot was from Miglioranzi, and because Ruiz was onside when Miglioranzi took the shot, Ruiz was still okay even though he was clearly behind the Vancouver back line.
Le Toux was in an onside position at the point at which he became involved in the play. Because he was so far out of the play before then, the fact that he was in an offside position didn't matter.
(We will discuss the passive offside rule in greater detail at some time in the future when it won't cause us all a headache. Which may be never, but we'll try eventually.)
Anyway, Le Toux got the ball and ran behind the Vancouver back line. Meanwhile, Ruiz was still in the same area he had been in the whole time: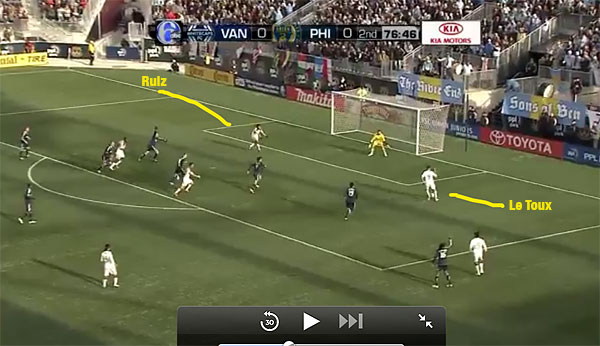 Le Toux laid off a simple pass, and you know what happened after that: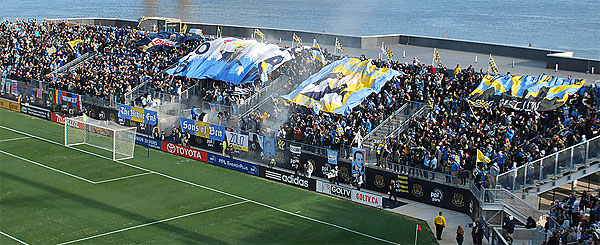 ---
Here are a few other things I noticed on Saturday:
- Peter Nowak did very well with his substitutions, especially Roger Torres. It probably won't surprise you that I think Torres could have been useful earlier in the match, because most of the first hour of play was really boring. There wasn't much attractive soccer played by either team, and there were only a thimbleful's worth of quality chances.
But given how physical the match was, I suspect that Torres would have taken a pretty serious beating. Vancouver toned down its physicality somewhat after Eric Hassli, who instigated much of the early trouble, was sent off.
Losing a forward made Vancouver more defensive, but it also made Torres' passing ability more important. We know that the 19-year-old Colombian is the one player on the Union who can really pick apart a bunkered-down opposing team, and he was able to play a few such passes in his time on the field.
- I was disappointed by the lack of attacking play from Vancouver. The Whitecaps scored four goals in their season-opener against Toronto, but showed none of the spark or invention at PPL Park that they displayed the week before.
That was in part because Vancouver was without two of its most creative players due to injury. Davide Chiumento and Shea Salinas both did not travel east, and that definitely limited manager Teitur Thordasson's options in midfield.
So far this season, the Whitecaps look to me rather like the Union did early last season: open and attacking at home, but defensive and physical on the road. Even though Vancouver is an expansion team, it would have been nice to see them bring their home-field mentality on the cross-country flight.
- I still don't think I've ever seen every seat at PPL Park filled from kickoff to the final whistle. I know it was cold and windy, and the lines at the concession stands were long and slow, and the parking lots take a long time to get in and out of. But even though yesterday's game was a sellout, I saw quite a few empty seats in prime midfield positions across from the press box throughout yesterday's game.
I am sure that this will cause a few commenters on the blog - we know who they are - to come on here and say that this is further proof that no one cares about soccer and that the sport is doomed, and I should go cover football and baseball and other more traditional American pastimes.
I can deal with those people just fine. To be honest, I don't mind having them around. There's nothing wrong with stirring the pot every once in a while. But I think we know how many soccer fans there are in this region, and it would be nice to see all of the ones who have Union tickets actually show up and use them.
Alright, that's enough out of me. I'll be back tomorrow with the latest edition of Rank and File.
Hat tips to good friends Matt Gaschk and Josh Hakala for helping with the offside law interpretation. Attempting to decipher the intricacies of the offside law when writing late at night can be hazardous to one's health.