Updated a few times, as the news has evolved.
The latest big-name signing coming to Major League Soccer is reportedly U.S. national team stalwart midfielder MIchael Bradley.
ESPN's Jeff Carlisle and Taylor Twellman broke the news Wednesday that he is headed to Toronto FC. They reported that Bradley's annual salary will be nearly $6.5 million. AS Roma confirmed the news Thursday in an official statement, and announced that the transfer fee is $10 million.
The Toronto Star's Cathal Kelly reported that Bradley could be introduced as soon as Monday, when TFC is also expected to unveil English forward Jermain Defoe.
Bradley's representative in Italy, Alberto Faccini, told an Italian radio station that the player is coming to MLS "because of [his] appreciation towards MLS and American soccer."
Faccini landed in a bit of hot water Thursday evening when Bradley's agent, Ron Waxman, claimed that Faccini has no role in representing Bradley.
Waxman wrote on Twitter: "Alberto Faccini does not represent Michael Bradley. I am Michael Bradley's exclusive worldwide representative."
This confused a lot of people, and I was certainly among them. I've found references going back to 2011 which call Faccini "Bradley's agent" and "Bradley's representative in Italy." Waxman is certainly the main guy, but word on the street is that Faccini and Waxman do have a connection.
All of this sparked a predictable frenzy among American soccer fans. But what got my attention most was a series of tweets on Wednesday that were not so predictable.
Late in the evening, word surfaced that the Union put in a bid for Bradley, but were outspent by Toronto:
More Bradley details trickling in. I'm hearing Union made a play for Bradley, but was ultimately outspent by #TFC. #mls #usmnt

— Jeff Carlisle (@JeffreyCarlisle) January 9, 2014
Absolutely zero truth to Philly ever being a player for Michael Bradley. That's like me saying I almost bought a Bugatti until saw the price

— Ives Galarcep (@SoccerByIves) January 9, 2014
In fairness to the Union, I'm told they did make an for Bradley, but it wasn't close to Toronto's, nor the second best offer made.

— Ives Galarcep (@SoccerByIves) January 9, 2014
Meanwhile, as the reports were swirling Wednesday afternoon, a few Union players chimed in with these observations: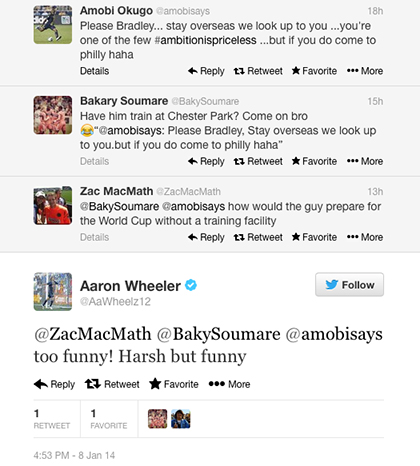 Union CEO Nick Sakiewicz has spoken recently about the need to build a training facility for the first team. He said the following in an interview with the team's website earlier this month:
It's a top priority. We are finalizing plans and the financing to build two practice fields here for the first team. We already have a practice facility for our youth players. It's a world-class, $5 million facility for our youth players in Wayne. But for our first team, we have to establish that and we have a plan. We do hope to break ground on those fields here very soon.
[...]
I believe this team is already set up to be very competitive. We want to win. We want to win every year. We want to win every game. In order to give us the best chance of doing that, we need three or four important pieces to add to the group that we have now. We love the group we have now, but they need some help. They need three or four pieces, players, that are going to make a difference for us next year. For me, that's our first priority and second priority and probably third is a training pitch.
If the reaction that I've received on Twitter lately is any indication, it would seem that the club is under some pressure from its fans to deliver results soon. We will see what happens from here on out.