Now that everyone's back from the holiday weekend, let's take a look at the Union's 1-1 draw at Chivas USA late Saturday night. There weren't too many standout moments after Danny Mwanga's superb goal in the 21st minute, but there was one play that is very much worth discussing.

It came in the 37th minute. Danny Mwanga broke towards the box, and Chivas USA defender Ante Jazic was racing to shut him down. Mwanga got the shot off from about 10 yards away and put the ball in the net, but the goal was disallowed by referee Edvin Jurisevic. He blew his whistle for what he thought was a pushoff on Mwanga.

Except there was no foul whatsoever. Nor was there even a dive. Jazic simply tripped over his own feet and went down. Jurisevic was behind the play, and while Mwanga and were certainly close to each other going for the ball, Mwanga did not have his hands out.

Fox Soccer Channel play-by-play announcer Christian Miles saw it clearly on the replay.
"Or was it just a case of a misstep?" Miles said. "He appeared to trip himself up."

Unfortunately, there is no standalone video clip of the play online anywhere that I can find. If you subscribe to the live game video package on MLSSoccer.com, you can go on the site and jump to that point in the game. But there isn't anything I can directly link to or embed as of now.

The best thing I can give you is a freeze-frame of the moment when Jazic started to go to ground.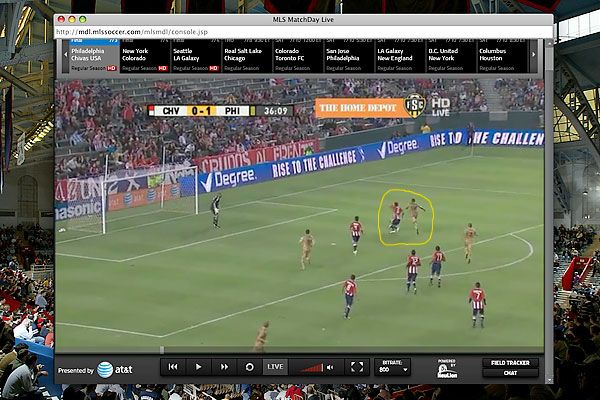 You can see the space between Mwanga and Jazic. (And you can see my computer's desktop background. It's not soccer-related, but I suspect a few of you will recognize it.)