Now that everyone's back from the holiday weekend, let's take a look at the Union's 1-1 draw at Chivas USA late Saturday night. There weren't too many standout moments after Danny Mwanga's superb goal in the 21st minute, but there was one play that is very much worth discussing.
It came in the 37th minute. Danny Mwanga broke towards the box, and Chivas USA defender Ante Jazic was racing to shut him down. Mwanga got the shot off from about 10 yards away and put the ball in the net, but the goal was disallowed by referee Edvin Jurisevic. He blew his whistle for what he thought was a pushoff on Mwanga.
Except there was no foul whatsoever. Nor was there even a dive. Jazic simply tripped over his own feet and went down. Jurisevic was behind the play, and while Mwanga and were certainly close to each other going for the ball, Mwanga did not have his hands out.
Fox Soccer Channel play-by-play announcer Christian Miles saw it clearly on the replay.
"Or was it just a case of a misstep?" Miles said. "He appeared to trip himself up."
Unfortunately, there is no standalone video clip of the play online anywhere that I can find. If you subscribe to the live game video package on MLSSoccer.com, you can go on the site and jump to that point in the game. But there isn't anything I can directly link to or embed as of now.
The best thing I can give you is a freeze-frame of the moment when Jazic started to go to ground.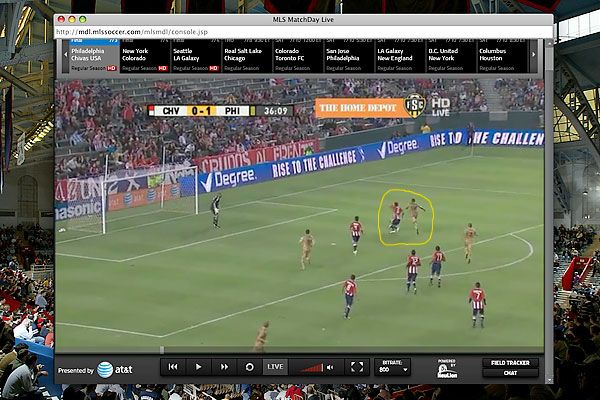 You can see the space between Mwanga and Jazic. (And you can see my computer's desktop background. It's not soccer-related, but I suspect a few of you will recognize it.)
I've said before on here that I dislike the concept of blaming refs completely for a result in soccer. In almost any game, the players have much more power to do something to affect the final score.
Certainly, over the course of 90 minutes Saturday night, the Union had their share of chances to claim a win at Chivas USA. Fred's breakaway in the 65th minute comes to mind, though Zach Thornton deserves credit for coming off his line decisively.
But from where I sit, there's no question that Jurisevic took a perfectly legitimate goal away from Danny Mwanga by whistling a foul that did not exist.
It happens sometimes in soccer, and it's not like this had the impact that the disallowed Maurice Edu goal at the World Cup had. I'm not even saying that Jurisveic should sit for a while, as we all did when Koman Coulibaly blew the U.S.-Slovenia game. Soccer referees make mistakes, as do basketball referees and baseball umpires.
But let's hope that someone in the chain of command at MLS or U.S. Soccer noticed the call, and encouraged the league's officials to get it right next time.
It should be noted that U.S. Soccer president Sunil Gulati has publicly stated a willingness to use MLS as a testing ground for new officiating technologies and procedures. Perhaps a goal line assistant referee would have signaled to Jurisevic that there was no contact on the play?
I'm sure you will have plenty to say about Saturday's game in the comments. While you're at it, let's hear your suggestions for how soccer refereeing can be improved. I happen to think goal line assistants would go a long way towards solving the problems we've seen over the last few weeks, from balls crossing the line to contact in and around the 18-yard box.
What do you think?