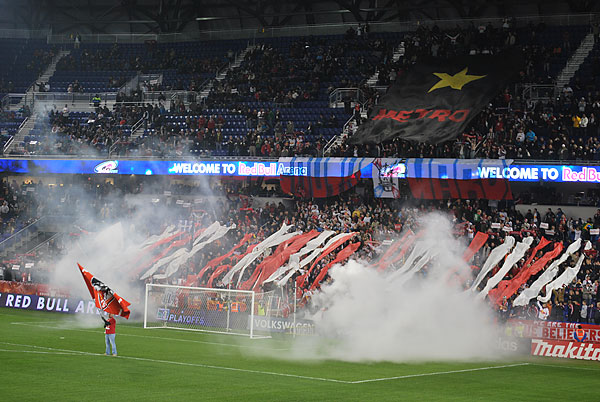 Amid the pregame tifosi from the Empire Supporters' club, a sign (literally) that New York's MLS club has yet to escape its past. (Jonathan Tannenwald/Philly.com)
HARRISON, N.J. - At the start of the MLS Cup playoffs, a lot of people believed that this would finally be the year that New York and Los Angeles would meet in the championship game. But not for the first time, the club in the league's largest and most important market failed to hold up its end of the bargain.
The Red Bulls were dismissed from the playoffs by the San Jose Earthquakes, and above all by Philadelphia native Bobby Convey. He scored two goals and assisted on the decisive third, giving San Jose a 3-1 win at Red Bull Arena and a 3-2 aggregate win in the two-game series.
"It's an unbelievable feeling to be the underdog and come in [here] and do well, and beat the league's team," Convey said. "Nobody expected us to win - obviously everyone expected them to win their home game being 1-0 up."
Yes, Convey called New York "the league's team." Maybe it was a slip of the tongue, but even the most rabid Red Bulls haters among you would have to admit that an MLS Cup final featuring David Beckham and Thierry Henry would have brought the league unprecedented publicity and attention.
From the very start last night, New York seemed flat. After winning the first leg out west, Red Bulls coach Hans Backe deployed his usual 4-5-1 formation, but it didn't produce a goal until the Earthquakes had scored two.
The first of them came in just the sixth minute, as Convey pounced on a botched clearance and finished from close range. Red Bulls defender Chris Albright, also a Philadelphia native, admitted that the early goal had a considerable effect on his team's psyche.
"That was the game for me - it just gave them energy," he said. "It was the one thing we talked about that we just can't give up, because all the momentum shifts to them, all the hope."
You would think that a midfield featuring Dane Richards, Joel Lindpere, Mehdi Ballouchy and rookie sensation Juan Agudelo would have produced a lot of attacking soccer. There were some good chances, but not too many great ones - and in my opinion they weren't taken by the right people.
Left back Roy Miller was making all the runs on that side of the field, and the crosses that came in from both sides did not find striker Juan Pablo Angel. Lindpere and Richards were invisible for long stretches of play.
When New York did get good chances, they were unable to capitalize. Agudelo dribbled into open space on the right side of the 18-yard box in the 39th minute, but his shot went off the near post. Ballouchy had a look at an open goal in the 60th minute, but Earthquakes goalkeeper Jon Busch made a spectacular save with his right foot. a shot at an open net blocked in the second half.
Just as important as Backe's decisions with his starting lineup were his decisions with his bench. Backe didn't make any substitutions until the 84th minute, when he made all three at once. One of them was Henry, who's been battling a knee injury for a while now.
Henry didn't contribute much of anything, and that might have been because of how little time he spent on the field. I never saw him call for the ball, or move towards loose balls when they were near him. Perhaps if the Frenchman had come on sooner, he would have had enough time to really get into the flow of the game
Backe said after the game that he only wanted to play Henry for 20 to 25 minutes, and that he was worried about sending the French star in too early if the game went to extra time. Still, you have to wonder - and a number of journalists wondered aloud during Backe's postgame press conference.
"I think he could have helped us, but he can't finish - he's got pain all the time in his right knee," Backe said. He admitted that bringing in Henry in when he did "was just a panic move, if you'd like."
I'm sure Yankees manager Joe Girardi can sympathize. Indeed, the city's signature soccer and baseball teams were doomed by the same thing: a lack of offense in key situations.
Is New York's soccer team cursed? Who knows. There were certainly omens, starting with the rain that soaked the Northeast Corridor all day. If the weather was better, perhaps the national television audience would have seen a full house at Red Bull Arena. Instead, the announced crowd of 22,839 was probably closer to 17 or 18,000 actual tickets torn.
And instead of getting a final with two big markets and lots of glamorous players, one of San Jose, Columbus or Colorado will be in Toronto on November 21. All are good teams, but none will bring the buzz factor of New York.
Let's give credit where it's due, though, because San Jose - and Convey in particular - played a terrific game. Convey has suffered a series of devastating injuries over the years, and the potential he showed as a 16-year-old with D.C. United has never been truly fulfilled. But this season has been one of the best in his career, and this game was another high water mark.
"Stat-wise, you look at it and see that he scored two goals and an asisst, and you think he's running around like Lionel Messi," Earthquakes coach Frank Yallop said. "But he played a terrific positional game against probably the best right-sided midfielder in our league."
As he reflected on the night in the visitors' locker room, Convey admitted that he "was really close to just retiring" when he battled multiple knee problems in 2006 and 2007. Even after Convey returned to MLS in 2009, he didn't do all that well. But he has finally gotten back to full health, and the pace and ball skill he showed at the beginning of the decade finally returned.
"I was fortunate enough that MLS and San Jose brought me back, and I knew I ha da lot of soccer left if I could just get healthy," he said. "This is the culmination for me of three years working hard every day."
You can hear more from Convey, Yallop, Albright and Backe in the audio player below. There are also video highlights of the match if you didn't get to see it on TV.
So who do you think will get to the MLS Cup Final now?
Your browser does not support the audio element.