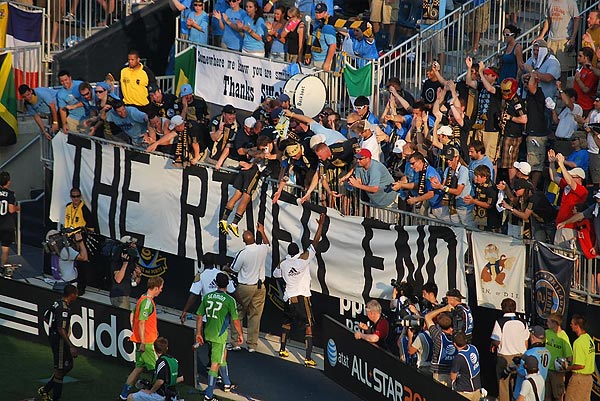 Jumping to conclusions. (Jonathan Tannenwald/Philly.com)
When Sebastien Le Toux jumped into the Sons of Ben at the end of the Union's Lincoln Financial Field debut, I figured it was just a one-off thing.
But it happened again after Sunday's opener at PPL Park, with Andrew Jacobson leading the charge into the River End. A number of players followed suit.
I say that if this thing is going to stick around, then it needs a proper name. I put the question out on Twitter and in the press box Sunday evening, and got a few responses.
The first one I heard came from Daily News columnist John Smallwood, who suggested the "PPL Pull." Suggestions from Twitter included the "Le Toux Leap," the "French Dip" and the "Philadelphia Dive."
I could go for the French Dip, in part because Le Toux and Jacobson both speak the language fluently. So do Danny Mwanga and Amobi Okugo, as I found out firsthand in the locker room at Toyota Park.
But if we're to regularly invoke the name of a sliced beef sandwich for a Philadelphia team, it probably shouldn't be that one.
So today's post is turned over to you. Share your suggestions for what this thing ought to be called in the comments. At the end of the day, I'll collect them and post a poll.