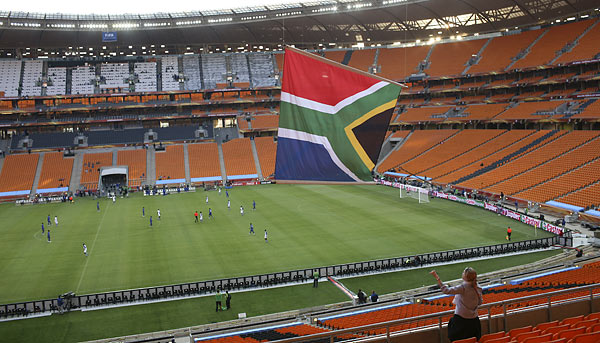 Johannesburg's Soccer City Stadium is ready to stage the opening match of the 2010 World Cup between Mexico and the host nation, South Africa. (Armando Franca/AP)

On this morning, we turn once again to the words of soccer's greatest philosopher. Although Soccer in Sun and Shadow hasn't been updated since the 2002 World Cup, Eduardo Galeano's words still resound as the 2010 edition begins:
I go about the world, hand outstretched, and in the stadium I plead: "A pretty move, for the love of God." And when good soccer happens, I give thanks for the miracle and I don't give a damn which team or country performs it.
I don't care who wins this World Cup. Sure, I've made picks in our pick'em contest for the hell of it, based on a mix of gut instinct and a little knowledge of who's who. But when the games begin, I will cast aside as many of my cares about results as I can. I will watch to see the spectacle of color, noise, and skill that makes the World Cup the planet's preeminent sporting event.

Many of us are not able to travel the world as Galeano has for so many years. But on this day, we should all put our hands out and plead to whatever authority we believe in for "a pretty move."

Whichever team you're rooting for, let's hope that this World Cup is full of goals and creativity. Let's hope that some team, or some player, captures our collective imagination and takes us for a ride that will end in triumph a month from today.

Maybe it will be Brazil, Spain, Honduras or the hosts South Africa. Maybe it will be Lionel Messi, Robin Van Persie, Didier Drogba or Javier Hernandez.

Maybe it will be someone or some team we hadn't ever thought of. For all we know now, it probably will be.

Or maybe, just maybe, it will be the United States. Maybe Landon Donovan or Clint Dempsey or Jozy Altidore will break through and become that transcendent star. Maybe Jose Francisco Torres or Stuart Holden or Herculez Gomez will become a household name.