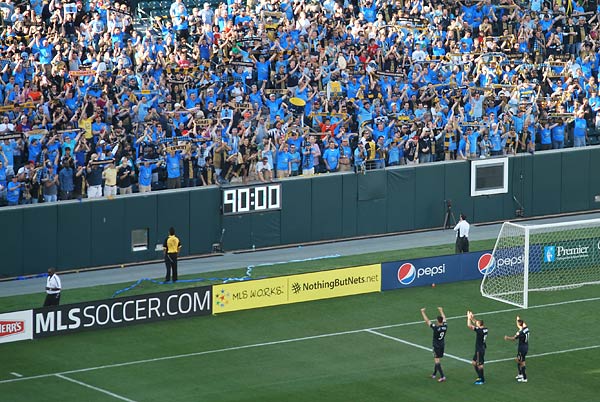 Sebastien Le Toux, Danny Califf and Shea Salinas salute the Sons of Ben after the final whistle. (Jonathan Tannenwald/Philly.com)
Despite the continued exhortations from the 25,038 fans at Lincoln Financial Field, it seemed like the Union just were not going to be able to get the ball past Kevin Hartman.
But after the Union's 10th corner of the game was cleared, the ball was sent back into the box, and eventually it fell to Danny Mwanga. The rookie was wide open, and didn't have to think much: with his first touch, he thumped the ball right into the net.
"He did the right thing - just smack it as hard as he could," Alejandro Moreno observed.
The Union certainly deserved that goal, and perhaps two more points from the day than they got. They took 21 shots, of which six were saved by Kevin Hartman - and a few in spectacular fashion. Most notable among them was a diving stop eight yards off the goal line of Moreno's second-chance shot in the 38th minute.
I'll have much more to say about the game in Take Two. For now, here's postgame audio from the press conferences and from inside the locker room. There are also some postgame video highlights at right.
The audio jumps at one point in the middle because the microphone on the dais cut out. Apologies, but it happens sometimes.
And if you didn't see Mwanga's goal - or just want to watch it again - that video is below.
Your browser does not support the audio element.