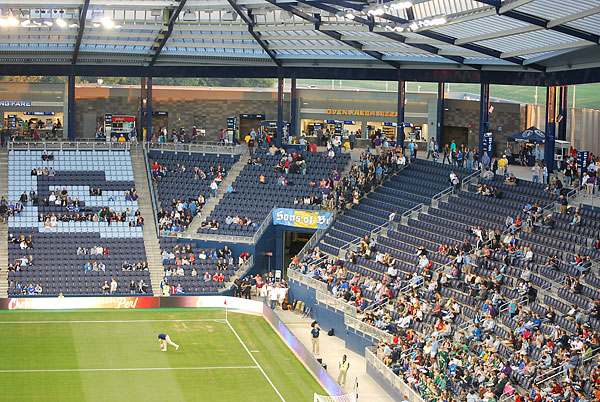 Approximately 50 members of the Sons of Ben have traveled to Livestrong Sporting Park for the Union's game against Sporting Kansas City tonight. (Jonathan Tannenwald/Philly.com)
Game 29: Philadelphia Union at Sporting Kansas City
Time: 8:30 p.m. EDT
Venue: Livestrong Sporting Park, Kansas City, Kan.
TV: Fox Soccer Channel (J.P. Dellacamera, Kyle Martino and Brian Dunseth)
KANSAS CITY, Kan. - Midfielder Freddy Adu and forward Danny Mwanga did not travel with the Union for their game at Sporting Kansas City tonight, a key contest in the Eastern Conference playoff race.
Both players will miss the game due to injury, as will a number of other regular players.
At around 6:30 p.m. Eastern Time - just two hours before kickoff here at spectacular Livestrong Sporting Park - Adu tweeted: "Good luck to the union tonight against kansas city. Wish i could be there with them. #Doop"
Although Adu's injury was not mentioned in the game notes handed out to the media, the injury report on Major League Soccer's website listed Adu as being doubtful because of a sprained right ankle.
Forward Danny Mwanga also will not play tonight, due to a strained hip. Other players unavailable due to injury include goalkeepers Faryd Mondragón (broken finger in his right hand) and Thorne Holder (concussion); right back Sheanon Williams (concussion) and midfielder Justin Mapp (strained left quadriceps).
With two of the Union's three goalkeepers out injured, the club announced today that it has signed Chase Harrison from its USL Pro affiliate, the Harrisburg City Islanders.
Tonight's lineups are as follows:
Philadelphia Union (4-4-2)
Goalkeeper: Zac MacMath
Defenders: Gabriel Farfan, Danny Califf, Carlos Valdés, Kyle Nakazawa
Midfielders: Brian Carroll, Amobi Okugo, Michael Farfan, Roger Torres
Forwards: Veljko Paunović, Sébastien Le Toux
Bench: GK Chase Harrison; Ds Ryan Richter, Joe Tait; Ms Morgan Langley, Stefani Miglioranzi, Zach Pfeffer; F Jack McInerney
Sporting Kansas City (4-3-3)
Goalkeeper: Jimmy Nielsen
Defenders: Chance Myers, Matt Besler, Júlio César, Seth Sinovic
Midfielders: Roger Espinoza, Graham Zusi, Jéferson
Forwards: Kei Kamara, Teal Bunbury, Omar Bravo
Bench: GK Eric Kronberg, Ds Aurélien Collin, Michael Harrington; Ms Davy Arnaud, Peterson Joseph; Fs C.J. Sapong, Soony Saad
You can get live updates on the game in the console below. If you're on a mobile device, click here to follow along.