Archive: August, 2012
Jonathan Tannenwald, Philly.com
I don't want this to get too buried amid the other stories I've written today, which is part of why I've saved it for last and broken it out separately.
I traded e-mails with a spokesperson at Comcast this afternoon regarding their plans to start carrying the al-Jazeera-owned soccer channel beINSport. The two sides agreed a carriage deal last week, but it was never quite made clear when the channel actually would show up on on local televisions.
That got many soccer fans nervous, as beINSport has the exclusive rights to the U.S. men's national team's big World Cup qualifying game at Jamaica on Friday, Sept. 7.
Jonathan Tannenwald, Philly.com
Chelsea vs. Atlético Madrid
2:30 p.m. Friday (Fox Soccer Channel)
Some of European soccer's biggest names take the field in Monaco for the UEFA SuperCup, as Champions League winners Chelsea face Europa League winners Atlético. All eyes will be on Chelsea forward Fernando Torres, who first rose to prominence in the red-and-white stripes of Madrid's second most popular team. Athlético is led by its own scoring sensation, Colombian forward Radamel Falcao.
Jonathan Tannenwald, Philly.com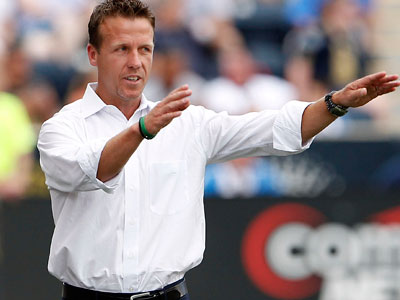 Within 24 hours of the Union's all-but-official elimination from playoff contention, the team has removed the interim tag from manager John Hackworth's title.
"I'm very excited to have been given this opportunity," Hackworth said in a statement issued by the team. "We have a very talented and committed group of players in our locker room and I'm delighted to have the opportunity to continue working with them long term as they and the organization continue to develop."
In that same statement, Union CEO Nick Sakiewicz said that Hackworth "deserves" the job.
Jonathan Tannenwald, Philly.com
After a few days of speculation, popular soccer channel GolTV confirmed today that DirecTV will be dropping its English-language feed from its service effective September 13.
Based in Miami, GolTV has the rights to the U.S. Open Cup final; the top leagues in Germany, Brazil, Argentina, Uruguay and Colombia; and Mexico's second division. The network also broadcasts some UEFA youth tournaments and feature content produced by prominent Italian club AC Milan.
GolTV used to have the rights to the Spanish league and Italian cup competition, but lost them when al-Jazeera-owned beINSport - which is also based in Miami - launched earlier this month. beINSport also hired away GolTV's two most prominent English-language announcers, Phil Schoen and Ray Hudson.
Jonathan Tannenwald, Philly.com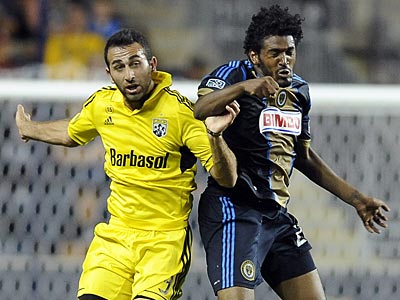 In the minutes after the Philadelphia Union gave up a last-minute 2-1 loss to the Columbus Crew at PPL Park, the atmosphere at one of Major League Soccer's most lively venues was pin-drop quiet.
The fans who made the midweek trip to Chester knew how important the defeat was. So did Union manager John Hackworth. When asked during his postgame press conference whether the Union are out of the playoff race, Hackworth did not mince words.
"I'm the eternal optimist, but I would say that I'm not stupid either," Hackworth said. "I don't think it's a possibility anymore. I think we should stop talking about it, personally, and I think we should concentrate on playing good soccer the rest of the way."
Jonathan Tannenwald, Philly.com
Time: 8:00 p.m.
Venue: PPL Park, Chester, Pa.
TV/Radio: The Comcast Network (J.P. Dellacamera and Bob Rigby)/WIP 610-AM (Tony Limarzi and Peter Pappas)
Philadelphia, meet Columbus' Federico Higuaín. He's a striker. A big one. Among other things, he can score on free kicks. Next to him is a guy named Jairo Arrieta, who is also is a very good goalscorer.
Just saying.
Jonathan Tannenwald, Philly.com
If you've been wondering over the last few weeks why forward Jorge Perlaza seemingly never came close to playing for the Union, you don't have to wonder anymore.
The Union and Perlaza agreed to a mutual parting of ways late Tuesday afternoon. It's not a surprise, considering that Perlaza hadn't played in the last 10 Union games. He did not even make the bench during that time, though he did play in some Reserve League games.
Since coming to Philadelphia in the trade that sent Danny Mwanga to Portland, Perlaza made just two appearances: eight minutes as a substitute against D.C. United on June 16, and a 64-minute start at Houston on June 30. He registered a total of one shot on goal in those two appearances combined.
Jonathan Tannenwald, Philly.com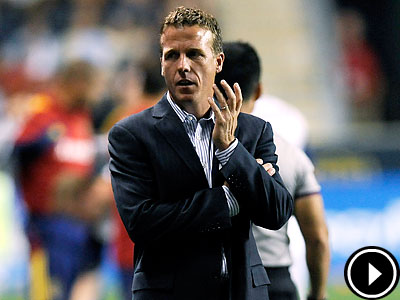 After the Union and Real Salt Lake played to a scoreless draw Saturday night at PPL Park, I got together with The Inquirer's Mike Jensen to talk about the team's strengths, weaknesses and fading playoff hopes.