Archive: July, 2012
Jonathan Tannenwald, Philly.com
In the locker room after Saturday's 2-1 win over the New England Revolution at PPL Park, Union forward Jack McInerney was asked why he jumped into the stands after scoring the game-winning goal.
"It just kind of happened," he responded. "I don't know - I just remember Andrew Jacobson and Nick Zimmerman doing it, so it kind of just hit me in a moment."
Jonathan Tannenwald, Philly.com
United States women vs. Colombia at Hampden Park, Glasgow
12:00 p.m. Saturday (NBC Sports Network; NBC Olympic Soccer Channel; NBCOlympics.com)
After an impressive 4-2 win over France in their first group stage game, the U.S. women face a Colombia team that they beat 3-0 at last year's World Cup. With starting central midfielder Shannon Boxx fighting a hamstring injury, Delran, N.J., native Carli Lloyd could play a significant role helping star forwards Abby Wambach and Alex Morgan.
Jonathan Tannenwald, Philly.com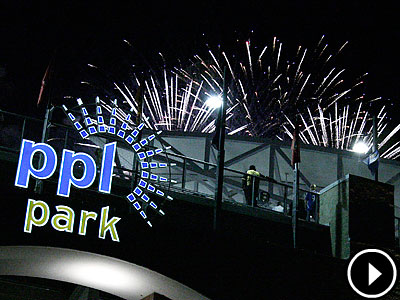 One of the big pregame tifo displays from the record crowd of 19,236 at PPL Park. (Jonathan Tannenwald/Philly.com)
I hope that those of you who spent last night at PPL Park appreciate how special having the MLS All-Star Game in town was.
Jonathan Tannenwald, Philly.com
Here are some highlights from the postgame press conferences and mixed zone after the Major League Soccer All-Stars beat Chelsea, 3-2, at a sold-out PPL Park.
MLS All-Star Team head coach Ben Olsen on his squad's style of play in the win:
The way they played I think was fun to watch for the fans, and that's what these are still about - entertaining the people that come here. We've talked about results, and of course we know MLS is on a stage, and every time we play people are interested in how MLS is doing. I think they did MLS proud tonight.
Jonathan Tannenwald, Philly.com
In case you missed any of last night's action, you can watch highlights below. There's also a piece from our friends at Cinesport with clips from the postgame press conference.
Jonathan Tannenwald, Philly.com
As was expected to happen today, Major League Soccer announced the "reserve" or inactive players who complete the 32-player All-Star Game roster.
These players will not participate in tonights action - indeed, most of them aren't in Philadelphia - but they get bonuses as part of the collectively bargained total number of All-Stars who are recognized. Voting on the list is done by MLS players.
There are 13 in all. Originally there were going to be 14, but the addition of Philadelphia Union midfielder Michael Farfan to the game day roster reduced the number of reserves.
Jonathan Tannenwald, Philly.com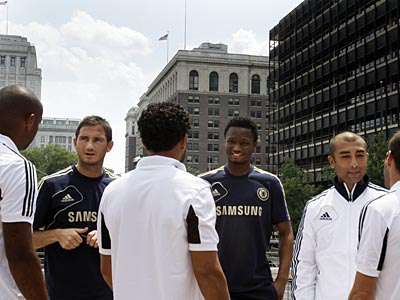 Kickoff Time: 8:50 p.m. EDT
Venue: PPL Park, Chester, Pa.
TV/Radio/Online: ESPN2 and ESPN3.com (English), Telefutura and ESPN Deportes Radio (Spanish), TSN (English in Canada) and RDS (French in Canada). All broadcasts start at 8:30 p.m. EDT.
Welcome to an evening that should produce a real spectacle for soccer fans across the Philadelphia region.
Yes, this game is meaningless in the grand scheme of things. But more than anything else, it is a reward for all of you who have packed PPL Park since it opened two years ago.
Jonathan Tannenwald, Philly.com
On Monday night, Major League Soccer and Philadelphia mayor Michael Nutter hosted a party at the Hotel Palomar for MLS All-Star Team players, representatives of Chelsea and other guests.
In among the crowd was a photographer from Phrequency, Philly.com's specialty site for local style, music, art and cultural happenings.
Here are some pictures from the big occasion.