Archive: June, 2012
Jonathan Tannenwald, Philly.com
Chicago Fire at Sporting Kansas City
8:00 p.m. Friday (NBC Sports Network)
Major League Soccer enjoyed a bonanza of offense last week, as 52 goals were scored in 15 games from Wednesday through Sunday. That trend could continue in this game, as two teams with plenty of firepower face off in the heartland.
Jonathan Tannenwald, Philly.com
Major League Soccer announced today that Union right back Raymon Gaddis has been suspended one game and fined an undisclosed amount for a rough tackle on Sporting Kansas City defender Roger Espinoza in the 24th minute of this past Saturday's game at PPL Park.
Gaddis will miss Saturday's game at Houston.
Here's video of the play. I can't say I'm surprised that Gaddis got nailed for it.
Jonathan Tannenwald, Philly.com
Much to the surprise of observers on both sides of the Atlantic Ocean, David Beckham was not named to Great Britain's Olympic soccer team.
Each men's team at the Olympics is allowed to have three players over the age of 23 on its roster, and the 37-year-old Los Angeles Galaxy midfielder was widely expected to be in the British trio.
It would have been a sentimental decision more than a soccer one. Beckham is a London native, and worked hard on the city's candidacy to host the Summer Games. Had he made the roster, he likely would have been the team's captain.
Jonathan Tannenwald, Philly.com
NBC announced a long and impressive list of broadcasters for its soccer coverage at the upcoming Summer Olympics in London. Philadelphia Union play-by-play announcer J.P. Dellacamera will be among the talent.
Dellacamera will only miss one Union broadcast: the August 4 game at Montréal.
NBC's top soccer crew will be its mainstays from MLS broadcasts. Arlo White will do play-by-play, with Kyle Martino as color analyst for men's games and Brandi Chastain as color analyst for women's games. Drea Avent will be the sideline reporter.
Jonathan Tannenwald, Philly.com
Here's a nice little late-morning distraction. 76ers forward Elton Brand played in a charity soccer game Wednesday night, and as you'll see below, he didn't play very well.
The background is as follows. You may know that Phoenix Suns point guard Steve Nash is a huge soccer fan. So much so that he's a part-owner of the Vancouver Whitecaps.
Nash's foundation organizes an annual charity soccer game in New York. It brings together top names from both of the sports he loves for a midsummer kickaround in the heart of Manhattan.
Jonathan Tannenwald, Philly.com
In case you weren't there or didn't watch the webcast, here are all the goals from the Union's 5-2 win. I particularly liked Gabriel Gomez's beautiful chip that capped off the scoring.
Jonathan Tannenwald, Philly.com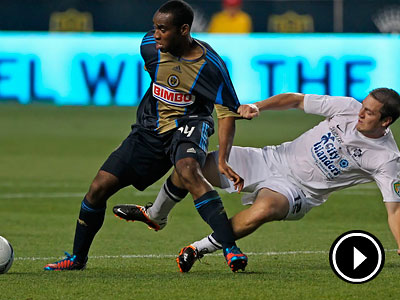 Kerith Gabriel of the Daily News breaks down the Union's 5-2 win over the Harrisburg City Islanders at PPL Park in the quarterfinals of the Lamar Hunt U.S. Open Cup. There are also postgame reactions from Union manager John Hackworth, forward Jack McInerney and midfielder Freddy Adu.
The Union will host Sporting Kansas City in the Open Cup semifinals on July 11th. The Seattle Sounders will host Chivas USA in the other semifinal. I do not know when the potential venues for the final will be announced, but it might not happen until after the semifinals are complete. Stay tuned.
Jonathan Tannenwald, Philly.com
As we all know, soccer is an incredibly boring sport that no one cares about.
To confirm this belief, the wizards at Kick TV - a collaboration between Major League Soccer and YouTube - put together a useful video.
It is a compilation of the 52 goals that were scored across the 15 MLS games played this past Wednesday, Saturday and Sunday. That is an average of 3.47 goals per game.