Archive: June, 2010
Jonathan Tannenwald, Philly.com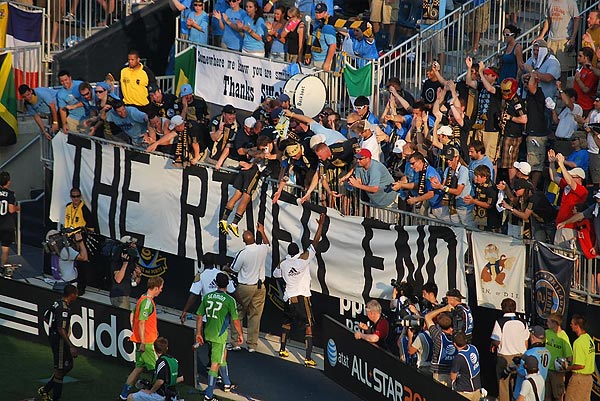 Jumping to conclusions. (Jonathan Tannenwald/Philly.com)
When Sebastien Le Toux jumped into the Sons of Ben at the end of the Union's Lincoln Financial Field debut, I figured it was just a one-off thing.

But it happened again after Sunday's opener at PPL Park, with Andrew Jacobson leading the charge into the River End. A number of players followed suit.

I say that if this thing is going to stick around, then it needs a proper name. I put the question out on Twitter and in the press box Sunday evening, and got a few responses.

The first one I heard came from Daily News columnist John Smallwood, who suggested the "PPL Pull." Suggestions from Twitter included the "Le Toux Leap," the "French Dip" and the "Philadelphia Dive."

I could go for the French Dip, in part because Le Toux and Jacobson both speak the language fluently. So do Danny Mwanga and Amobi Okugo, as I found out firsthand in the locker room at Toyota Park.

But if we're to regularly invoke the name of a sliced beef sandwich for a Philadelphia team, it probably shouldn't be that one.

So today's post is turned over to you. Share your suggestions for what this thing ought to be called in the comments. At the end of the day, I'll collect them and post a poll.
Jonathan Tannenwald, Philly.com
First of all, in case you missed it last night, be sure to check out my exclusive interview with Seattle Sounders TV and radio broadcaster Arlo White. He brings a unique mix of perspectives to American soccer, having come to America after many years calling sports for BBC Radio Five Live.

Now for your player ratings from Sunday's game. In addition to the high marks all around - even for Chris Seitz - there was a bumper crop of comments. Thanks very much to the reader panel for that. If you want to join in, just email me and I'll add you to the list.

Goalkeeper

Chris Seitz: 8.33
- "Bless his heart, the kid plays hard and keeps trying no matter how tough the circumstances. He's gone from goat to fan favorite in under two months." (Nathan M.)
- "Seitz stopping a PK. Nothing will boost a guy's confidence like that. NOTHING." (Andrew Dillon)

Defenders

Cristian Arrieta: 6.33
- "Needs to be more careful on the physical side of things. Contributed to the back lines dominance over a once feared Sounders attack." (Bryan James)

Danny Califf: 6.56

Jordan Harvey: 6.00
- "Didn't get forward as much as he had been, but was very effective against the chess player/underwear model." (Dan Gontkof)

Winner of our Zing of the Week award.

Shea Salinas: 7.44
- "Very effective as an overlapping right back. His speed was key in neutralizing Steve Zakuani, who more or less ran David Myrie right off the Union roster after the season-opener in Seattle." (Jay Ziminsky)
- "Salinas is proving to be an extremely valuable player with his versatility in the back and midfield. " (Jeff P.)

Midfielders

Fred: 7.78
- "This is the Fred we've been waiting for. The playmaker with skills on the ball. Thrilled that all his effort paid off and he netted his first goal (of hopefully many) for the Union." (Andrew Dillon)
- "Mainly played in a central attacking midfield role, and controlled the play well from that position - as opposed to his usual position out wide." (Jay Ziminsky)

Andrew Jacobson: 5.57

Sebastien Le Toux: 8.44
- "Le Toux is a bona fide star for this team. He's tireless and with six goals and five assists to date, it's clear he is our main offensive catalyst." (Jeff P.)
- "Were it not for Edson Buddle, Sebastian Le Toux would be a clear front runner for MLS MVP right now. Not only does he score, he makes his teammates better. That's the mark of a great player." (Nathan M.)

For the record, I think Alvaro Saborio and Dwayne De Rosario would have a thing or two to say about that. As well as a certain other Los Angeles player of some renown who's set up Buddle for goals just about everywhere except in South Africa. But I digress, and it's too late to complain about Robbie Findley starting twice when he missed multiple chances he should have buried... okay, I'll stop now.

Stefani Miglioranzi: 6.50
- "Migs has a job to do, and sometimes it seems his job is like a good hockey ref. The less you notice him, the better." (Bryan James)

Amobi Okugo: 5.33

Roger Torres: 6.00

Nick Zimmerman: 5.13

Forwards

Alejandro Moreno: 7.11
- "Another lunch-pail effort. One of these days, he is going to get that first goal, probably out of sheer work." (Dan Gontkof)

Danny Mwanga: 7.56
- "Rewarded Nowak's choice to start him with the 3rd goal. If he continues to his offensive contributions, the Rookie of the Year award whispers may soon start."

On current form, I'd be happy to start them, and I doubt I'm alone. It's starting to look like the race is between Mwanga, New York's Tim Ream and the D.C. United duo of Andy Najar and Bill Hamid. If Mwanga keeps playing and scoring, I like his chances.
Jonathan Tannenwald, Philly.com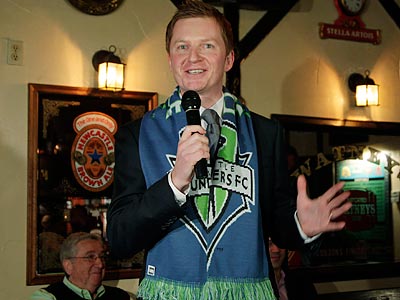 We are lucky that J.P. Dellacamera is the play-by-play announcer for local broadcasts of Philadelphia Union games. He brings decades of experience with American soccer to the booth, and is capable of speaking both to the seasoned soccer fan and the curious new observer.
But of all of the play-by-play announcers in Major League Soccer, the one whose viewpoint I think matters as much as Dellacamera's is the Seattle Sounders' Arlo White.
White came to Seattle after spending much of this decade working at the BBC's flagship sports radio station, Five Live. He was the studio host of of Five Live's Saturday sports programming, and did play-by-play of Champions League soccer, the Olympics, England cricket matches and the Super Bowl.
Jonathan Tannenwald, Philly.com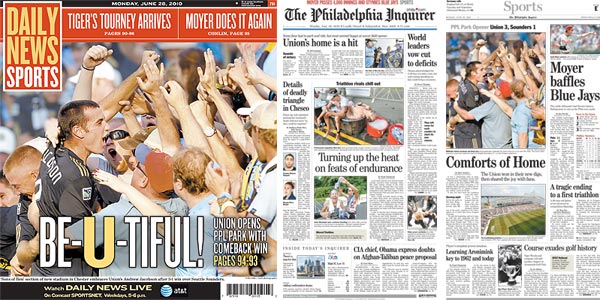 Philadelphia Union 3, Seattle Sounders 1

The game: Photos | Marc Narducci | Kerith Gabriel | Kerith on Jeff Parke | Seattle Times

The fans: Jeff Gammage | John Smallwood | Josh Fernandez | You Talkin' To Me?

Your eyes are not deceiving you. There really is soccer on the back page of the Daily News and the front pages of today's Inquirer A section and Sports section. I know you already went out and bought the papers, because you do every day (ahem). But just in case you haven't, you should.

Here are a few thoughts from me on last night's game, which I thought was the Union's most impressive performance of the season. Afterwards, you'll find game highlights and an audio player with postgame quotes from both teams. There are also two videos in the player at right: one of the pregame festivities and one of the Union's postgame press conference.

- I like the attacking trio Peter Nowak deployed yesterday. It had Danny Mwanga as a forward partnering with Alejandro Moreno, and Sebastien Le Toux behind them. Le Toux is capable of playing just fine as a forward, but he likes making runs from deep towards goal. Mwanga describes himself as an "attacking player," but I'm not convinced that he's best suited playing behind two other players.

Mwanga does better when he finishes the play instead of starting it. So he's well-served to be up front instead of behind the front line.

- Shea Salinas' versatility continues to impress. Earlier in the season, it was moving from midfield to left back. Today, Salinas started and played 90 minutes at right back. It's one thing to add defensive responsibilities to his work on the flank, but to change sides of the field requires a complete change in how the game is played.

- Chris Seitz remains a work in progress, but progress has definitely been made. Seitz's save of Pat Noonan's penalty kick turned the game around, and surely gave him a big boost of confidence. Yes, Seitz has struggled for a lot of this season. He may well have more problems as the season continues.

- Pat Noonan's goal at the end of the first half certainly was not Seitz's fault. The cross from Steve Zakuani took a deflection off Fredy Montero and flew past Cristian Arrieta and Jordan Harvey to the foot of a wide-open Noonan.

Arrieta was caught in no-man's land, and looked like he was anticipating a run from Montero. Harvey appeared to take a move towards Montero as the cross was played. By the time Harvey turned back around, Noonan was a step ahead and on his way to goal.

- It was good to see Fred get his first goal of the season. It was well-deserved, too, as the Brazilian had a couple good chances. The best of the bunch wasn't even his goal - it was a rasping low shot in the 71st minute that came after a nice cut inside from the left wing. Kasey Keller had to make an equally impressive diving save to push the ball wide.

I was initially worried that playing Fred, Roger Torres and Le Toux together in midfield would lead to the proverbial problem of having too many cooks in the kitchen. But the trio worked well together and kept the ball moving around to everyone.

- Why weren't all the seats filled? Yes, it was a sellout, but there were pockets of blue and gold along the sideline across from the press box. I don't know if it was the traffic or the hot sun or what, but you'd think the first ever game in a stadium should see every seat occupied.

- Having said that, the atmosphere was outstanding. And not just because the PPL Park press box is open-air, so I could actually hear it. The Sons of Ben brought it for all 90 minutes, and got some of the other sides of the stadium singing along with them. They even managed to create some kind of vuvuzela-like noise to distract Kasey Keller, No one in the press box could figure out how they did it.

The college basketball fan in me thinks the River End would sound even cooler with a few brass instruments to accompany the vocals. But that would require an overturning of the ban on artificial noisemakers at PPL Park - a rule which came into place explicitly because of the vuvuzelas in South Africa.

Who knew that humans could make the same sound?

- A few words about Seattle. Despite being loaded with attacking talent, their 4-3-3 formation is not working. A team with Fredy Montero, Freddy Ljungberg and Steve Zakuani should be one of the best in Major League Soccer, but the Sounders have scored just 14 goals in 13 league games.

I've seen the Sounders play 4-4-2 this year and get much better results. Having four in the midfield makes it more likely that a team will create one-on-one situations on the flanks. Steve Zakuani is one of the best wingers in Major League Soccer, but to make the kind of moves he's capable of I think he has to start wider out.

Playing three in the midfield and three up top reduces the amount of width that a team plays with - especially when two of those midfielders are Peter Vagenas and Patrick Ianni. Better to drop Zakuani back a bit and play two up top, with Montero partnering either Pat Noonan or Nate Jaqua.

- And one more question about the Union: When will Alejandro Moreno finally score? I know I've asked it before, but it's now almost July. He's done just about everything possible except put the ball in the net.

Please share your thoughts in the comments after checking out the audio and video. I'll be back tomorrow with your player ratings from the game.



Jonathan Tannenwald, Philly.com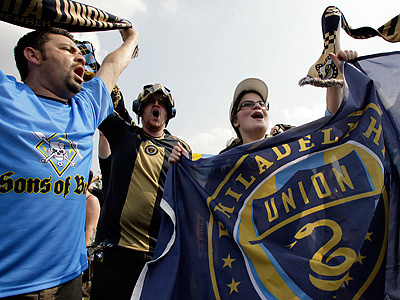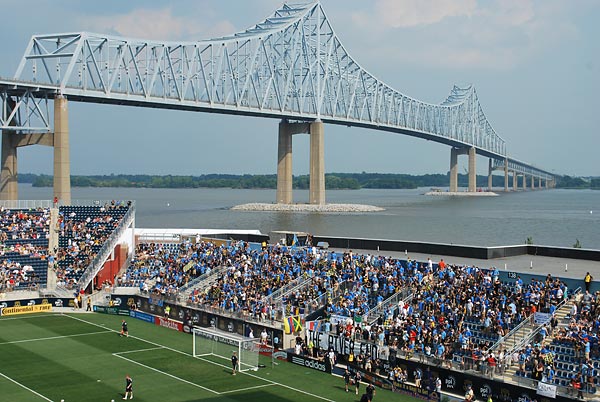 PPL Park is ready for its official debut. (Jonathan Tannenwald/Philly.com)
Time: 5:00 p.m. EDT
Venue: PPL Park, Chester, Pa.
Television: ESPN2 (Glenn Davis and Kyle Martino)
Jonathan Tannenwald, Philly.com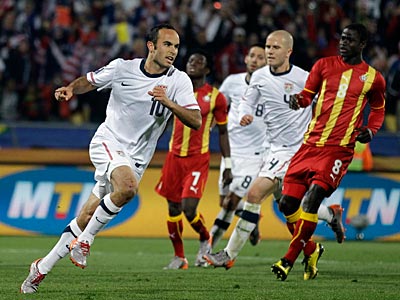 Time: 2:30 p.m. EST
Venue: Royal Bafokeng Stadium, Rustenberg, South Africa
Television: ABC (Ian Darke and John Harkes) and Univision (Pablo Ramirez and Jesus Bracamontes)
ARLINGTON, Va. - Greetings from one of the truly legendary gathering places for American soccer fans, Summers Restaurant. It won the first ever U.S. Soccer Best Soccer Bar competition, and it hasn't changed a bit since. I spent many weekend afternoons at the long table in the back when I was in high school.
I had to come to Washington today for some stuff I scheduled before the World Cup started, so I knew this was the place to be. I got in early enough to get a table, and I might have been the last one to be so lucky. They stopped letting new customers in well over an hour before kickoff.
Jonathan Tannenwald, Philly.com
There's a ton of coverage of PPL Park's opening in today's Inquirer and Daily News. I've put together a rundown of all of the staff stories below. You'll also find an advertising supplement in the Inquirer.
Before we get to that, though, it's time to answer one big question about the stadium: how will everyone get there and get out afterwards?
The parking situation is complex. There are a total of six lots, some near the stadium and some off-site with shuttle buses. A complete rundown of who should park where is at the bottom of the page here.
Jonathan Tannenwald, Philly.com
There is a reason why journalists are referred to as professional cynics.

It's not just that we're supposed to do the best we can to view the world objectively. More than a few people in this line of work are naturally inclined to be pessimistic about things.

I'm sure you've figured out by now that I'm one of those people. So it won't surprise you that I was very much fearing the worst for the U.S. national team coming into yesterday morning.

One of my oldest friends in soccer, Aaron Stollar of BigSoccer.com, wrote a blog post before the game titled "All we can do now is believe."

And yet, when I stop thinking about 2006 and 1998 and that same awful look of fear and cowardice we've grown to dread out of this team on the big stage, all I can think is... holy [manure], there is a very good chance that not only will the US get out of the group stage, but they could well win the group. That could very well actually happen.

I couldn't get there. I tried, but it just didn't happen. Not just because of the collapse in 2006, or the complete flameout in 1998. The 2002 group stage was also on my mind, even though the U.S. made the quarterfinals that year.

It was early in the morning at the ESPN Zone in Washington, and I was covering a viewing party for the U.S.-Poland game hosted by the U.S. Soccer Foundation. The United States gave up two goals to Poland in the first five minutes, and the place was in utter shock.

All the progress made in the win over Portugal and the draw with South Korea was gone, eviscerated before anyone could even finish a glass of orange juice.

There was an eruption of joy and relief when Park Ji-Sung scored the goal that knocked Portugal out, and qualified the U.S. for the second round instead. But despite the history that was made thereafter, the U.S. still needed serious help to make it out of the group.

Until today, the U.S. had never reached the knockout round of a modern World Cup on foreign soil with a result of its own making. That sentence may sound like it has a lot of caveats, but you get the idea.

Another way to construct the situation is like this: The U.S. had lost all six of the third group stage games it had ever played, going all the way back to 1950.

1950: Chile 5, United States 2
1990: Austria 2, United States 1
1994: Romania 1, United States 0
1998: Yugoslavia 1, United States 0
2002: Poland 3, United States 1
2006: Ghana 2, United States 1

There were plenty of reasons to believe that this year would finally be different. But there was also a hell of a lot of history to overcome.

I blogged this morning's game on only three hours of sleep. As I've said many times before, I work a night shift editing Philly.com's sports page. So I was in a little bit of a haze for most of the game.

When Rafik Djebbour smashed a shot off Tim Howard's crossbar in the sixth minute, I was spooked - but I did wonder if it might finally be the break the U.S. needed. I really thought so when Clint Dempsey scored, but the goal was wrongly annulled for offside.

Then came the kind of moment I was really afraid of: Landon Donovan and Jozy Altidore both tried to shoot the ball on an open net at the same time, and it sailed over the bar. A golden chance had gone begging.

From then on, every time Algeria launched a counter-attack, I thought it would result in the goal that would knock the United States out of the World Cup. But somehow, either the U.S. defense made a stop or Algeria turned the ball over every time.

The clock kept moving. At around the 83rd minute, I looked up at the TV and started to worry that there wasn't going to be a goal. England had a 1-0 lead, and that would be enough to put them and Slovenia through. I figured Slovenia knew that.

Still, I thought it was more likely that Slovenia would score than the United States. Slovenia played with a lot of pride and passion in this World Cup, and surely they would enjoy the praise that would come with sending mighty England home.

A few more minutes ticked away, and there was still no scoring in either game. Fabio Capello had already taken off Wayne Rooney, and then Jermaine Defoe was removed as well. It was time for England to sit on the lead and run the clock out.

Stoppage time arrived, and Algeria started another counterattack. A dangerous-looking cross was sent towards Rafik Saifi, but his header went straight at Tim Howard.

Then came the run to history.

In 12 seconds, the United States went from being toast at the World Cup to being the toast of the World Cup.

If you haven't seen the play yet, or if you want to see it again, the video is below.

It took 90 minutes and 45 seconds to crack Algeria's resistance. In soccer terms, that's a long time. But it took multiple decades to shed the burden of history that the U.S. national team has carried at World Cup.

Now, finally, that's all gone. The past is consigned to being just that. And for once, even the hardened cynics among us have reason to believe.

When Kirk Gibson hit that famous home run in the 1988 World Series, Vin Scully was moved to proclaim that "the impossible has happened."

This time, the possible has happened. It has been a long time coming, and the celebrations that erupted across the country today showed just how much American soccer fans have wanted a moment like this to savor.

It is quite a feeling to be on the good side of history for once.
Ian Darke's call on ESPN
Pablo Ramirez and Jesus Bracamontes' call on Univision
The celebration at the famous Scots Club in Kearny, N.J., which produced former U.S. national team stars John Harkes, Tony Meola and Tab Ramos
The celebration at Lucky Bar in Washington, D.C. The guy with the soul patch and the blue U.S. jersey is an old friend of mine