Archive: May, 2010
Jonathan Tannenwald, Philly.com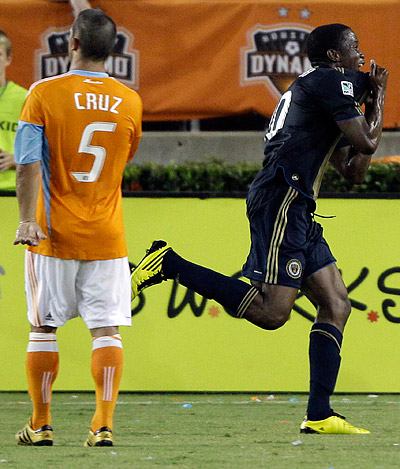 Because really, after yesterday afternoon, a perfect game from Roy Halladay and an 11-goal Stanley Cup Finals opener for the Flyers just weren't enough...

Danny Mwanga scored in the 93rd minute of a wild match in Houston to give the Union a 3-2 win over the Dynamo. It was Philadelphia's first road win of the season, and in club history.

There are video highlights below, as well as a quote sheet courtesy of the Dyanmo.

I've also added video highlights of the U.S.' win over Turkey to my blog post from that game.

Have a great weekend. I am going to attempt to take a little time off, believe it or not. I hope to get Take Two from the Union-Dynamo game up on Tuesday morning, then Rank and File on Wednesday. On Thursday, I'm leaving for Chicago, and I'll be at Toyota Park to bring you live coverage of the Union's game against the Fire.

It just doesn't end, does it?
Jonathan Tannenwald, Philly.com
A few thoughts from me after the United States' 2-1 win over Turkey at Lincoln Financial Field...

- Jonathan Spector got torched at right back. Repeatedly. Maybe Turkey wore down a bit in the second half, but Steve Cherundolo played much better when he came on as a halftime substitute. Cherundolo also was able to make a few useful runs up the right flank to spur the United States' attack. He clearly should be the starter for Bob Bradley.

- Robbie Findley is legit. He made multiple dangerous runs on the right side, and played a great ball to Landon Donovan to set up the first U.S. goal. Findley might even have earned himself some more playing time in South Africa.

- Clint Dempsey is better in midfield. A lot of people - and I'll include myself among them - wanted to see Dempsey paired up front with Jozy Altidore. But Dempsey played much better in a withdrawn role today, serving more as a setup man than a finisher.
Playing Dempsey in midfield restricts Bob Bradley's ability to use his midfield depth, as either Ricardo Clark or Jose Torres can't get on the field unless the U.S. plays a 4-5-1. That's not really ideal, even against England. So a choice has to be made.

- Major props to the fans. The attendance was a legitimate 55,407, which exceeded even the most lofty expectations for the afternoon. A healthy portion came of Sam's Army and the American Outlaws came here from out of town, but the big crowd nonetheless showed that this region has a lot of soccer fans.

There are photos above, and plenty of postgame audio below. You'll hear from Bob Bradley, Jozy Altidore, Steve Cherundolo, Clint Dempsey, Landon Donovan, Robbie Findley, Oguchi Oneywu and José Francisco Torres.

In addition, there are two videos for you to watch: one of the pregame fan festivities and one with postgame interview highlights.

I won't be liveblogging tonight's Union game at Houston, but feel free to share your thoughts on both of today's matches in the comments.



Jonathan Tannenwald, Philly.com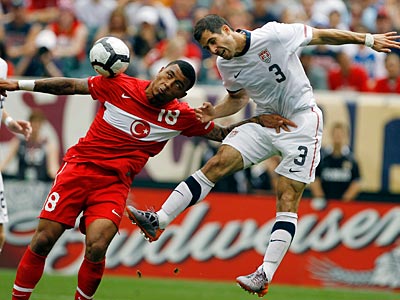 Time: 2:00 p.m.
Venue: Lincoln Financial Field
TV: ESPN2/Galavision (ESPN2's broadcast begins at 1:30 p.m.)

Jonathan Tannenwald, Philly.com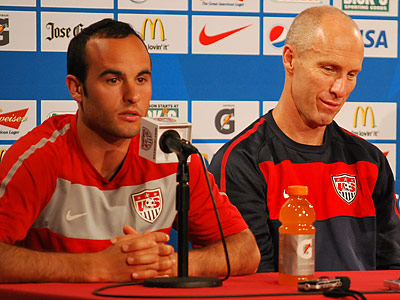 Landon Donovan, Bob Bradley and Carlos Bocanegra meet the press at Lincoln Financial Field before Friday's practice. (Jonathan Tannenwald/Philly.com)
Greetings from the Linc, where the U.S. national team is practicing this afternoon ahead of tomorrow's World Cup send-off game against Turkey.



Jonathan Tannenwald, Philly.com
NOTE: A few hours after I wrote this, Kerith Gabriel broke the news that the Union are trying to sign Italian national team captain Fabio Cannavaro - and they might just be able to do it. We'll have plenty of time to discuss this over the next few days. For now, though, all eyes are on Saturday's U.S.-Turkey game at Lincoln Financial Field. Here's my take on why it matters.

Although this is the U.S. national team's sixth consecutive World Cup, the concept of a "send-off match" hasn't always been a part of the proceedings.

In 1990, the team's last game on home soil before heading to Italy was an exhibition against Dutch club Ajax of Amsterdam. Although over 18,245 people came to RFK Stadium for the game, it wasn't even considered a full international match by the U.S. Soccer Federation, and it was played over a month before the World Cup started.

You can't necessarily count 1994 either, because the United States hosted that year's World Cup. Because of the lack of qualifying matches and the lack of a domestic league, the national team played quite a few times in the weeks and months prior to the tournament. The last of those matches, a 1-0 upset of Mexico in front of 92,405 at the Rose Bowl was the squad's 19th game of the year. That's a huge total.

So you have to start in 1998. Which means that up until now, a total of three cities in the entire United States have hosted the national team's last match before leaving for a World Cup. Washington, D.C. was the venue in 1998, Foxboro, Mass. in 2002, and East Hartford, Conn. in 2006.

Tomorrow afternoon, Philadelphia will join this select group. It is not a small matter.

I am sure that for much of the Philadelphia region, the Flyers' opening game of the Stanley Cup Finals will be more important. Others across the area will spend their time worrying (with some reason) about the Phillies' 36-inning scoreless streak.

But U.S. Soccer announced yesterday afternoon that over 48,000 tickets have been sold for Saturday's soccer game, a 2 p.m. kickoff against Turkey at Lincoln Financial Field. It will be the largest crowd for a World Cup send-off match in American history.

1998: 46,037 at RFK Stadium for a 0-0 draw with Scotland
2002: 36,778 at Gillette Stadium for a 2-0 loss to the Netherlands
2006: 24,646 at Rentschler Field for a 1-0 win over Latvia

Philadelphia comes in first by 2,000 tickets sold, and there's still a lot of time left before the game. That's a pretty big statement for a city which has spent most of the last few years on the outside of American soccer looking in.

This is the one chance that the city has to show that it should be part of U.S. Soccer'S World Cup bid package. It's also a chance to show U.S. Soccer that Philadelphia deserves to host the national team more often.

The former point will be addressed by the size of the crowd, and it sounds like our region's soccer fans have made themselves heard lound and clear. The latter point, however, is is a bit tricky - and it is where Philadelphia really has something to prove.

It's one thing to get a big crowd, and another to get a pro-American crowd. The U.S. national team has struggled for many years to draw crowds in the Northeast that loudly back the home team, especially when playing opponents with large immigrant populations in this part of the country.

This is part of why the U.S. doesn't play in New York and Chicago very often, and why it chooses the teams it plays in Washington very carefully. The problem is more pronounced when the opponents are from the Americans compared to Europe, but it's still there more often than not. I still remember going to a U.S.-Poland game at Soldier Field in 2004 where at least 30,000 of the 39,529 fans at Soldier Field were supporting Poland.
We don't know how many of the fans in attendance Saturday will be supporting Turkey. I'm sure there will be plenty of them. But from everything I've read and heard, it sounds like the vast majority of the crowd will be genuinely pro-American. That was the case for last year's Gold Cup doubleheader, and I'm sure that night was a big factor in U.S. Soccer's decision to play Saturday's game here instead of somewhere else.
Jonathan Tannenwald, Philly.com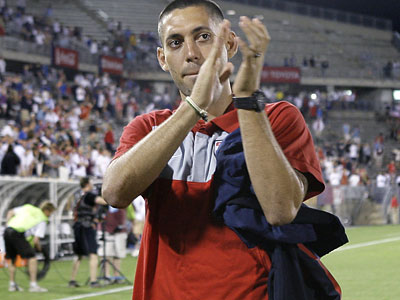 The team was introduced live on ESPN's SportsCenter this afternoon. (Elise Amendola/AP)
U.S. national team coach Bob Bradley has announced the final 23-man roster for the World Cup. What do you think of it?

Goakeepers (3): Brad Guzan (Aston Villa), Tim Howard (Everton), Marcus Hahnemann (Wolverhampton)

Defenders (7): Carlos Bocanegra (Rennes), Jonathan Bornstein (Chivas USA), Steve Cherundolo (Hannover), Jay DeMerit (Watford), Clarence Goodson (IK Start), Oguchi Onyewu (AC Milan), Jonathan Spector (West Ham United)

Midfielders (9): DaMarcus Beasley (Rangers), Michael Bradley (Borussia Mönchengladbach), Ricardo Clark (Eintracht Frankfurt), Clint Dempsey (Fulham), Landon Donovan (Los Angeles Galaxy), Maurice Edu (Rangers), Benny Feilhaber (Aarhus), Stuart Holden (Bolton), José Torres (Pachuca)

Forwards (4): Jozy Altidore (Villarreal), Edson Buddle (Los Angeles Galaxy), Robbie Findley (Real Salt Lake) Herculez Gomez (Puebla),

OUT (7): Ds Chad Marshall (Columbus Crew), Heath Pearce (FC Dallas); Ms Alejandro Bedoya (Örebro), Sacha Kljestan (Chivas USA), Robbie Rogers (Columbus Crew); Fs Brian Ching (Houston Dynamo), Eddie Johnson (Aris Thessaloniki)
Jonathan Tannenwald, Philly.com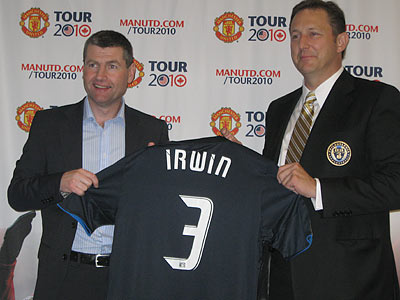 If you are relatively new to soccer, you might not be too familiar with Denis Irwin. Even if you've been following the sport for a few years, you probably just missed the end of his long tenure with Manchester United.

The former defender spent 12 years at Old Trafford, playing a total of 525 games. His teams won seven First Division or Premier League titles, three FA Cups, one League Cup, the 1991 UEFA Cup-Winners Cup in 1991 and the 1999 Champions League.

Irwin also played 56 times for the Republic of Ireland's national team from 1990 to 1999. He was on the roster for the 1994 World Cup, and started against Italy and Mexico.

Yesterday afternoon, Irwin came to Lincoln Financial Field to promote Man U's match against the Union in July. He did a Q&A with reporters, and I've transcribed the highlights. Afterwards, you'll find some video highlights from Irwin's career that I found on YouTube.

Which big names will Manchester United bring to play?

Obviously, you've got the three old wise men in Gary Neville, [Ryan] Giggsy and Paul Scholes. Edwin Van der Sar, and obviously a good mix of youngsters as well: [Luis Antonio] Valencia, the da Silva twins [Fabio and Rafael], Jonny Evans, John O'Shea, [Federico] Macheda and Welbeck.

In Juventus' loss at New York on Sunday, David Trezeguet said his team did not match the effort and energy that the Red Bulls brought. What does it take to motivate the touring team when the MLS side is giving everything it has?

Juventus have had a long, hard season. The MLS has been going since March. So they're obviously really, really fit - they'll probably be at their fittest in the next couple of months. When United come over, they'll be a little bit rusty. But whenever you put on the Manchester United shirt, you go out there to win.

They'll have two weeks of training before they play here, they'll have one game under their belt. They won't be at full throttle, obviously - that takes four or five weeks of preseason. I'm sure the Union went away for six weeks or something like that. You need that training and you need the games to get ready for the first game of the season August 15th.

To what degree has the perception of American soccer changed in Britain over the last few years? People there used to be rather dismissive of it - perhaps because it's American by nature, or perhaps because the players weren't as good.

I don't think they were dismissive of it. I think because the vast majority of the big leagues are in Europe - the Premier League, La Liga, Serie A - I think there's enough going on over there that it's very hard for people to keep an eye on what's going on over here.

I came over here with Ireland for the 1994 World Cup and MLS wasn't even up and running then. You can see the progression. The national team have qualified for the last six World Cups. You see more and more Americans coming over - not just to the Premier League, but also playing in the Bundesliga, playing in France.

So you can see that the quality is getting better. Landon Donovan's been over on loan at Everton, he's been a huge success. Brad Friedel's been around for quite a while, Tim Howard's done fantastically well at Everton. Clint Dempsey at Fulham, Brad Guzan at Aston Villa. [Marcus] Hahnemann at Wolves - you seem to throw a lot of goalkeepers our way. [Carlos] Bocanegra was at Fulham, now he's playing in France.

So there's a lot more quality coming over from America, and I think you're going to see more of that because the quality of MLS is getting better. It takes time - it just doesn't happen overnight. I think it's great that Philadelphia have come on board next year, and you have two more teams coming on board next year.

It's getting bigger all the time, and I think you've done it the right way as well - from the grassroots up. I think you've seen the success of that, and I think it can only get better.

How does a touring player balance the technical and physical aspects of a preseason friendly?

Well, as a player, you play to win. It's as simple as that. You run for as long as you can. It's still preseason, only the second week in. So they'll run for as long as they can, and there's quite a few games within that two-and-a-half week period, so the manager will spread the games around for all the players.

The players really love coming over here. It's obviously going to be hot, there's no getting away from that, but the facilities are great and they can enjoy themselves here. I know they did in the past.

What's key to improving the quality of play in MLS? What's left to do?

You've got to make sure you do it from the grassroots. I don't know what the quality of the coaching is here, but you obviously need good coaches. It takes time, you need progression. You need your national team to keep qualifying for World Cups. They did it quite easily this time, finished top of the group.

They've had a few tough friendlies, this year, haven't they. And they go into a group that I think they can very easily get out of with England, Slovenia and Algeria. I think they've got a good chance of qualifying.

And all this with the public watching. The thing is that over here you have other sports that are so powerful, and you have to compete with the. But if you see your local team doing well and the national team doing well, you'll have more and more kids wanting to play the game.

You talked about the need for good coaching in the United States. Is Sir Alex Ferguson the last of a dying breed? Will there ever be another manager likes him who stays in one place forever?

It doesn't happen too often. Arsene Wenger's been at Arsenal a long time as well. It's just the culture of today's society that you don't get long to be a success. I think in the Premier League now, for a lot of teams success is just standing still and staying in the Premier League.

Fans want success straightaway, and you can't always deliver. At the start of the season, you've got four seasons to win. Obviously, the Premier League and the European Cup go hand-in-hand - they're set up as the main ones to win - and then the FA Cup and Carling Cup.

So all teams can win, and Arsenal haven't won a trophy in five years. Liverpool, it's been a few years since they've won. Arsene Wenger has just come under a bit of pressure lately.

But over the last three or four years, United have been really successful. Prior to this year, they won three Premier Leagues in a row. They werre actually going for a record this year - nobody has ever done four. Unfortunately, in the last four or five weeks, you need everything to go your way - with Wayne [Rooney] getting injured and a couple of decisions going the other way, it didn't quite happen.

I've been there on other occasions where it does go your way - there's such a fine line between winning and losing. But it's the culture. You won't see too many managers staying the distance that Sir Alex has done.
Jonathan Tannenwald, Philly.com
ESPN has released its World Cup TV and radio crew pairings and the schedule of games they'll be working through June 21. That encompasses the first two group stage games for each team.

Martin Tyler and John Harkes will call the United States vs. England match on June 12. Ian Darke and Harkes will call the U.S.-Slovenia game on June 18 and the U.S.-Algeria game on June 23.

All of ESPN's TV broadcasts will be streamed online at ESPN3.com. Select matches will also be broadcast on TV in 3D; the schedule is here. There will also be replays during the evening and late-night hours on ESPN Classic on ESPN2; that schedule is here.

Here's a full list of all the people you'll see on TV and hear on ESPN Radio:

Television play-by-play: Ian Darke, Adrian Healey, Jim Proudfoot, Derek Rae, Martin Tyler
Television color analysts: Efan Ekoku, John Harkes, Roberto Martinez, Ally McCoist, Robbie Mustoe

Television studio hosts: Chris Fowler, Bob Ley, Mike Tirico
Television studio analysts: Shaun Bartlett, Ruud Gullit, Jurgen Klinsmann, Alexi Lalas, Steve McManaman, Roberto Martinez

Radio play-by-play: Glenn Davis, J.P. Dellacamera, Ross Dyer
Radio color analysts: Kyle Martino, Shep Messing, Tommy Smyth
All the radio broadcasts until the quarterfinals will be called off monitors in Bristol. Dellcamera and Smyth will go to Johannesburg from then on, while Davis and Martino will turn to calling Major League Soccer games on ESPN2.

Some of you may also be wondering about Univision's Spanish-language broadcasts. Their commentary teams are Pablo Ramirez and Jesús Bracamontes; Jorge Pérez Navarro and José Luis Chilavert; and Jorge Ottati and Diego Balado. Fernando Fiore will be the studio host.

We don't know which crews will call which matches, but Ramirez and Bracamontes are the top team. They'll certainly be at the mic for matches involving the United States, Mexico and Honduras.

Univsion will air all matches except half of the simultaneous kickoffs during the last round of the group stage. Those matches will air on Telefutura.

For the first time, Univsion and Telefutura's broadcasts will air in high definition. They will also be streamed online at Univision's website. Telefutura and Galavision will replay select matches at 7:00 and 9:00 p.m., respectively.

Below, you'll find the entire World Cup TV schedule, with ESPN's announcers for the games where we know them. I'll update this post as more information is released, so you might want to bookmark it.

I am also waiting for word on the number of games that will air on 97.5 The Fanatic, our local ESPN Radio affiliate.

Friday, June 11

South Africa vs. Mexico, 10:00 a.m. (ESPN, Univision): Martin Tyler and Efan Ekoku, J.P. Dellacamera and Tommy Smyth
Uruguay vs. France, 2:30 p.m. (ESPN, Univision): Ian Darke and Ally McCoist, Ross Dyer and Shep Messing

Saturday, June 12

South Korea vs. Greece, 7:30 a.m. (ESPN, Univision): Derek Rae and Robbie Mustoe, Ross Dyer and Shep Messing
Argentina vs. Nigeria, 10:00 a.m. (ESPN, Univision): Adrian Healey and Efan Ekoku, Glenn Davis and Kyle Martino
United States vs. England, 2:30 p.m. (ABC, Univision): Martin Tyler and John Harkes, J.P. Dellacamera and Tommy Smyth

Sunday, June 13

Algeria vs. Slovenia, 7:30 a.m. (ESPN, Univision): Adrian Healey and John harkes, Ross Dyer and Shep Messing
Serbia vs. Ghana, 10:00 a.m. (ESPN, Univision): Ian Darke and Efan Ekoku, Glenn Davis and Kyle Martino
Germany vs. Australia, 2:30 p.m. (ABC, Univision): Martin Tyler and Ally McCoist, J.P. Dellacamera and Tommy Smyth

Monday, June 14

Netherlands vs. Denmark, 7:30 a.m. (ESPN, Univision): Adrian Healey and John Harkes, Glenn Davis and Kyle Martino
Japan vs. Cameroon, 10:00 a.m. (ESPN, Univision): Derek Rae and Robbie Mustoe, Ross Dyer and Shep Messing
Italy vs. Paraguay, 2:30 p.m. (ESPN, Univision): Ian Darke and Efan Ekoku, J.P. Dellacamera and Tommy Smyth

Tuesday, June 15

New Zealand vs. Slovakia, 7:30 a.m. (ESPN, Univision): Adrian Healey and John Harkes, Ross Dyer and Shep Messing
Ivory Coast vs. Portugal, 10:00 a.m. (ESPN, Univision): Ian Darke and Efan Ekoku, J.P. Dellacamera and Tommy Smyth
Brazil vs. North Korea, 2:30 p.m. (ESPN, Univision): Martin Tyler and Ally McCoist, Glenn Davis and Kyle Martino

Wednesday, June 16

Honduras vs. Chile, 7:30 a.m. (ESPN, Univision): Adrian Healey and John Harkes, Glenn Davis and Kyle Martino
Spain vs. Switzerland, 10:00 a.m. (ESPN, Univision): Derek Rae and Robbie Mustoe, J.P. Dellacamera and Tommy Smyth
South Africa vs. Uruguay, 2:30 p.m. (ESPN, Univision): Martin Tyler and Ally McCoist, Ross Dyer and Shep Messing

Thursday, June 17

Argentina vs. South Korea, 7:30 a.m. (ESPN, Univision): Ian Darke and John Harkes, J.P. Dellacamera and Tommy Smyth
Greece vs. Nigeria, 10:00 a.m. (ESPN, Univision): Adrian Healey and Efan Ekoku, Glenn Davis and Kyle Martino
France vs. Mexico, 2:30 p.m. (ESPN2, Univision): Derek Rae and Robbie Mustoe, Glenn Davis and Kyle Martino

Friday, June 18

Germany vs. Serbia, 7:30 a.m. (ESPN, Univision): Derek Rae and Robbie Mustoe, Glenn Davis and Kyle Martino
United States vs. Slovenia, 10:00 a.m. (ESPN, Univision): Ian Darke and John Harkes, J.P. Dellacamera and Tommy Smyth
England vs. Algeria, 2:30 p.m. (ESPN2, Univision): Martin Tyler and Ally McCoist, Ross Dyer and Shep Messing

Saturday, June 19

Netherlands vs. Japan, 7:30 a.m. (ESPN, Univision): Derek Rae and Robbie Mustoe, J.P. Dellacamera and Tommy Smyth
Ghana vs. Australia, 10:00 a.m. (ESPN, Univision): Adrian Healey and John Harkes, Glenn Davis and Robbie Mustoe
Cameroon vs. Denmark, 2:30 p.m. (ABC, Univision): Ian Darke and Efan Ekoku, Ross Dyer and Shep Messing

Sunday, June 20

Slovakia vs. Paraguay, 7:30 a.m. (ESPN, Univision): Adrian Healey and John Harkes, Ross Dyer and Shep Messing
Italy vs. New Zealand, 10:00 a.m. (ESPN, Univision): Ian Darke and Ally McCoist, Glenn Davis and Kyle Martino
Brazil vs. Ivory Coast, 2:30 p.m. (ABC, Univision): Martin Tyler and Efan Ekoku, J.P. Dellacamera and Tommy Smyth

Monday, June 21

Portugal vs. North Korea, 7:30 a.m. (ESPN, Univision): Adrian Healey and John Harkes, Ross Dyer and Shep Messing
Chile vs. Switzerland, 10:00 a.m. (ESPN, Univision): Derek Rae and Robbie Mustoe, Glenn Davis and Kyle Martino
Spain vs. Honduras, 2:30 p.m. (ESPN, Univision): Martin Tyler and Ally McCoist, J.P. Dellacamera and Tommy Smyth

Tuesday, June 22

Mexico vs. Uruguay, 10:00 a.m. (ESPN, Univision): Martin Tyler and John Harkes, J.P. Dellacamera and Tommy Smyth
France vs. South Africa, 10:00 a.m. (ESPN2, Telefutura): Ian Darke and Efan Ekoku, Glenn Davis and Kyle Martino
Greece vs. Argentina, 2:30 p.m. (ESPN, Univision): Adrian Healey and Ally McCoist, Ross Dyer and Shep Messing
Nigeria vs. South Korea, 2:30 p.m. (ESPN2, Telefutura): Derek Rae and Robbie Mustoe, Glenn Davis and Kyle Martino

Wednesday, June 23

United States vs. Algeria, 10:00 a.m. (ESPN, Univision): Ian Darke and John Harkes, J.P. Dellacamera and Tommy Smyth
Slovenia vs. England, 10:00 a.m. (ESPN2, Telefutura): Martin Tyler and Efan Ekoku, Ross Dyer and Shep Messing
Ghana vs. Germany, 2:30 p.m. (ESPN, Univision): Derek Rae and Robbie Mustoe, Glenn Davis and Kyle Martino
Australia vs. Serbia, 2:30 p.m. (ESPN2, Telefutura): Adrian Healey and Ally McCoist, Ross Dyer and Shep Messing

Thursday, June 24

Slovakia vs. Italy, 10:00 a.m. (ESPN, Telefutura): Ian Darke and John Harkes, J.P. Dellacamera and Tommy Smyth
Paraguay vs. New Zealand, 10:00 a.m. (ESPN2, Univision): Jim Proudfoot and Roberto Martinez, Glenn Davis and Kyle Martino
Denmark vs. Japan, 2:30 p.m. (ESPN, Telefutura): Adrian Healey and Ally McCoist, Ross Dyer and Shep Messing
Cameroon vs. Netherlands, 2:30 p.m. (ESPN2, Univision): Derek Rae and Robbie Mustoe, Glenn Davis and Kyle Martino

Friday, June 25

Portugal vs. Brazil, 10:00 a.m. (ESPN, Univision): Martin Tyler and John Harkes, J.P. Dellacamera and Tommy Smyth
Ivory Coast vs. North Korea, 10:00 a.m. (ESPN2, Telefutura): Adrian Healey and Ally McCoist, Ross Dyer and Shep Messing
Chile vs. Spain, 2:30 p.m. (ESPN, Univision): Ian Darke and Efan Ekoku, Glenn Davis and Kyle Martino
Switzerland vs. Honduras, 2:30 p.m. (ESPN2, Telefutura): Derek Rae and Robbie Mustoe, Ross Dyer and Shep Messing

Saturday, June 26

Match 49, Round of 16: Uruguay vs. South Korea at Port Elizabeth, 10:00 a.m. (ESPN, Univision): Adrian Healey and Robie Mustoe, Glenn Davis and Kyle Martino
Match 50, Round of 16: United States vs. Ghana at Rustenburg, 2:30 p.m. (ABC, Univision): Ian Darke and John Harkes, J.P. Dellacamera and Tommy Smyth

Sunday, June 27

Match 51, Round of 16: Germany vs. England at Bloemfontein, 10:00 a.m. (ESPN, Univision): Martin Tyler and Efan Ekoku, J.P. Dellacamera and Tommy Smyth
Match 52, Round of 16: Argentina vs. Mexico at Johannesburg Soccer City, 2:30 p.m. (ABC, Univision): Ian Darke and John Harkes, Ross Dyer and Shep Messing

Monday, June 28

Match 53, Round of 16: Netherlands vs. Slovakia at Durban, 10:00 a.m. (ESPN, Univision): Derek Rae and Ally McCoist, Glenn Davis and Kyle Martino
Match 54, Round of 16: Brazil vs. Chile at Johannesburg Ellis Park, 2:30 p.m. (ESPN, Univision): Martin Tyler and Efan Ekoku, J.P. Dellacamera and Tommy Smyth

Tuesday, June 29

Match 55, Round of 16: Paraguay vs. Japan at Pretoria, 10:00 a.m. (ESPN, Univision): Ian Darke and John Harkes, Glenn Davis and Kyle Martino
Match 56, Round of 16: Spain vs. Portugal at Cape Town, 2:30 p.m. (ESPN, Univision): Martin Tyler and Efan Ekoku, J.P. Dellacamera and Tommy Smyth

Friday, July 2

Match 57, Quarterfinal: Netherlands vs. Brazil at Port Elizabeth, 10:00 a.m. (ESPN, Univision): Martin Tyler and Efan Ekoku, Ross Dyer and Shep Messing
Match 58, Quarterfinal: Uruguay vs. Ghana at Johannesburg Soccer City, 2:30 p.m. (ESPN, Univision): Ian Darke and John Harkes, J.P. Dellacamera and Tommy Smyth

Saturday, July 3

Match 59, Quarterfinal: Argentina vs. Germany at Cape Town, 10:00 a.m. (ABC, Univision): Martin Tyler and Efan Ekoku, Ross Dyer and Shep Messing
Match 60, Quarterfinal: Paraguay vs. Spain at Johannesburg Ellis Park, 2:30 p.m. (ABC, Univision): Ian Darke and John Harkes, J.P. Dellacamera and Tommy Smyth

Tuesday, July 6

Match 61, Semifinal: Netherlands vs. Uruguay at Cape Town, 2:30 p.m. (ESPN, Univision): Ian Darke and John Harkes, J.P. Dellacamera and Tommy Smyth

Wednesday, July 7

Match 62, Semifinal: Germany vs. Spain at Durban, 2:30 p.m. (ESPN, Univision): Martin Tyler and Efan Ekoku, J.P. Dellacamera and Tommy Smyth

Saturday, July 10

Third Place Game: Uruguay vs. Germany or Spain at Port Elizabeth, 2:30 p.m. (ABC, Univision): Ian Darke and John Harkes, Glenn Davis and Kyle Martino

Sunday, July 11

Championship Game: Netherlands vs. Germany or Spain at Johannesburg Soccer City, 2:30 p.m. (ABC, Univision): Ian Darke and Efan Ekoku, J.P. Dellacamera and Tommy Smyth, Pablo Ramirez and Jesus Bracamontes