Archive: April, 2012
Jonathan Tannenwald, Philly.com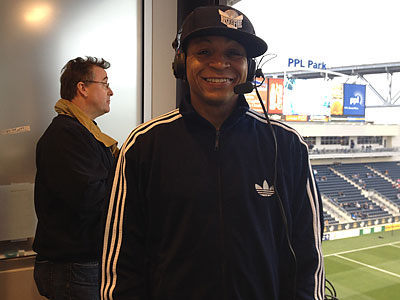 If you follow college football or college basketball, you've almost surely heard Gus Johnson's voice before. The Fox play-by-play broadcaster, formerly of CBS, has developed one of the most recognizable announcing voices in any American sport.
In recent weeks, Johnson has taken his talents to a new sport: soccer. His Twitter posts from European soccer stadiums such as Stamford Bridge in London and the San Siro in Milan have fueled rumors that he might be headed for a role in Fox's 2014 World Cup coverage.
And of course, there was the famous YouTube mashup of Johnson and Bill Raftery's commentary laid over Landon Donovan's goal against Algeria at the 2010 World Cup.
Thanks very much to Gus for the interview. He's as charismatic a guy in person as he is on television - he even showed me some video clips from the touchline at the San Siro that he had shot on his iPhone.
Here's how Johnson's calls of the goals from Saturday's game at PPL Park sounded:
GUS
by bubbaprog
Jonathan Tannenwald, Philly.com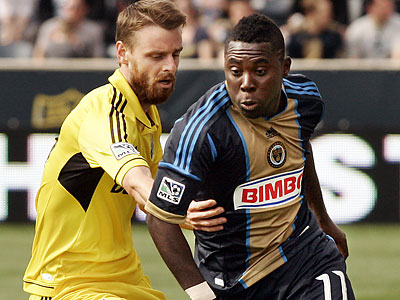 It was late Saturday night, after just about all of the other players and reporters had left the Union's locker room at PPL Park.
I was talking to Michael Farfan when I saw Freddy Adu walk by. After I was done talking to Farfan, I walked over towards Adu, who was sitting and chatting with Danny Mwanga without anyone else nearby.
Adu groaned briefly. I said I'd keep it short. He paused for a moment, then smiled and told me he'd talk. So we did for a few minutes. I think Adu had some really interesting things to say.
Jonathan Tannenwald, Philly.com
Time: 7:00 p.m. EDT
Venue: PPL Park, Chester, Pa.
TV: Comcast SportsNet Philadelphia (J.P. Dellacamera and Bob Rigby)
Without suspended midfielder Keon Daniel and defender Gabriel Farfan, I would not be surprised if the Union's defense has a hard time stopping the Earthquakes' midfielders from sending service to high-scoring forward Chris Wondolowski.
Stopping Wondolowski will be the Union's biggest challenge tonight by far. We will see what John Hackworth, standing in for the suspended Peter Nowak, does about it.
Jonathan Tannenwald, Philly.com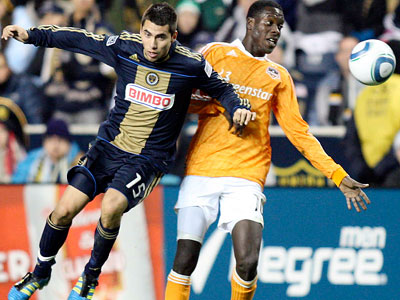 Major League Soccer has made a point this year of emphasizing its refusal to tolerate reckless and dangerous play in its games.
Friday afternoon, the Union felt the full force of the league office's powers.
Philadelphia Union left back Gabriel Farfan, a key player in the team's only two wins this season, has been suspended for an additional two games on top of the automatic one-game suspension he received with a red card in last Saturday's game at Chivas USA.
Jonathan Tannenwald, Philly.com
Major League Soccer announced Thursday evening that Philadelphia Union manager Peter Nowak has been suspended for a total of two games and fined $5,000 for his role in a scuffle that broke out on the field late in the second half of this past Saturday's 1-0 win at Chivas USA.
Nowak entered the field of play during the incident, which caused the referee to eject him from the game. The ejection triggered an automatic one-game suspension, and MLS added an additional game to the suspension.
The Union will thus be without their head coach for Saturday's home game against San Jose, and the game Saturday, May 5 at Seattle.
Jonathan Tannenwald, Philly.com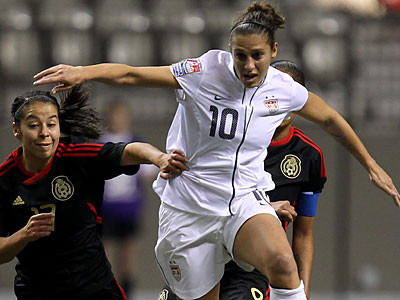 The United States women's national soccer team was drawn with France, Colombia and North Korea in the group stage of the upcoming Summer Olympics tournament.
FIFA and the International Olympic Committee conducted the draw in the early hours of the morning Eastern time in London, host city of the 2012 Games.
From the early looks of things, the U.S. appears to have gotten the proverbial Group of Death. France is a dark horse medal favorite, and North Korea has a history of causing the U.S. trouble.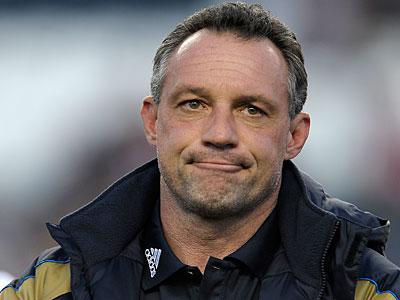 Kerith Gabriel of the Daily News and I teamed up for this one, following Kerith's piece about Peter Nowak's one-game suspension.
Philadelphia Union manager Peter Nowak will miss this Saturday's match against San Jose due to his involvement in a fracas on the pitch during the second half of the 1-0 win at Chivas USA this past weekend.
Before you crash Twitter with your complaints, you should first know that it is an automatic punishment.
Jonathan Tannenwald, Philly.com
Courtesy of Chivas USA's media relations staff, here are some postgame quotes from the Union's 1-0 win at the Home Depot Center late Saturday night.
If you didn't stay up to watch the game, there are video highlights below.