Archive: February, 2013
Jonathan Tannenwald, Philly.com
UPDATE: I was sent a very polite e-mail by renowned soccer historian - and former Inquirer sports copy desk stalwart - Roger Allaway on Friday morning which pointed out that this wasn't the first "dos a cero" U.S. win over Mexico.
In 1991, the United States recorded a 2-0 upset El Tri in the semfinals of the CONCACAF Gold Cup at the Los Angeles Coliseum. The goals were scored by John Doyle and current Sporting Kansas City coach Peter Vermes. So technically, the 2001 World Cup qualifier wasn't the first "dos a cero" game. I updated the headline accordingly.
Exactly 12 years ago on Thursday, the U.S. national team recorded one of its all-time signature victories.
Jonathan Tannenwald, Philly.com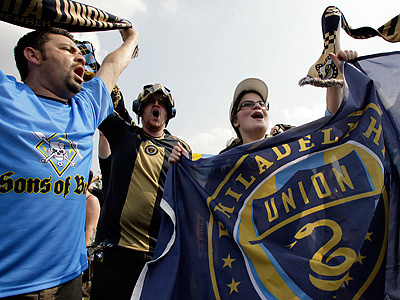 During his press conference Wednesday, Philadelphia Union manager John Hackworth acknowledged that he hasn't finalized his starting lineup yet for the team's season-opening game this weekend.
Hackworth certainly has a lot of options at his disposal. Many of his players can do well in multiple formations, and Hackworth acknowledged he intends to mix things up to keep opponents off guard.
So on Thursday, I asked you all to let me know what lineup you want to see from the Union on against Sporting Kansas City.
Jonathan Tannenwald, Philly.com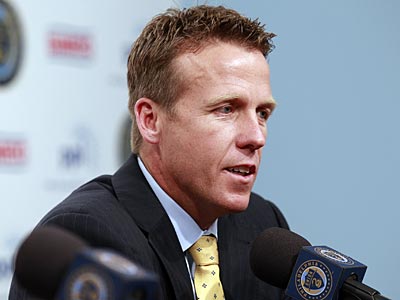 John Hackworth held his final press conference of the preseason on Wednesday at PPL Park. Heading into his first full year in charge of the Union, Hackworth fielded a wide range of questions and gave some lengthy answers regarding his goals and expectations for the coming season.
Here's a transcript of his remarks.
What's the difference between the team that's starting this year and the team that finished last year?
Jonathan Tannenwald, Philly.com
Every year, Major League Soccer commissioner Don Garber delivers State of the League-esque remarks to reporters across the country. In the past, those remarks have come in the form of a conference call. This year, MLS tried it it in video form. Questions from the press came from reporters in the hall and by some who joined in a Google Hangout.
My questions were about MLS' salary cap and the potential for increased transparency with the league's finances. They came at the 1:03.51 mark.
You may want to maximize the video player to the full scale of your computer screeen in order to see everything that's going on.
Jonathan Tannenwald, Philly.com
Our partners at Cinesport sent along this video that SI.com produced from the recent MLS Media Day in New York. It features Philadelphia Union midfielder Michael Farfan, D.C. United midfielder Chris Pontius and San Jose Earthquakes forward Chris Wondolowski riffing on a range of soccer and non-soccer topics. Enjoy.
Jonathan Tannenwald, Philly.com
Now it's official. After lots of rumor and speculation - and some leaked photos on the internet Tuesday afternoon - the Philadelphia Union finally unveiled their new third jersey during their Meet the Team event at Xfinity Live.
The black, white and red color scheme is a tribute to Bethlehem Steel, the famed club from the 1910's and 1920's that won five U.S. Open Cups.
Led by Archie Stark, Bethlehem Steel rose to local and national prominence in an era when soccer was a huge deal in America.
Jonathan Tannenwald, Philly.com
One of my Philly.com colleagues, Colin Kerrigan, recently took a vacation to Barcelona to soak in the soccer vibe.
Colin is one of our office's resident soccer fans - yes, I'm not the only one. He's a Chelsea fan first, but you'd be hard-pressed to find anyone who would pass up a trip to see one of the world's great soccer teams in one of the world's great cities.
Colin is a photographer first, and you've seen his work in some of our great photo galleries across Philly.com. He's also a very good writer, as you'll see below.
Jonathan Tannenwald, Philly.com
Some of you may have heard about the movie on the Sons of Ben that's been in the works for a while now.
In this morning's Inquirer, Jeff Gammage writes an extensive profile of the movie and its director, Jeff Bell, in today's paper. There are a lot of details about how the movie has come together, and a good look back through the Union's still-brief history.
The story got very good play on the front page of the Inquirer's local news section: