Archive: December, 2010
Jonathan Tannenwald, Philly.com
It has been a remarkable year for soccer in Philadelphia. The Union and the Independence played their inaugural seasons, and helped to build a fan base in our region that is among the most passionate in the nation. International clubs including Manchester United, Celtic and Chivas de Guadalajara came to town for exhibition matches.

On top of all that, our region played host to three major United States national teams games. The men visited twice, including the showcase World Cup send-off match, and held their World Cup training camp relatively close by at Princeton University. The women visited once, for their final match before World Cup qualifying.

As 2010 draws to a close, here's a look back at 10 of the top goals from the soccer year in Philadelphia. For as much as the Union struggled this year, this was actually pretty hard to put together. There are quite a few terrific goals that I left off the list. It won't be long before we start getting ready for the 2011 season.
After all, the NSCAA convention in Baltimore is only a few weeks away. That includes the MLS SuperDraft on January 13 and the WPS Draft on January 14. I'm sure a lot of you will be traveling to Baltimore for the festivities. Although the draft's importance as a tool for player development has diminished in recent years, it is still the league's biggest offseason event - and it's also a lot of fun.

Whether your feast of choice today is a fancy roast or Chinese takeout, I hope you have a happy and peaceful holiday. Thanks once again to all of you for an incredible first season here on the blog. Here's to another great year in 2011.

1. Sebastien Le Toux's second goal against D.C. United in the first ever home game on April 10:

Jonathan Tannenwald, Philly.com
After the second stage of Major League Soccer's re-entry draft this afternoon, Union mananger Peter Nowak discused the day's events and a number of other subjects with reporters on a conference call.
Here's a transcript of what Nowak said, Usually, I post transcripts in the chronological order of the conversation, but this time I am going to do it by subject because there's a lot to go through.
On the Union's financial situation, including the potential signing of a designated player:
Jonathan Tannenwald, Philly.com
The Philadelphia Union lost veteran midfielder Fred and former starting goalkeeper Chris Seitz, and did not make any of its own selections in today's second round of the MLS Re-Entry Draft.
The Re-Entry Draft allows players who are out of contract to move to new clubs and negotiate new deals. It is a limited form of free agency, and was created in the most recent collective bargaining agreement between the league and its players' union.
Seitz was taken by Seattle and Fred was taken by New England. Many observers (myself included) thought the Union, which held the No. 3 pick, would take former New York Red Bulls striker Juan Pablo Ángel. But the Union passed, and once a team passes it canot make any more picks.
In the first stage of the re-entry draft, which took place last week, players who were selected were signed to predetermined contracts. Because of that, only two players were drafted: Houston's Joseph Ngwenya was taken with the first pick by D.C. United, and Kansas City's Aaron Hohlbein was taken by Columbus.
The salary rules for players drafted in Stage 2 are as follows, according to the league:
In Stage 2, clubs may select from players that are under contract and those not under contract. If a player is not under contract, the drafting club will be required to make a genuine offer to the player within seven days. In the event that an agreement cannot be reached between the drafting club and an out-of-contract player, the drafting club will hold the right of first refusal for that player in MLS. Clubs may select their own players in Stage 2 only after all other clubs have declined to select those players.
If a player is not selected in either stage of the Re-Entry Process, that player will be available on a first come first serve basis to all clubs.
You can read the complete set of rules
here
.
Here is the list of players taken today, in order of selection:
First Round
D.C. United: Josh Wolff, forward (was with Kansas City)
Chivas USA: Jimmy Conrad, defender (was with Kansas City)
New England: Ryan Cochrane, defender (was with Houston)
Los Angeles: Juan Pablo Ángel, forward (was with New York)
Chicago Fire: Cory Gibbs, defender (was with New England)
Kansas City: Frankie Hejduk, defender (was with Columbus)
Seattle: Chris Seitz, goalkeeper (was with Philadelphia)
Columbus: Jeff Cunningham, forward (was with FC Dallas)
Los Angeles: Luke Sassano, midfielder (was with New York)
Colorado: Tyrone Marshall, defender (was with Seattle)
Second Round
New England: Fred, midfielder (was with Philadelphia)
Any teams not listed as having made picks passed on their opportunities.
My analysis:
This was about as bad for the Union as it could possibly have been. Losing Fred is the biggest blow, because he brought creativity and veteran experience to the team's midfield. While I'm sure many of you won't mind seeing Seitz go, his departure leaves the Union with only one goalkeeper on the roster at the moment. That is a problem, even if it may be solved soon by signing Faryd Mondragon.
I happen to think the Union, and really any club, should have three goalkeepers on its roster: a starter, a backup if the starter is injured, and a reserve if the backup gets sent off in a game. Yes, it's a roster spot, but it's how a lot of clubs operate.
As for the Union not taking any players, that surprised me. Whether they would have taken Ángel or anyone else, I still think there was a lot of value for money among the players available.
Jonathan Tannenwald, Philly.com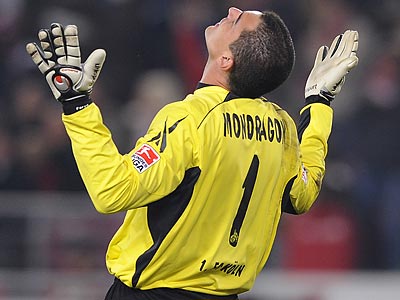 Union fans were set atwitter today by this report in the venerable German soccer magazine Kicker that the club has made a deal to sign Colombian national team goalkeeper Faryd Mondragon.
But a spokesperson for the Union told me this afternoon that "there's no deal" to bring Mondragon, who plays for FC Koln in Germany's Bundesliga, to PPL Park for the second time in his career.
I don't speak German, so I ran the story through an automated translator to get at least some kind of idea of what the story says. The key phrase is that the "deal with Philadelphia should be already fixed." Furthermore, Mondragon had reached an agreement with former Koln general manager Michael Meier that he could leave the club during the Bundesliga's winter break on a free transfer.
Jonathan Tannenwald, Philly.com
Philadelphia Union assistant coach John Hackworth has dealt with FIFA plenty of times in his career on the sidelines. From 2004 to 2007, he was in charge of the United States Under-17 National team, and from 2007 to 2009 he was an assistant coach to Bob Bradley with the senior national team.

So I knew I had to ask Hackworth for his thoughts on how the World Cup bidding process was conducted after FIFA's announcements yesterday. He had plenty to say, and I think his words are worth listening to.

"I'd like to say that I'm surprised, but at the same time, this is somewhat typical of the way FIFA works," Hackworth said. "That's unfortunate, because I really think it was a decision that should have very easily gone our way for 2022, but it didn't."

I asked if he thought FIFA needed some reforms given the allegations and reports of corruption in the bidding process.

"I think a lot of revelations are going to come out of this whole bid process, and I hope that it does get cleaned up," he answered. "The reality is that this is such a huge, huge business right now that there's so much politics involved."

And then, amid a statement that carried quite a few heavy pauses, this conclusion:
"I don't know that we're truly doing what's good for the game."

There are a lot of people out there who think that taking the World Cup to Russia and Qatar for the first time is a good thing, because it spreads the game to parts of the planet where it has never been before.

I would like to agree with them. There is nothing wrong with that principle, as we saw in South Africa this year and indeed in the United States in 1994.

As I've said on here many times, though, it is the process by which we got to yesterday's decision that has rubbed me the wrong way.

When I talked to Nowak yesterday, I could tell that he was also unsettled by the morning's events.

"This is only speculation, why Qatar was voted - maybe like South Africa, they wanted to open new markets," he said. "But I'm very surprised and disappointed at the choice from FIFA."

This much is for certain, though: soccer is not going to stop growing in the United States. Union CEO Nick Sakiewicz, who has been a key player in the sport's evolution in this country for decades, insisted on being optimistic when I asked him where things go from here.

"It has been [growing] for the last 25 years, and we're going to see the next 25 years explode," Sakiewicz said. "Soccer continues to grow, and will continue to grow. I said that in 1983 when I started my pro career, and it continues to grow."

Part of that growth may be a bid for the 2026 World Cup. As disappointing as yesterday's loss was, a lot of people expect the United States to throw its hat right back into the ring. Philadelphia Sports Congress president Larry Needle is very much one of those people.

"I have no doubt that when the time is right, we'll be ready to move forward as a country putting together an incredibly strong bid again," Needle told me.

It will be interesting to see, though, whether a 2026 bid comes with as much fanfare and grassroots marketing as there was in the the 2022 bid.

"It wasn't the finances as much as it was the heart and the elbow grease that we've put into this over the last two years," Needle said. "I think we can all feel like we literally did everything we can do, and it's one of those things that's just out of everyone's control."

We'll see if that latter statement is still true the next time around.

You can hear more from Hackworth, Nowak, Sakiewicz and Needle in the audio player at the bottom of the post.
---
Here's a roundup of some of the best stories on the World Cup bid news from here in Philadelphia, across the United States and around the world.



Jonathan Tannenwald, Philly.com
I've written two other blog posts today that you should check out. My initial reaction to the World Cup announcement is here, and a running ticker with reactions from journalists and fans around the world is here.
U.S. Soccer Federation president Sunil Gulati, who chaired the United States' 2022 World Cup bid, talked with reporters on a conference call this afternoon after the announcement was made that the U.S. bid lost to Qatar.
I have put together a complete transcript of the press conference. You can also listen to audio of it in the player at the bottom of the post.
Opening Statement
Obviously we're very disappointed with the outcome of what has been a long process over the last couple of years. We submitted what we think is technically a very good bid, rated very highly on the revenue side and had, frankly, the country - the soccer country - behind us from President Obama on down to grassroots support.
And we think we made a compelling argument. Obviously, not compelling enough to beat out Qatar - congratulations to them. And we're thankful that we have the support of so many. Disappointed for our fans and everyone involved in the game, whether it's professional teams, the government support that we've had, and everyone else that supported us. So we're thankful for that, and disappointed for them as well as us.
Question from Ronald Blum, The Associated Press: One of the things that Eric Wynalda said [on Fox Soccer Channel], echoing what I think a lot of people in the U.S. feel, is that this was a triumph of money over merit. Is that your view point, and do you think many in the U.S. soccer community will people view FIFA as corrupt? And what do you say to the prospects of a 2026 bid?
As I said, I think we submitted a very good bid. Technically, for the five competitors, the way FIFA rated these things, it was at the top along with Australia and Korea. The financial report that was given to FIFA a week or ten days ago – I don't have a copy of that, but it has been widely reported - showed the U.S. at the very top by quite a wide margin. So we think on all of those things we rated very well.
FIFA and the IOC in the past – We've said all along this isn't just about the technical report. It's an election. And there's lots of things that go into that. In this case, a new part of the world, and a [Qatar] proposal that was pitched as a pan-Middle East proposal.
Australia pitched that we had never been to that continent, although soccer-wise they're now part of Asia. Korea and Japan pitched that yes, we had a recent World Cup, but it was only half a World Cup.
All those sorts of things come into it, and I'm disappointed along with a lot of other people. But we lost. Congrats to Qatar, and we moved on.
For 2026, this is two hours old and I think all of us that have been involved in this for quite some time want to sit back. Not very long, but at least until the end of the night before we think about what we might do in the future.
Question from George Vescey, The New York Times: You've talked about this as being an election all along. Could you speculate – and it is speculation – about the politics? We know you can't do much or prove much about money, but the politics of how this election came out?
It would be pure speculation.
Indulge. I'd love to hear some.
We started this several years ago with what we knew would be support from CONCACAF, and Asia would be split, at least in the beginning because they had multiple bidders. When we first started, Mexico was a bidder. So a lot of it came down to how Europe, South America and Africa would play in.
It's clear, and has been widely reported over the last several months, that there was the possibility of some alliances. The numbers would seem to bear that out. Whether that's independent of those supposed alliances or related to them, I don't know.
And it's also clear that in the first, and the second, and maybe even the third round, there was some tactical voting. And what I mean by that is groups using a vote or two to make sure that someone wasn't eliminated in order to get some help later on. We knew that going in, which explains some of the odd vote patterns in our case.
Frankly for the last six months we thought this would come down the U.S. and Qatar. That's what it's in fact come down to. We never had a vote count that showed us with 15 or 12 or 14 confirmed and guaranteed votes. And the simple reason, as I've said many times in this, is there's no incentive for anyone to guarantee you that they'll commit.
It's an election, and no one likes to give anyone bad news – especially in situations like this, where you know all of the people. I know all of them, but so do the Australians, and the Koreans, and the Japanese. In those two cases [Korea and Japan], both of them have the chairman of their bid committee on the executive committee. And Frank Lowy is on the World Cup organizing committee from Australia.
So it's politics, it's friendships and relationships, it's alliances, it's tactics. China obviously had played into this at some time, but clearly not enough to convince many of the Executive Committee members. So there are far too many permutations- especially with these two World Cups being decided on the same day - and I'm not smart enough to know how all those played out in those two elections.
Question from Steven Goff, The Washington Post: Was there a sense, in recent days, or maybe even weeks, that this was not going to go your way, or was leaning against you?
We've never taken anything for granted, Steve. I haven't had any different sense in the last two or three days than we've had over the last six months. That in the end, we believed Qatar would be our strongest competitor. That hasn't changed over the last few days, and so I didn't sense a momentum shift.
When you're talking about a group of 22, two or three votes – in this case three votes, I guess – potentially changes things. Three swing votes. But I haven't sensed a big momentum change. Frankly, it's very hard to read the momentum in such a small group.
And as I said earlier in the week when we met with some of the press that's here, all of this is an emotional roller-coaster. And often, the ups and downs of those emotions are completely independent of any facts. Someone saying something, a rumor.
Walking through the lobby of the headquarters hotel here last night, if you had asked 20 people, all of whom had some access to information, all 20 of them would have had different vote counts and different people voting each way – including Executive Committee members. So that part is a very tricky situation.
Question from Michelle Kaufman, The Miami Herald: Does it mean anything about the future of U.S. soccer – obviously it's deflating, but does it have any long-range effects? Was it something you guys are going to build toward, 2022? How do you go forward now?
The answer is absolutely it was something we were going to build towards. I don't want to shy away from that. So that part is a big disappointment. The way we've talked about this and the way I continue to talk about it, is that the trend lines are positive for this sport.
Whether that's the national team program or attendances at MLS or construction of new stadiums or fan amenities generally, those trend lines are going to continue.
What we had tried to tell as a story to FIFA – and it resonated certainly in the
U.S. – is that getting to host the event 12 years from now, with that sort of build-up time, is the equivalent of putting your foot on the accelerator and really taking a big jump. And so from that perspective, it's definitely an opportunity lost.
Do I think we're going to get to where we want to get eventually? The answer is yes. It's going to take a little longer, it's going to take a little more work. So that part's disappointing. The World Cup is a big event, and today's a big disappointment.
Question from Frank Dell'Apa, The Boston Globe: Were you surprised that England apparently only got two votes? How does the process work, do people understand, and is that a reflection on England's bid?
It's very hard to figure some of this out. England had, out of the European countries - again based on the way FIFA evaluated this with low, medium and high risk in 18 categories the top bid, along with Spain. England had, out of the European bidders, the top economic analysis. England gave today what in my view was a very good presentation, and I saw the presentation.
Obviously they have the Premier League, and they have the Prime Minister, and David Beckham was here, and the Prince [William], and so on. Looking at all of that, one would say they would have fared better than they did. I think they're certainly disappointed, and trying to figure out how things went.
And obviously it's been talked about a lot over the last few weeks, some of the negative feedback that may have rubbed off on the English bid given some of the stories that have broken and widely reported. I don't know if that explains it, or if this was really "Let's go to a place that's trying to build the sport." I don't know. Executive Committee members will have to tell you that.
Follow-up: Can you give the reactions of some of the people who went there [to Zurich] with you, from Morgan Freeman to President Clinton?
Morgan Freeman had to go back earlier today, so those that were on the committee, I think there were seven or eight or nine people here from the committee. I was sitting with President Clinton and he was obviously disappointed.
And I must say he's just been fantastic for us in this process. He did a series of one-on-one meetings last night, and was terrific. So he was obviously disappointed, as were the rest of us. [Major League Soccer commissioner] Don Garber is here, [U.S. Soccer Federation CEO] Dan Flynn is sitting here with me.
Mia Hamm and Landon Donovan are board members, Casey Wasserman, [counselor to President Clinton] Doug Band. They were all here. I think that's the whole group – and [bid committee vice chairman Carlos Cordero].
So everybody was disappointed. We worked very hard at this, and everyone that came out didn't just come at the last minute as honorary. President Clinton has been involved and engaged for a long time. So everyone is disappointed, and I think that's the single best word I can use.
Question from Simon Evans, Reuters: You used the words "politics" and "election" there. Obviously it's a very particular kind of politics, and a strange kind of election where you don't get involved in direct campaigning. You don't criticize your opponents, and so on. Is that frustrating coming from a country with a democratic culture?
And the second thing is, there's a lot of criticism of FIFA out there. In the countries that lost, obviously, but among fans and media, and this process in particular – people don't feel it's transparent. Do you think a time is coming where people in the game are going to say publicly that this thing should be done differently?
On the first part, I'm not sure I'd advocate a system as being super healthy where the thrust of it is criticizing your opponents. A open dialog is good. We would have been happy to have a system yesterday that, in addition to presentations, allowed for questions and answers, for example.
In terms of talking about this process, the dual bid and everything else around it, I think we want to reflect on it a little bit. It's obviously not the way things are done in the U.S., or in some parts of the world, and it is the way things are done in some parts of the world, frankly. I had some discussions with some of our other competitors about that.
The president of FIFA said some weeks ago that in retrospect, maybe it wasn't the right thing to hold these two things together. That's hindsight at this point. I'm sure FIFA will look at what's happened over the last several months and the last two years in this process, and decide how they want to go forward. But I'm not going to comment on that at this stage.
Question from Ives Galarcep, FoxSoccer.com and SoccerByIves.com: As far as Qatar goes, how far back can you recall them being considered your biggest competition? And secondly, when you look at the two bids – not to ask you to rip on their bid, but when you compare your bid and their bid, how tough is it for you to understand the reasoning behind the decision?
I think for me personally, I saw a presentation in Angola – which I think was in February – about their bid, and they sponsored the African congress there. This notion of air-conditioned outdoor stadiums, and an outline and a vision that was very well presented by their CEO. At that point, I think for me and many others, we said this is not a fantasy – this is a dream. And dreams can happen.
So for Hassan [Al-Thawadi], who was the CEO, and the emir, and the royal family, and the people of Qatar, I think it was a dream, and a dream realized. We've always taken them seriously, and certainly in this year since the bidding heated up.
I don't think there's going to be a lot to be gained by comparing the technical parts of the bid. Those are available, the matrix is out there, the financial reports are out there. And so are the results, and the results are in the end the only thing that matters going forward.
Question from Phil Hersh, The Chicago Tribune: I watched both the Russia and Qatar presentations and couldn't help but be struck by Rio's presentation and argument throughout the entire 2016 [Summer Olympics] bid process. The notion of a rendez-vous with history and going where you've never gone before.
How much longer does that argument carry? China would be the next place they've never gone before, even though they've been to Asia, and Australia also. Does that argument keep carrying, or would a better technical bid sway people against making history just to support their legacy?
I'm not sure that's what played out here. I agree that was an important part of the presentations. I have no way of knowing how many people are swayed by the final presentations. In a size like the Olympic group, it may be different. That's certainly been one of the themes in those two presentations. China, under FIFA's rules, can't bid for quite some time now.
We made it very clear from the start of this process that we couldn't make and weren't going to make a theme of nation-building, because that wouldn't be credible. The World Cup was going to be about building a soccer country and what that could do for the United States soccer scene, and what it could on the economic side and in other ways on the international scene.
With a population the size and strength of the U.S., this wasn't going to be about nation-building and we never pitched it that way. And it's hard to keep track, because FIFA's rules are very much continental-confederation based.
In that case, Qatar is part of the Asian confederation. Asia had a World Cup in 2002 and three of the other bidders were obviously from Asia. It was clearly going to be a European winner for 2018. So I'm not sure how long that resonates.
If that's what's going to resonate, then it would be good if everyone would let us know, and let the USOC and the English and anyone else who's had an event recently know that.
Follow-up: It's clear though, that Qatar tried to distinguish itself as being from the Middle East and not from Asia.
Well, that's correct, but Australia also said, "Come to Australia, we've never been to Australia before." But in soccer, they play in the Asian Confederation. Everyone makes the case – one of the arguments against the U.S. was we had it in '94. You're right, but having put on a very successful World Cup and having had extraordinary growth since then shouldn't be a drawback in putting forth our case.
So everyone puts forth a case that fits for them, and I understand that. In this case, the two that won today resonated with the 2022 voters.
Question from Doug Roberson, The Atlanta Journal-Constitution: What do you hope to see from cities like Atlanta, which don't have an MLS team and haven't had the U.S. national team play there, but were among the 18 cities interested hosting some part of the World Cup as they try to grow the sport, after this decision that has been made today?
I think we're still going to see the growth of the sport, just without that target out there 12 years from now that we could all build towards. MLS has clearly expanded, and there's now a Division 2 and a Division 3 setup in the country. We've got a number of markets that are playing in that, and obviously the women's league as well.
So all of those are pieces of the puzzle, as well as in a number of cases what I would call some extraordinary college attendances this year. The youth game is not growing double-digits or even four or five percent, because I think that's tapering off a little bit. But all those are pieces of the puzzle.
We'll certainly try to get to Atlanta some time with a men's or women's game, but given the number of those we have a year, that's not easy. But there have been some international games in Atlanta over the last few years, and some very well-attended games. So I think those are all small pieces of the jigsaw puzzle of what we're trying to do with the sport.
Question from Jeré Longman, The New York Times: Sunil, you said the idea of bringing the World Cup to places it hadn't been before – you weren't sure that played out today. Does that mean you don't buy the most benign explanation that FIFA just wanted to go to another place that they hadn't been to?
No, what it says is I haven't talked to the people that cast ballots today, and know what their motivation was. Whether they decided they wanted to go to Russia because they haven't had it before or because it's a large country or they didn't like our bid or they thought the Korean or Japanese bids were good or bad.
I don't know the answer. So there's no hidden meaning in that or anything else. I don't know the motivation and rationale of all the voters. It's as simple as that.
Question from Scott Reid, The Orange County Register: Two questions. Do you have any concern about FIFA changing the rules on continents hosting consecutive World Cups in order to get China back into it in 2026? And two, do you think the transparency of the American government system hurt you at all?
I'm not going to predict – we're talking about stuff that is 16 years away. It is the one rule within the World Cup decision making that hasn't changed – I'm not sure it has ever gone twice consecutively to a continent. That one has been cast in stone for a long time.
So to go to Asia, I can't imagine CONCACAF is going to be accepting a Chinese application to be part of CONCACAF, or something like that. So I don't see that changing, but who wants to predict what happens in a dozen years?
Our government has been extraordinarily supportive from the first day. One of President Obama's early actions in terms of support for us was a letter to [FIFA] President [Sepp] Blatter. He hosted a couple members of the Executive Committee last summer. The president of the African Confederation [Issa Hayatou] was at the White House last week. They've given us all the support that we've needed.
What we haven't been able to do is sign the exact documents that FIFA wanted in their original form, because of the system of government we have in the United States. We had told FIFA that at the beginning, and they were satisfied as we got to the finish line.
And frankly, they recognized that we have had major events in the United States without issues. Obviously the Olympics and multiple World Cups on the men's and women's side. So the government was extremely supportive, including the presence of the Attorney General [Eric Holder] at our presentation yesterday.
Question from Leander Schaerlackens, ESPN.com: Have you considered the effect of this decision on your own legacy as president of U.S. Soccer, and do you consider this a blotch on your record?
I consider this to be a disappointment for me personally, for sure, and a setback as we're trying to move the sport forward. Those are the issues today, they're not personal ones.
Question from Filip Bondy, New York Daily News: I'm always struck by the male-ness of these decisions. This time, FIFA gave this World Cup to a country that – well, when I spent 11 days there once, I didn't see a single woman in a service role whatsoever. I just wonder, are you convinced that Qatar is a society that's open enough in that regard to host a World Cup?
That's a question for someone that got a vote today. I'm happy to discuss some of the politics of this decision-making process but I'm going to stay away from international politics at this point.
Jonathan Tannenwald, Philly.com
FIFA, the governing body of international soccer, announced this morning that it has picked Qatar over the United States to host the 2022 World Cup.

We should not be surprised.

Given all of the reports we've seen and read over the last few weeks about corruption in the voting process, it became increasingly likely as the vote drew near that Qatar was the favorite to win. The bid's chairman, Mohammend Bin Hammam, pulled out all the stops in order to win favor with the 22 voters on FIFA's executive committee.

We may never know if everything Bin Hammam and his colleagues did was legal. Nonetheless, when looking back at the process, it is hard to not conclude that not everything was done above board.

In recent weeks, reports surfaced of a reported deal by which eight members of the executive committee would vote for Spain/Portugal 2018 and Qatar 2022 as a bloc. Among those eight voters were all three executive committee members representing South America.

Some people would call that collusion, which was supposed to be illegal under FIFA rules. Others, including FIFA's investigators, saw nothing wrong. So the matter was dismissed, and the vote went ahead without anyone from the outside world stopping it.
At least the Spain/Portugal bid did not win. But awarding the 2018 World Cup to Russia is equally disturbing. Their tournament will be played across even more time zones than an American World Cup would be, and the country's infrastructure is questionable.
I get the principle of wanting to grow the sport of soccer and wanting to take the World Cup to new countries, but there is so much risk involved with both Qatar and Russia. And given the many rumors about corruption in the voting process, you have to wonder just what the FIFA voters' motives really were.
Jonathan Tannenwald, Philly.com
Click here if you're on a mobile device.