Archive: October, 2010
Jonathan Tannenwald, Philly.com
With the 2010 season officially in the books, it's time to take a look back at the year as a whole. Marc Narducci's analysis in today's Inquirer covers a lot of the ground, so here's something more to supplement it. I've compiled all of the Rank and File ratings from this season to get a season-average number for each player.

Before we get to that, though, here are the ratings for Sunday's game at Columbus:


Goalkeeper

Chris Seitz: 3.75
- "The team doesn't seem to play as well in front of him as they do for Knighton." (Steve O.)
- "Tough to blame him for any of the goals specifically. The backline hung him out dry. He was still caught off his line too often, and failed to pounce on the ball on the breakaway goal. He also misplayed a clearance straight up and into the wind." (Ed Fagan Jr.)


Defenders

Danny Califf: 3.88
- "Wouldn't mind if we didn't protect him in the expansion draft, which about says it all about our captain." (Erik L.)

Jordan Harvey: 4.50
- "He didn't make the glaring, obvious mistakes that others had but he still didn't do much to prevent 3 goals." (Ed Fagan Jr.)

Michael Orozco Fiscal: 4.13
- "Part of the defensive problem or solution? After year one, still not sure." (Erik L.)

Sheanon Williams: 5.00
- "Sheanon Williams was the only member of the defense who looked competent for the entire game." (Osager)

Midfielders

Eduardo Coudet: 3.63
- "Probably one of his worst matches in a Union shirt. His foul outside of the penalty area was just close enough for an MLS referee to mistake. He was at fault for the first goal and it was all downhill from there. For a defensive midfielder, he just doesn't play much defense." (Ed Fagan Jr.)

Andrew Jacobson: 4.67

Justin Mapp: 4.57
- "He doesn't bring much to the attack. His lack of creativity is even more noticeable when Torres is brought on." (Ed Fagan Jr.)

Shea Salinas: 5.28
- "Salinas should win the team "most improved" award. At the season's beginning he was tentative and ineffective; since the Houston goal he's become the only real speed threat the Union have." (Peter N.)

Roger Torres: 5.63
- "Needs to get stronger to handle the physical aspects of the MLS, but certainly adds great vision and imagination to the field." (Erik L.)


Forwards

Sebastien Le Toux: 6.75
- "MVP, MVP!! (Just one complaint: set pieces need to improve)." (Erik L.)

Alejandro Moreno: 4.83

Danny Mwanga: 4.36
- "He was not listed on the injury report but I have to believe that shoulder is still nagging him. The offseason will do him a lot of good. He's a finesse striker by trade and he hadn't really been himself since he dislocated/separated his shoulder about a month ago." (Ed Fagan Jr.)
---
Now for the full-season ratings. A total of 26 players were on the roster for league games this season. Twenty-three of them got on the field in a match, and thus got ratings at some point during the year.

There is one player who played this year but did not get a rating, though: David Myrie. The Costa Rican was in the starting lineup for the season opener at Seattle, and was cut immediately afterwards because he got torched all night by Steve Zakuani on the left flank. We did not start Rank and File until the second game of the season, so Myrie gets no rating.

It's kind of a shame, but then again, that game was over seven months ago. Hard to believe, isn't it?

Okay, here we go.

Goalkeepers

Brad Knighton: 5.67
Brian Perk: No rating
Chris Seitz: 4.92

Defenders

Cristian Arrieta: 4.79
Danny Califf: 4.97
Juan Diego González Alzate: 5.00
Jordan Harvey: 5.25
David Myrie: No rating
Michael Orozco Fiscal: 5.08
Toni Stahl: No rating
Shavar Thomas: 3.85
Sheanon Williams: 6.15

Midfielders

Eduardo Coudet: 5.31
Fred: 5.72
Andrew Jacobson: 5.29
Justin Mapp: 5.79
Stefani Miglioranzi: 5.26
Kyle Nakazawa: 5.07
J.T. Noone: No rating
Amobi Okugo: 5.04
Shea Salinas: 5.90
Roger Torres: 5.91
Nick Zimmerman: 4.70

Forwards

Sébastien Le Toux: 6.81
Jack McInerney: 5.30
Alejandro Moreno: 5.51
Danny Mwanga: 5.85
---
The MLS Cup playoffs start tonight, as Columbus visits Colorado at 9 p.m. Here's the TV schedule and my predictions for the first round:

Colorado Rapids vs. Columbus Crew

First Leg: at Dick's Sporting Goods Park, tonight at 9 p.m. on ESPN2
Second Leg: at Crew Stadium, November 6 at 4 p.m. on Telefutura

Prediction: Colorado gets the upset. The Crew come into the playoffs reeling. Yes, they routed the Union this past Sunday, but that was their first win in league play since September 4 - and that was only a 1-0 result against D.C. United. The Rapids, meanwhile, are playing well and scoring lots of goals. They only lost two games total in September and October, and scored three or more goals five times.

Colorado also has a really annoying ability to jam the midfield and absorb pressure from an opponent, then strike on the counter-attack with forwards Omar Cummings and Conor Casey. I expect that to happen in this series. The bigger question is whether either game will draw a decent crowd, as both clubs have struggled at the gate all year. Expect to see a lot of empty seats on your TV screen.

FC Dallas vs. Real Salt Lake

First Leg: at Pizza Hut Park, Saturday at 5 p.m. on Fox Soccer Channel
Second Leg: at Rio Tinto Stadium, November 6 at 10 p.m. on Fox Soccer Channel

Prediction: Real Salt Lake in a close and entertaining series. Both of these teams like to play their soccer on the ground, with David Ferreira pulling the strings for FC Dallas and Javier Morales doing so for Real Salt Lake. Both have only lost one home game all year, and both results between the two clubs this year were 2-0 wins for the home side.

In the end, I think RSL has more depth, and they certainly have more experience having won MLS Cup last season. Having the second game at home will also help. FC Dallas will have to push harder in the first game, and as long as RSL can keep the first game close they'll benefit from the crowd and perhaps the altitude in the second game.

San Jose Earthquakes vs. New York Red Bulls

First Leg: at Buck Shaw Stadium, Saturday at 10 p.m. on Fox Soccer Channel
Second Leg: at Red Bull Arena, November 4 at 8 p.m. on ESPN2

Prediction: New York wins relatively comfortably. The only way I see San Jose winning this series is if Chris Wondolowski turns into the next incarnation of Reggie Miller. That's entirely possible, but New York has a much stronger and deeper midfield that should be able to keep posesssion of the ball. The late-season acquisition of Mehdi Ballouchy might just be what puts the Red Bulls over the top, as he can play either behind a striker or as a substitute for midfield linchpin Joel Lindpere.

Thierry Henry might not be fit for the first game, and if he doesn't play I can see San Jose heading east with a lead. But I expect New York to win at home and take the series that way. I will be at Red Bull Arena for that game, and I'm looking forward to seeing whether this is finally the year that New York breaks through. It might just be.

Seattle Sounders vs. Los Angeles Galaxy

First Leg: at Qwest Field, Sunday at 8 p.m. on ESPN2
Second Leg: at the Home Depot Center, November 7 at 9 p.m. on ESPN

Prediction: Los Angeles wins, but if I had any spine I'd pick Seattle for the upset. This is the marquee series of the first round, and well it should be. On one side, you have the superstar trio of David Beckham, Landon Donovan and Edson Buddle; on the other, you have the electric atmosphere created by Seattle fans and one of the hottest teams in MLS right now.

Yet even though the Sounders have won five of their last six games, they still have a tendency to not quite be able to put all the pieces together on the field. The Galaxy are much better at grinding out results when they have to, and unless Seattle wins big at home I think L.A. takes the series.
---
Jonathan Tannenwald, Philly.com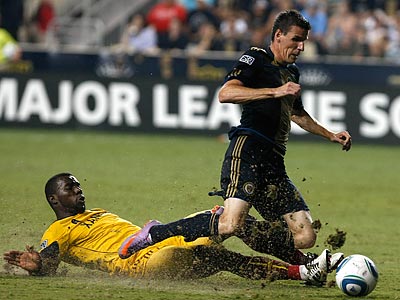 Major League Soccer announced the finalists for its year-end awards tonight, and Sebastien Le Toux was not among the three finalists for Most Valuable Player. The finalists were Los Angeles Galaxy forward Edson Buddle, FC Dallas midfielder David Ferreira and San Jose Earthquakes forward Chris Wondolowski.

You would have to think that Wondolowski is the favorite, followed by Buddle. I happen to think that Buddle is less "valuable" than Wondolowski, but if I were voting for a Most Outstanding Player prize Buddle would be in the mix.

I'd pick Wondolowski for that kind of prize, though, and he'll get my vote in the North American Soccer Reporters' Player of the Year balloting. The NASR is a writers' organization that votes on the official Player of the Week and Player of the Month awards. It has its own Player of the Year and Coach of the Year awards.

There is some significant consolation for Union fans, as Danny Mwanga is a finalist for Rookie of the Year. It's no surprise that his competitors for the award are D.C. United midfielder Andy Najar and New York Red Bulls defender Tim Ream.

I voted for Najar. I thought hard about it, but Najar has played more minutes and more games than Mwanga. In addition, Mwanga hasn't recorded a goal or an assist since September 4, and he's only played 90 minutes once since then.

Najar scored two goals in mid-September, and has played 88 minutes or more in every game but one since Jume 5. So maybe you can put it on Peter Nowak for not playing Mwanga as much, but I think Najar has been more consistent through the season.

As for Coach of the Year, I voted for New York's Hans Backe. Yes, the Red Bulls are loaded with talent, but the franchise in America's biggest market was a joke for many years. Now it is a serious club that plays serious soccer, and Backe has played a major role in that change.

Voting for MLS MVP and the rest of the league's official end-of-season awards is done through the league's website. The pool of voters includes players, general managers, coaches, referees and members of the media.

Here are all the award finalists. The schedule of when the winners are announced is here, as published in the Daily News this morning.

Most Valuable Player: Edson Buddle, Los Angeles Galaxy; David Ferreira, FC Dallas; Chris Wondolowski, San Jose Earthquakes

Rookie of the Year: Danny Mwanga, Philadelphia Union; Andy Najar, D.C. United; Tim Ream, New York Red Bulls

Coach of the Year: Hans Backe, New York Red Bulls; Schellas Hyndman, FC Dallas; Jason Kreis, Real Salt Lake

Defender of the Year: Nat Borchers, Real Salt Lake; Omar Gonzalez, Los Angeles Galaxy; Jamison Olave, Real Salt Lake

Goalkeeper of the Year: Kevin Hartman, FC Dallas; Donovan Ricketts, Los Angeles Galaxy; Nick Rimando, Real Salt Lake

Newcomer of the Year: Thierry Henry, New York Red Bulls: Joel Lindpere, New York Red Bulls; Alvaro Saborio, Real Salt Lake

Comeback Player of the Year: Chris Albright, New York Red Bulls; Bobby Convey, San Jose Earthquakes; Brek Shea, FC Dallas

Fair Play Award: C.J. Brown, Chicago Fire; Sebastien Le Toux, Philadelphia Union; Chris Wondolowski, San Jose Earthquakes

Referee of the Year: Mark Geiger; Kevin Stott; Baldomero Toledo

Humanitarian of the Year: Brian Ching, Houston Dynamo; Jimmy Conrad, Kansas City Wizards; Seth Stammler, New York Red Bulls
Here are some quotes from Le Toux and Mwanga, courtesy of Daily News soccer writer Kerith Gabriel:
Danny Mwanga
Jonathan Tannenwald, Philly.com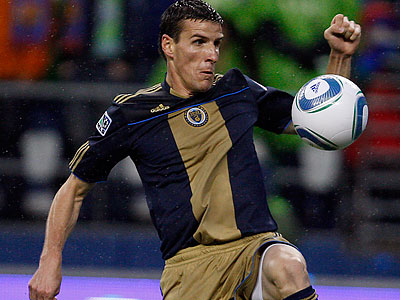 I cast my votes for the various end-of-season awards across Major League Soccer yesterday afternoon. For the last few weeks, I had been planning to vote for Sebastien Le Toux as the league's Most Valuable Player, but San Jose striker Chris Wondolowski's epic goalscoring streak of late had changed my mind.

Just as I was about to put Wondolowski's name on the ballot, though, the Union's media relations staff put out a tweet that changed my vote back to Le Toux. You would expect a team to promote its own player for awards, but the information they had assembled had real substance and power behind it.

Between his 14 goals and 11 assists, Sebastien Le Toux had a role in a higher percentage of his team's overall goals than any other player in league history. Yes, really: no player in the entire 15-year existence of Major League Soccer ever had the kind of season Le Toux just wrapped up.
Not only that, he set the record by a considerable margin. Courtesy of the Union and the Elias Sports Bureau, here are the top six player-seasons in what we'll call "goals affected" in MLS history:
| | | | | | | | |
| --- | --- | --- | --- | --- | --- | --- | --- |
| Year | Name | Team | G | A | Team G | Gs. Aff. # | Gs. Aff. % |
| 2006 | Jeff Cunningham | RSL | 16 | 11 | 48 | 27 | 0.563 |
| 2002 | Taylor Twellman | NE | 23 | 6 | 49 | 29 | 0.592 |
| 2003 | Preki | KC | 12 | 17 | 48 | 29 | 0.604 |
| 1999 | Joe-Max Moore | NE | 15 | 8 | 38 | 23 | 0.605 |
| 1999 | Jason Kreis | DAL | 18 | 15 | 54 | 33 | 0.611 |
| 2010 | Sebastien Le Toux | PHL | 14 | 11 | 35 | 25 | 0.714 |

Soccer doesn't lend itself easily to being measured by statistics. That's part of its beauty, but it has also made the sportless easy to explain to Americans raised on baseball, football and basketball. You can quantify just about everything in those realms: batting average and UZR on the diamond, quarterback rating on the gridiron and offensive efficiency on the hardwood.

Statistics are slowly making their way into soccer, but it's still a pretty abstract sport overall. So what tangible methods can we use to determine a player's statistical value?

This "goals affected" figure is certainly a good measuring stick. In its early years, Major League Soccer awarded a hockey-style prize for points recorded in a season, counting goals for two and assists for one. That offended the soccer purists who wanted a traditional Golden Boot prize for the top goalscorer. MLS rightly listened and changed the award.

But assists are still an important part of the game, and deserve to be quantified by the record-keepers. A player who sets up lots of goals brings plenty of value to his (or her) club.

So how should we award a "most valuable player" prize in soccer? I'm the kind of person who believes that a most valuable player is one whose absence would be most missed were he not on the field. That is a different standard from a most outstanding player prize. If I were voting for that, I would go for Wondolowski or Los Angeles' Edson Buddle.

You can certainly make a case for Wondolowski's value to the Earthquakes. His 18 goals won this year's Golden Boot, but just as important was the high percentage of San Jose's goals that came from Wondolowski. He accounted for 52.5 percent of his team's overall tallies.

To put that number in context, Wondolowski is only the second Golden Boot winner in MLS history to score more than half his team's goals in a season:


| | | | | | |
| --- | --- | --- | --- | --- | --- |
| Year | Name | Team | G | Team G | GS% |
| 1996 | Roy Lassiter | TB | 27 | 66 | 0.409 |
| 1997 | Preki | KC | 12 | 57 | 0.211 |
| 1998 | Jaime Moreno | DC | 16 | 70 | 0.229 |
| 1999 | Jason Kreis (t) | DAL | 18 | 54 | 0.333 |
| 1999 | Roy Lassiter (t) | DC | 18 | 65 | 0.277 |
| 1999 | Stern John (t) | CLB | 18 | 48 | 0.375 |
| 2000 | Mamadou Diallo | TB | 26 | 62 | 0.419 |
| 2001 | Alex Pineda Chacon | MIA | 19 | 57 | 0.333 |
| 2002 | Taylor Twellman | NE | 23 | 49 | 0.469 |
| 2003 | Carlos Ruiz (t) | LA | 24 | 44 | 0.545 |
| 2003 | Taylor Twellman (t) | NE | 15 | 55 | 0.273 |
| 2004 | Amado Guevara | NY | 10 | 47 | 0.213 |
| 2005 | Taylor Twellman | NE | 17 | 55 | 0.309 |
| 2006 | Jeff Cunningham | RSL | 16 | 48 | 0.333 |
| 2007 | Luciano Emilio | DC | 20 | 56 | 0.357 |
| 2008 | Landon Donovan | LA | 20 | 55 | 0.364 |
| 2009 | Jeff Cunningham | DAL | 17 | 50 | 0.340 |
| 2010 | Chris Wondolowski | SJ | 18 | 34 | 0.529 |

But Wondolowski only recorded one assist this season, putting him behind Le Toux in the total "goals affected" category. So to me, that diminished his claim for MVP honors.

I put together a chart that I thinks brings everything together. I took the goals affected leaders from each MLS season and crunched a series of statistics to measure each player.

Here's the chart in chronological order. Note that the "Games" column reflects games in a season, not games played, as I think that is a truer reflection of value to a team. "GS %" is percentage of a team's goals scored, "A %" is percentage of a team's assists recorded, "GA #" is total number of goals affected and "GA %" is percentage of goals affected.

| | | | | | | | | | | | | |
| --- | --- | --- | --- | --- | --- | --- | --- | --- | --- | --- | --- | --- |
| Year | Name | Tm | G | A | Tm G | Tm A | Gms | G/gm | GS % | A % | GA # | GA % |
| 1996 | Roy Lassiter (t) | TB | 27 | 4 | 66 | 60 | 32 | 0.844 | 0.409 | 0.067 | 31 | 0.470 |
| 1996 | Preki (t) | KC | 18 | 13 | 61 | 59 | 32 | 0.563 | 0.295 | 0.220 | 31 | 0.508 |
| 1997 | Preki | KC | 12 | 17 | 57 | 64 | 32 | 0.375 | 0.211 | 0.266 | 29 | 0.509 |
| 1998 | Cobi Jones | LA | 19 | 13 | 85 | 104 | 32 | 0.594 | 0.224 | 0.125 | 32 | 0.376 |
| 1999 | Jason Kreis | DAL | 18 | 15 | 54 | 66 | 32 | 0.563 | 0.333 | 0.227 | 33 | 0.611 |
| 2000 | Mamadou Diallo (t) | TB | 26 | 4 | 62 | 94 | 32 | 0.813 | 0.419 | 0.043 | 30 | 0.484 |
| 2000 | Clint Mathis (t) | NY | 16 | 14 | 64 | 72 | 32 | 0.500 | 0.250 | 0.194 | 30 | 0.469 |
| 2001 | Diego Serna | MIA | 15 | 15 | 57 | 89 | 26 | 0.577 | 0.263 | 0.169 | 30 | 0.526 |
| 2002 | Taylor Twellman | NE | 23 | 6 | 49 | 62 | 28 | 0.821 | 0.469 | 0.097 | 29 | 0.592 |
| 2003 | Preki | KC | 12 | 17 | 48 | 41 | 30 | 0.400 | 0.250 | 0.415 | 29 | 0.604 |
| 2004 | Amado Guevara | NY | 10 | 10 | 47 | 40 | 30 | 0.333 | 0.213 | 0.250 | 20 | 0.426 |
| 2005 | Christian Gomez | DC | 11 | 9 | 58 | 58 | 32 | 0.344 | 0.190 | 0.155 | 20 | 0.345 |
| 2006 | Jeff Cunningham | RSL | 16 | 11 | 48 | 51 | 32 | 0.500 | 0.333 | 0.216 | 27 | 0.563 |
| 2007 | Landon Donovan | LA | 8 | 13 | 38 | 33 | 30 | 0.267 | 0.211 | 0.394 | 21 | 0.553 |
| 2008 | Landon Donovan | LA | 20 | 10 | 55 | 55 | 30 | 0.667 | 0.364 | 0.182 | 30 | 0.545 |
| 2009 | Jeff Cunningham | DAL | 17 | 8 | 50 | 49 | 30 | 0.567 | 0.340 | 0.163 | 25 | 0.500 |
| 2010 | Sebastien Le Toux | PHL | 14 | 11 | 35 | 35 | 30 | 0.467 | 0.400 | 0.314 | 25 | 0.714 |
Jonathan Tannenwald, Philly.com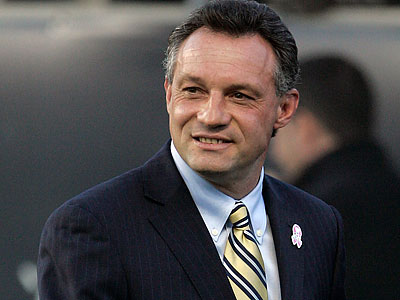 This post is rather long, but hey, it's my last postgame writeup of the season. So here are some thoughts from me after the Union closed out their inaugural season with a disappointing 3-1 loss to the Crew in Columbus. The video highlights are here, if you can stomach them.

- I really think the Union could have won this game if they'd put some creativity into it from the start. We all know what Sebastien Le Toux and Danny Mwanga can do, but they can't do everything themselves. Someone has to get them the ball from further back on the field.

In Peter Nowak's system, that job should fall to the other midfield players - not just Le Toux, and perhaps not even Le Toux at all. But none of Justin Mapp, Eduardo Coudet and Stefani Miglioranzi are true linking players. Each is capable of filling that role, but Mapp is really a winger and the other two play more defensive positions.

Theoretically, Le Toux was set up to be that linking player yesterday. But he's a guy that likes to make runs with the ball at his feet, and he isn't really a setup guy in that way. For as many assists as he's recorded this season, Le Toux is at his best when he's on the receiving end of the play.

- Danny Mwanga didn't see much of the ball at all. I think that was a side effect of Le Toux's role. Mwanga got the ball with his back to goal a few times, but he has shown that he is best when he can face goal and shoot without getting too fancy.

That may sound simple, but it's not a bad thing. If anything, it calls for Le Toux and Mwanga to be paired together up front. Le Toux's creativity in tight spaces complements Mwanga's finishing ability. Moving Le Toux up top would also free up a spot in midfield, and allow the Union to use its midfield depth even more.

On top of all that, both players are pretty young. There's real potential for Le Toux and Mwanga to play together with the Union for a few years. That would be great to see, especially in the Designated Player era.

- So who should fill that vacant spot in midfield if Le Toux moves up top? I think you already know my answer to that question. Roger Torres fits the bill, and he showed it again yesterday when he came on as a substitute midway through the second half.

I really liked the word that Kyle Martino used on the local TV broadcast yesterday to describe the way Torres plays: he has "ideas." You could also call it improvisation, or invention, or any number of other things. It takes a certain mindset and abity to see the field in a certain way, and it's not something that every soccer player has.

I also wouldn't discount Fred's ability to play the creative role. We don't always see it, and we've discussed the reasons why before on here. But the risks that Torres presents with his youth and lack of size are not problems with Fred.

- The back line was most at fault for the final score. Time and again, either Michael Orozco Fiscal or Danny Califf did not to react to a situation properly. Sometimes thery were out of position, sometimes they misplayed clearances and more than once they just plain slipped.

The trouble started in only the third minute, when Califf froze and let a ball that got past Eddie Gaven bounce right off his chest. That let Gaven claim possession, and when Orozco Fiscal came over to challenge Gaven he left Guillermo Barros Schelotto unmarked. It took a last-second tackle from Jordan Harvey to disrupt the play just enough for Stefani Miglioranzi to be able to step in and clear the ball out for a corner.

Miscues on the back line were a major factor in Columbus' third goal. Orozco Fiscal had a chance to close down Schelotto early in his run, but didn't take it. When both players reached the edge of the 18-yard box, Califf left Andres Mendoza to try to help Orozco Fiscal. Mendoza was thus completely unmarked, and Schelotto had no trouble finding his teammate for the easy shot.

- Chris Seitz came off his line too often for my liking. I counted three occasions in the first nine minutes alone. On the second of them, Seitz wasn't even in the camera frame after Emilio Renteria ran past him in pursuit of the ball. On the third, he kicked a clearance straight into the stiff wind, and it didn't go very far.

Seitz did make some nice saves, including a spectacular diving parry of a swerving Schelotto free kick in the 10th minute. But he got quite decisively burned in the 42nd minute, when Emilio Renteria beat the offside trap - which was poorly executed, it should be said - and caught Seitz completely stranded.

- The foul that led to Columbus' penalty kick clearly took place outside the box. Even the Columbus local TV broadcasters said so. I'm willing to give the referee the benefit of the doubt about whether there was a foul in the first place, but here's the evidence of where the contact occurred: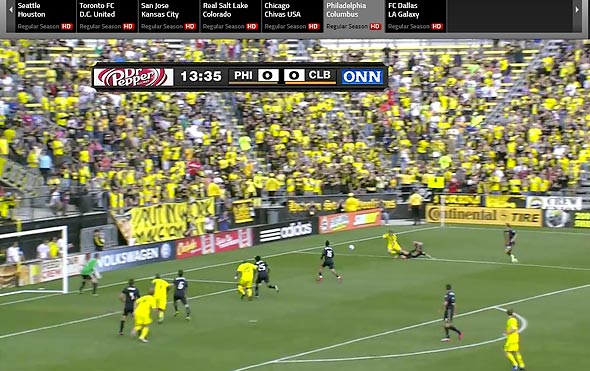 - Elsewhere in MLS, three great players bid farewell to their professional careers over the weekend. C.J. Brown, Brian McBride and Jaime Moreno all made significant contributions to Major League Soccer, and are worthy of the many plaudits they have received.

Brown has been a steady presence on Chicago's back line since the Fire's inaugural season back in 1998. He logged 25,813 minutes on the field in 296 games, and in all that time acquired just 51 yellow cards and five red cards. The most bookings he was ever given in one season was seven in 2000 and 2007.

The exploits of McBride and Moreno are much better-known. Both players joined MLS in its inaugural season, and ended their careers in cities they genuinely considered to be their homes.

McBride grew up in Arlington Heights, Illinois. Even though the first ever draft pick in MLS history started his career in Columbus, it only made sense that he joined the Fire when he decided to come back from England.

Of course, McBride's most famous moments came with the U.S. national team. He scored 30 goals in 96 games for his country, and is widely considered to be the best pure striker in American soccer history. It is a challenge to pick out just one famous goal from his career, but there is one that I personally will never forget.

It came in a World Cup qualifier against Guatemala at RFK Stadium on the Saturday of Labor Day weekend in 2000. With the U.S. playing a man down, Cobi Jones led a counter-attack and served a high cross from the right side. McBride hit a first-time volley past the goalkeeperf from close range, and fell on his face as the ball crossed the line. The roar of the crowd told him that the ball was in the net, and he put up his fingers in celebration as he lay on the turf.
Perhaps some of you were there that day; others of you who watched on TV might remember Jack Edwards' exclaimation that the building was shaking. I was out of town for the holiday weekend, so I was watching the ABC broadcast of the game (yes, U.S. World Cup qualifiers used to air on network television).


Jonathan Tannenwald, Philly.com
Jonathan Tannenwald, Philly.com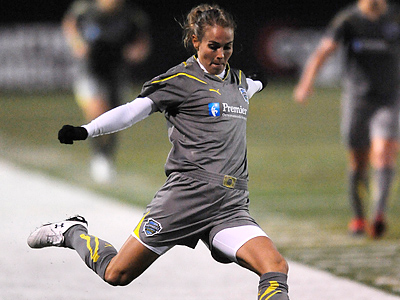 The Philadelphia Independence named defender Heather Mitts as one of their unprotected players for the upcoming Women's Professional Soccer expansion draft, which will help the new Buffalo/Rochester franchise fill out its inaugural roster.

If Mitts is chosen in the draft, which will take place November 4, it would not be her first departure from the Philadelphia soccer scene. The first time was after the Women's United Soccer Association's last season in 2003. Not long thereafter, her husband, A.J. Feeley, was traded from the Eagles to the Miami Dolphins.

Feeley returned to Philadelphia from 2006 to 2008, but Mitts' only visit to the local soccer scene during that time was a U.S. national team friendly here in 2008. She played the 2009 WPS season in Boston.

Mitts is the most prominent name of any of the 21 players leaguewide that will be available to WPS' eighth club. Philadelphia also left midfielder Lyndsey Patterson and defender Sarah Senty unprotected. The only other players available that you might have heard of are Atlanta Beat midfielder Angie Kerr and Washington Freedom forward Christie Welsh. Both have played for the U.S. national team.
Each team also protected ten players on its roster. The rest, from what I can tell, became free agents - the language in the league's statement is a bit unclear, but the Independence's subsequent press release spells things out better.
The goal was to get to a set of 13 players that would then be designated as protected or unprotected. Obviously, there are more than 13 places on the roster. So the first step was to count the number of players with existing contracts in place. For the Independence, those players were Mitts, Amy Rodriguez and Caroline Seger.
Jonathan Tannenwald, Philly.com
I've tried over the last few weeks to stay out of adding my own comments to this, but I do want to offer my two cents about one player in particular. You'll see below that there are views from both ends of the spectrum about Fred. I personally think that he's worth bringing back, though his salary is at the upper end of the Union's payroll.

I think Fred brings a lot to the team, both in terms of on-the-ball creativity and off-the-ball leadership. He doesn't show it all the time, but as we've discussed on here before he's a lot less effective in a wide midfield role than he is in the middle.

I'd be interested to know what you think about that.


Goalkeeper

Brad Knighton: 6.10
- "Showed he is up to the challenge, earned the starting job for next year. (Jared R.)
- "Did Knighton even see the goal scored against him? Didn't look like it." (Peter N.)


Defenders

Danny Califf: 6.20
- "Even in victory, Califf managed to look bad." (Osager)

Jordan Harvey: 6.40
- "Defensively, the best game from Harvey all season long. He completely shut down Richards, and that's no small accomplishment." (Andrew Dillon)

Michael Orozco Fiscal: 7.30

Sheanon Williams: 6.90
- "How was he stuck in Harrisburg all year?" (Jared R.)
- "Another strong game for Williams - and one of his throw-ins really did look like a corner kick." (Osager)


Midfielders

Eduardo Coudet: 5.90
- I love Coudet and how he commands the field, both on set pieces and the run of play. Such a loud and vocal guy; if Le Toux has 3 lungs, than Eduardo has 2 sets of vocal chords." (Andrew Dillon)

Fred: 8.00
- "Played the best game of the year with the Union. Right place at the right time for the goal, and right place at the right time to save one." (Jared R.)
- "Finally, a great game by Fred. Now let's hope someone takes him and his salary in the expansion draft." (Brian DeHaven)

Andrew Jacobson: 5.75

Justin Mapp: 5.56

Stefani Miglioranzi: 6.33
- "I never realize he is in there, which means he isn't making mistakes." (Jared R.)

Shea Salinas: 5.83


Forwards

Sebastien Le Toux: 7.70
- "Sebastian Le Toux is the hardest working man in show biz. His example - and Nowak's lessons - have clearly rubbed off on the younger guys, which means good things in years to come." (Peter N.)

Alejandro Moreno: 6.20

Danny Mwanga: 6.11
- "Sorry Danny Mwanga, but the rookie of the year would have scored when presented with the open goal you had." (Osager)
Jonathan Tannenwald, Philly.com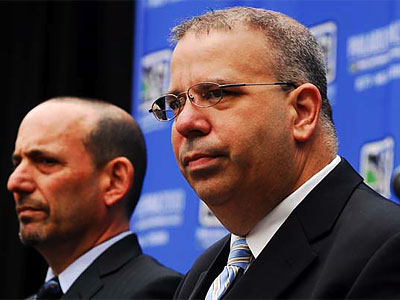 The loyal readers among you may have already listened to the audio of my interview with Philadelphia Union president Tom Veit from Saturday. I decided that Veit's remarks were worth their own post, so I've transcribed the interview below.

There's a lot of good information here, from a potential third jersey next year to the latest on discussions with Villanova about hosting the Wildcats' football program at PPL Park. There's also more than enough for those of you who like reading between the lines of business-speak and generalities.

Q. First of all, just your general thoughts on how things have gone this season?

A. I think it's been everything we could have asked for and more. With that said, we've got a lot of work to do. We want to get better in every facet of our business. But for year one, we think at the end of the day our fans are happy, and if they are, we are.

Q. Have you set any goals yet for what you want to do during the offseason, specifcally?

A. Get better. I think we want to work out some of the bugs that we've had with the stadium. Just little things to make it better. We want to go back to our fan base and get a read on what they think needs to be changed. So I don't think there's one thing that we say, 'This needs to be fixed.' There's a lot of little things, and we want to get better on and off the field.

Q. At what point will you have some ideas of what you want to do on the field?

A. You'll have to ask Peter Nowak on that. I think Peter probably already knows, has a good idea of things he wants to do.

Q. One of the things that's been discussed this year is your discussions and negotiations with Villanova about hosting their football team at PPL Park should they move up to the Big East. I have heard that you've said to some people associated with the Villanova program that if there's a way to get the football lines down, you'd be happy to have them. How much discussion have you had with Villanova and at what stage are they?

A. We really haven't - other than our first discussions of saying 'we're willing to look at it.' Once we get to the offseason, we're going to look at some stuff with the grass, and see what we can do with football lines. There's still a lot of questions to be answered.

Q. Such as?

A. Can you get the football lines down, and can you get them off? Would the constant play on the Patriot Bermuda [grass surface], would that disturb the field? Can it be done? Our groundskeepers, we've been focused on playing soccer. Now that we're through the season, our grounds crew can look at things, we can talk to our fan base.

So we're probably in the same position we were before. We're willing to talk about it; we've got to look through the different things. We're first and foremost a soccer facility. If we can be a soccer facility at a top level and accomodate Villanova, we'd be glad to look at it and try to make it work.

Q. Can you explain, for people who don't know, who owns PPL Park and whether, if it's not the Union, that entity would have any say in what would happen?

A. The stadium itself is handled by the authority within Delaware County. We have a lease right to handle running the building. So we always talk to our partners about everything, in regards to doing that. But we haven't even gotten to that level yet.

Q. If the Delaware County authorities said they wanted it to happen, given Villanova's relative proximity on Interstate 476, what would you say?

A. We'd say what we've been saying. We're a soccer facility first and we're open to making anything work. If we can make it work with the primary mission of the building, we'll do it. If we can't, then we can't.

Q. If your fans say they don't want it, how much would that matter?

A. That would matter.

Q. Every once in a while, people have asked me about whether Union games are really sold out when they see many empty seats. What is your technical definition of a sellout?

A. A sellout is every ticket sold. If you have a party and everybody RSVPs but not everybody shows up, it's the same thing. Tonight, we know a lot of fans were deciding between going to us and going to the Phillies. So a sellout for us is having every ticket sold. From there on, not everybody shows.

If you go to the Phillies game tonight, I'm sure if you go to that game, you'd find some empty seats.

Q. What are you looking forward to next year in terms of accomodating away fans? I'm sure Portland and Vancouver fans will be just as interested in traveling here as Seattle, New York and all the other teams' fans.

A. I think that you see a great crowd from New York tonight. Next year we'll play D.C. United here instead of at the Linc, and we'll see what Toronto will travel. I think we'l see a fair amount of visiting clubs travel, and we're excited about that. And we'll work through it. Now that we're in the building and we see how it works, we'll talk to our fans again and see how we can accomodate them.

Q. What's the status of a jersey sponsor?

A. Ongoing. As we've been, we're in some very good talks. We're starting to get ready for next year, so I think some things could be heating up with a few different groups.

Q. Any hint as to maybe what industry they're in, or what size or scale of company you're looking for?

A. Philly.com is one of our favorite ones.

Q. Lastly, I know some of the teams in the league are going to change their jerseys next season. Do you expect any changes for the Union?

A. No. We're on a two-year jersey cycle, but there possibly could be a third strip coming out.