Archive: January, 2012
Jonathan Tannenwald, Philly.com
Sébastien Le Toux spoke with the Vancouver media late Monday afternoon' and a few Philadelphia reporters were in on the conference call.
He also made an appearance on Vancouver's TEAM 1410 radio station' for an interview with Whitecaps play-by-play voice Peter Schaad.
What follows is an amalgamation of Le Toux's remarks.
Jonathan Tannenwald, Philly.com
Union manager Peter Nowak spoke with reporters about the Sébastien Le Toux trade and the club's other big moves on a conference call Tuesday afternoon.
Here's a transcript:
On whether trading Le Toux was specifically for money:
Jonathan Tannenwald, Philly.com
I wanted to get to this yesterday, but there was far too much going on with the Union for me to have the time.
Here are some transcribed highlights from a conference call held with Women's Professional Soccer CEO Jennifer O'Sullivan and Atlanta Beat CEO T. Fitz Johnson. There's a lot to digest here, I admit. The call lasted over an hour, and this isn't close to everything that was said.
Still, I figure it's better to put more stuff out there on the record than less, especially in a situation like this. So here you go.
Jonathan Tannenwald, Philly.com
A guest post from Kerith Gabriel of the Daily News. Be sure to pick up tomorrow's papers for more coverage of all of today's big stories.
When the January transfer window closes Tuesday, it won't include an announcement that Union forward Sébastien Le Toux is leaving for Bolton — but it might end with Le Toux headed to Vancouver.
The Daily News has learned that Le Toux is still being shopped, and it could be coming from an MLS bidder. Though the window doesn't directly affect player movement within Major League Soccer, England-based Daily Mirror writer Alan Nixon - who kept eye on Le Toux's trial spell last week - posted on his Twitter feed that Vancouver has showed interest in the 28-year-old Frenchman.
Jonathan Tannenwald, Philly.com
The Union and star goalkeeper Faryd Mondragón agreed to part ways today, upending what had been arguably the team's most secure position on the very first day of preseason training.
There have been multiple reports in recent days out of Colombia that a deal was in place for Mondragón to return to his native country, and wrap up his professional career with his original club, Deportivo Cali.
"It has been an absolute honor and a privilege to be part of the Union family," Mondragón told the team's website. "For family reasons, I have requested the club to allow me the opportunity to finish my career where it started."
Jonathan Tannenwald, Philly.com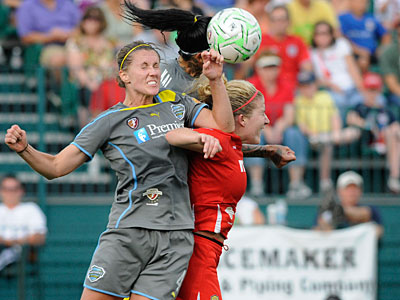 Barely 12 hours after the United States women's national team wrapped up an extremely successful Olympic qualifying campaign, the women's soccer world was sent reeling this afternoon by the news that Women's Professional Soccer has suspended operations.
Here is the press release from the league:
Women's Professional Soccer (WPS) announced today that its Board of Governors has voted to suspend the 2012 season to permit the League to focus on the resolution of certain pending legal issues and the challenges that now face the League as a result of its ongoing dispute with a former owner.
Jonathan Tannenwald, Philly.com
Tuesday's MLS All-Star Game press conference at City Hall had plenty of pomp and circumstance. It also produced a few substantive quotes from league commissioner Don Garber.
Here are some highlights. There's also a video below of a breakout interview that Garber did with reporters after his formal remarks.
On scheduling the All-Star Game on the eve of the Olympics, thus making it likely that stars such as David Beckham and Freddy Adu won't be able to participate:
Jonathan Tannenwald, Philly.com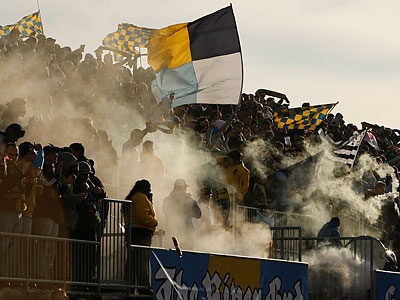 Now it's officially official. The 2012 Major League Soccer All-Star Game will be played at PPL Park on Wednesday, July 25 at 8 p.m.
It will be broadcast in the U.S. on ESPN2 and either Galavisión or Telefutura (that is to be determined), and in Canada on TSN and RDS.
The game will continue the format of recent years, in which an MLS XI will face an international club team. That team has yet to be announced.