Archive: January, 2010
Jonathan Tannenwald, Philly.com
The Philadelphia Union just announced that Channel 6 (WPVI) will be its local TV broadcaster this season.
While the season schedule has not been released yet, a joint statement by the team and the station says that Philadelphia's ABC affiliate has a "commitment" to air "as many Philadelphia Union games as possible to be carried live on 6abc."
In addition, all games will be re-broadcast on 6abc's digital channel 6.2, which is available over the air if you have a digital TV set. It is channel 245 on Comcast, but it's not available on satellite dishes.
Jonathan Tannenwald, Philly.com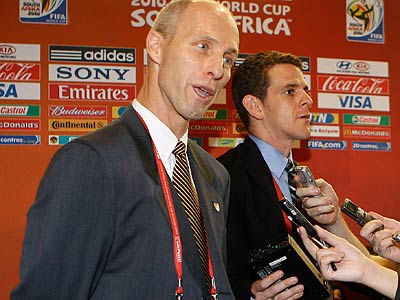 The press release writers in Bristol, Conn., aren't exactly known for brevity. But it still tells you something that ESPN's World Cup television schedule took five pages out of the office printer.

As with Germany four years ago, all 64 games from South Africa this summer will air live and in HD on ESPN, ESPN2 or ABC. ESPN will show 45 games, with ABC and ESPN2 showing 10 games each.

You can get the full schedule here. There will also be nightly replays on ESPN Classic from 6 p.m. to midnight, and ESPN2 will re-air some games at nigths as well.

"At some point you've got to treat it like the significant sporting event that is," ESPN's executive vice president of content John Skipper told the Associated Press today. "I understand it has not traditionally stopped work and stopped the country to watch it in past years. But we're going to treat it like it should."

For the first time, ESPN will run its studio shows from on-site instead of Bristol. That means all the pregame, halftime and postgame shows will be set in South Africa.

While we don't yet know who the game announcers will be, it's been reported previously that Chris Fowler, Mike Tirico and Bob Ley will be the studio set hosts. The AP confirmed today that all of ESPN's broadcast crews will be on site to call games in South Africa; four years ago, only two of the four crews were on site.

The AP also reported yesterday that former Netherlands star and veteran coach Ruud Gullit will be a part of ESPN's crew, as will ESPN veteran Alexi Lalas. Today's report added former England international Steve McMannaman to the list of analysts.

ESPN is sending 165 people to South Africa and will hire 50 local workers. The network has also hired its own private security firm for the tournament.

Games broadcast on ESPN and ESPN2 will be simulcast on ESPN360.com. All 64 World Cup games will be available in ESPN360's archives shortly after they end, and will remain in the archives through the end of the calendar year.

In addition, 46 games of the ESPN/ESPN2 games will air on ESPN's mobile platform. That includes all of the games on cable except those in the final round of the group stage, when both games in a group kick off simultaneously.

The release doesn't say anything about whether the ESPN World Cup iPhone/iPod Touch app will include any live video.

If you speak Portuguese, you might like to know that ESPN Deportes will air 40 matches in Portuguese on that channel. Spanish-language rights are held by Univision, which will air games on that channel and Telefutura.

I haven't seen yet any information about whether Univision will air games in HD. Right now its affiliates don't broadcast in HD, and Spanish-language stations in the U.S. were not part of the digital TV transition last year.

Let's break out the U.S. games and the games that ABC will air, because those will be the most prominent broadcasts.

All games will kick off at 7 a.m., 9:30 a.m. or 2 p.m. Eastern time.

U.S. schedule

Saturday, June 12: U.S. vs. England, 2 p.m., ABC (Rustenburg)
Friday, June 18: U.S. vs. Slovenia, 9:30 a.m., ESPN (Johannesburg)
Wednesday, June 23: U.S. vs. Algeria, 9:30 a.m., ESPN (Pretoria)
Saturday June 26: U.S. second round if it wins the group, 2 p.m., ABC (Rustenburg)
Sunday, June 27: U.S. second round if it finishes second, 9:30 a.m., ESPN (Bloemfontein)
Friday, July 2: U.S. quarterfinal if it wins the group, 2 p.m., ESPN (Johannesburg)
Saturday, July 3: U.S. quarterfinal if it finishes second, 9:30 a.m., ABC (Cape Town)
Tuesday, July 6: U.S. semifinal if it wins the group, 2 p.m., ESPN (Cape Town)
Wednesday, July 7: U.S. semifinal if it finishes second, 2 p.m., ESPN (Durban)

ABC schedule

Saturday, June 12: England vs. United States, 2 p.m. (Rustenburg)
Sunday, June 13: Germany vs. Australia, 2 p.m. (Durban)
Saturday, June 19: Cameroon vs. Denmark, 2 p.m. (Pretoria)
Sunday, June 20: Brazil vs. Ivory Coast, 2 p.m. (Johannesburg)
Saturday, June 26: A second-round game (1st C vs. 2nd D), 2 p.m. (Rustenburg)
Sunday, June 27: A second round game (1st B vs. 2nd A), 2 p.m. (Johannesburg)
Saturday, July 3: A quarterfinal, 9:30 a.m. (Cape Town)
Saturday, July 3: A quarterfinal, 2 p.m. (Johannesburg)
Saturday, July 10: Third-place game, 2 p.m. (Port Elizabeth)
Sunday, July 11: Championship game, 1:30 p.m. (Johannesburg)

Is that enough coverage for you?
Jonathan Tannenwald, Philly.com
This is one of two posts that accompany my story about Walter Bahr in this morning's Inquirer. The other is the full transcript of my interview with Bahr that I used to set up the article. Click here to read it.
Also be sure to check out Jeff Gammage's A1 story in the Inquirer about the Philadelphia Union's ticket sales so far, and this gallery of new stadium construction photos. Believe it or not, the Union's first game is two months from today.

Earlier this month at the NSCAA convention, Philadelphia native Walter Bahr received the 2010 Walt Chyzowych Lifetime Achievment Award.
Jonathan Tannenwald, Philly.com
This is one of two blog posts that accompany my story about Walter Bahr in this morning's Inquirer. The second post details the relationship between Bahr and another Philadelphia soccer legend, Walt Chyzowych. Click here to read it.
Also be sure to check out Jeff Gammage's A1 story in the Inquirer about the Philadelphia Union's ticket sales so far, and this gallery of new stadium construction photos. Believe it or not, the Union's first game is two months from today.
Below you'll find the full transcript of my interview with Walter Bahr. It's remarkable how well Bahr recalls the details of the United States' famous 1-0 upset over England in the 1950 World Cup, and how he set up the game-winning goal.

---
Jonathan Tannenwald, Philly.com
The Philadephia Union have finalized the signing of U.S. national team defender Danny Califf.
Califf comes to Philadelphia from Danish club FC Midtjylland. He spent six seasons in MLS at the beginning of the decade, five with Los Angeles and the last one with San Jose.
Califf then headed to Denmark to join Aalborg BK. He moved to Midtjylland in 2008.
Jonathan Tannenwald, Philly.com
Though I've been writing about soccer for a while, I rarely get to actually play the game. Sure, I get in pickup games every now and again, but I wasn't on any kind of organized club team growing up. When I'm able to make it to a field, the only position I'm any good at is one you'd charitably describe as "offside forward."

Still, I have learned enough about youth soccer in America to believe two things about it.

First, the American youth soccer system sure seems to make a lot of money for companies that make soccer equipment. You'd probably start thinking this too if you walked around the NSCAA exhibit hall and saw the rows upon rows of vendors hawking balls, shoes, scarves, fake grass, summer camps and all manner of gadgets supposedly designed to help young players train better.

(Note that I said train better, not play better.)

Second, and not unrelated to the first, there seems to me to be a very large amount of coaching in American youth soccer. This is a point that's been made by writers much more experienced and well-known than I am, but the theory was borne out in reality at a session I attended this afternoon.

Philadelphia Independence coach Paul Riley conducted a clinic with a title that sounded a heck of a lot like coachspeak to me: "The Importance of Ball Work, Ball Mastery and Ball Creativity from the Youth Player to the Professional Player." And sure enough, the grandstand next to the artificial pitch inside one of the Convention Center's exhibit halls was packed with coaches who appeared to be furiously scribbling notes after each thing Riley said.

Why so? Because coaching is, among other things, about defining plays in a game. This allows coaches to think they're decreasing the possibility of having something unexpected happen, and it also allows them to get more involved in the game than they'd be if they just picked starting lineups.
This makes perfect sense in football or baseball, and to a fair degree in basketball. But soccer rewards the ability to improvise, to create passes and goals outside of a rigid structure.

In other words, soccer is often better when there is less coaching. But since there's only so much time in a training session, coaches have to decide how much time will be spent running and how much time will be spent working with a ball.

Riley did not hold back in emphasizing the latter over the former.

"In American soccer, I don't think we spend enough time with the ball," the native of Liverpool, England said. "Sometimes we forget that the key ingredient is the ball."

He was back at it a few minutes later.

"I think we have a lot of robots here in the States," he said. "Give them a chance to play with the ball as much as they can."

It was refreshing to hear a coach tell a bunch of coaches to stop coaching so much.

When the clinic was over, I took my camera over to Riley to interview him about what he said. I asked him directly: Is there too much coaching in youth soccer?

"There's absolutely no question about that," Riley said. "There's no question we over-coach."

You can see the full interview in the video player.

My telling of this story is not meant by any means to diminish the importance of the NSCAA, or the great convention it put on this weekend. But it might be some food for thought for all of us who are fans of the sport of soccer, no matter what level.
---
Here's another anecdote I picked up today. This morning, Independence associate general manager Louise Waxler was awarded the NSCAA Women's Committee's Award of Excellence.

I knew nothing about Waxler's history in women's soccer until the convention began. So I was quite surprised to learn that she's been around the game for a long time.

Waxler worked in the front office of the Washington Freedom in the WPS' first year and in the WUSA era, and helped organize Women's World Cup games in Washington in 1999 and 2003. She has also overseen a number of major youth soccer tournaments on the East Coast, and is known best in women's soccer circles for founding and overseeing the KICKS Against Breast Cancer organization.

"It's hard to measure, because she does so many things in so many different areas of the game, exactly what her impact has been," former U.S. women's national team coach and current Boston Breakers coach Tony DiCicco said. "But we all know it's been considerable."

Independence owner David Halsted cited Waxler's skills and knowledge of the industry as reasons to have her on board as the franchise starts its first season.

"Her experience and expertise and relationships in the business community and the soccer community, we were missing that in our franchise," Halsted said. "She was really a missing link that we needed to be successful as we roll out."
---
Jonathan Tannenwald, Philly.com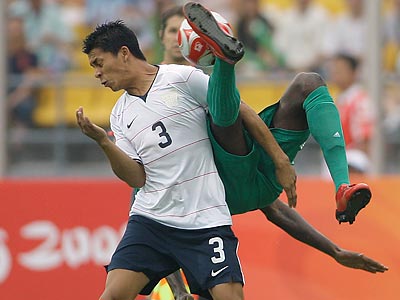 Greetings once again from the Convention Center, where a day of relative quiet has been interrupted by some breaking Philadelphia Union news.
It's just been announced that ESPN's top soccer play-by-play announcer, JP Dellacamera, will be the play-by-play announcer for the Union's local broadcasts throughout the regular season.
While a broadcast deal has yet to be finalized, a Union spokesperson told me that a deal is close to completion.
Jonathan Tannenwald, Philly.com
Another long and fun day is in the books.

The Philadelphia Independence added five players to their roster today: goalkeeper and Central High alum Mallori Lofton-Malachi; defenders Kelly Henderson, Caitlin Farrell and Danielle Collins; and midfielder Malorie Rutledge, the SEC's offensive player of the year the last two seasons for LSU.

What does it mean? As with the Union, we won't really know until the team takes the field in a few months.

But I got the chance to talk to a lot of people today, and I think you'll enjoy watching and hearing what I've put together.

In the video player, you'll find interviews with:

- Legendary North Carolina women's soccer coach Anson Dorrance
- Philadelphia Independence and U.S. national team forward Amy Rodriguez (she's the Independence's biggest star, by the way)
- Washington Freedom and U.S. national team defender Cat Whitehill

You'll also find an interview with and video highlights of the introduction of the draft's first overall pick, Tobin Heath of the Atlanta Beat.

And in the audio player, you'll find interviews with:

- Independence coach Paul Riley
- Danielle Collins
- Washington Freedom coach Jim Gabarra, who's been with the freedom sine its days in the Women's United Soccer Association
- Chicago Red Stars draft pick and former Columbia midfielder/forward Sophie Reiser

Collins and Reiser both have interesting stories. Collins was until literally this morning the Independence's director of communications. When I found that out, I was definitely caught off-guard. Was the team's decision to draft a member of its own front office staff some kind of practical joke?

As it turns out, this was quite serious. Collins played college soccer at William & Mary and has played in the WPSL since graduating in 2009. She participated in the Independence's open tryouts, and decided she wanted to get back on the field full-time. The team's coaches thought she earned a spot on the team, so they gave her one.

Collins is a native of Cream Ridge, N.J., which is relatively close to the Pennsylvania border near Allentown. She attended the Peddie School, and is friends with two Penn basketball players you might have heard of who came from there: Ibrahim Jaaber and Darren Smith.

(Hey, I also write a college sports blog. I couldn't help asking.)

Reiser was one of a very small number of late-round selections (and players overall, frankly) who attended the draft in person. But her biggest fan was someone whose name I think you'll recognize: U.S. Soccer Federation president Sunil Gulati.

It is a not-so-well-kept secret that in addition to his job in Chicago, Gulati is an economics professor at Columbia. And yes, Reiser has taken his class. I suppose that if you want to get into soccer for a living, knowing one of the most powerful people in the sport in this country is a pretty good thing.

Finally, you'll notice one more video that I didn't mention above. After the draft ended, the WPS held a big party in Old City to unveil its teams' uniforms for the coming season. With help from my Philly.com colleague Ben Singer, I put together a highlight reel of the jersey introductions, and after the show I talked to some of the biggest names who were on the stage.

There's still another full day to go in the NSCAA convention. I'll be back later in the morning with more coverage.