World Cup
Jonathan Tannenwald, Philly.com
Here is the complete schedule of games for the 2014 World Cup in Brazil, including kickoff times. It got updated a few times after the initial draw, as FIFA moved some games around to deal with tropical heat (and to help European TV broadcasters). FIFA also initially had not confirmed that the last rounds of group stage games would have simultaneous kickoffs. Now that has been cleaned up, which means less chance for collusion.
I'll likely bring this post back closer to the World Cup when ESPN and Univision announce their channel assignments and announcer pairings for games. We won't know any of that information for a while.
This schedule is sorted by date, not by group. If you want to see the schedule by group instead, click here.
Jonathan Tannenwald, Philly.com
Updated on Saturday, December 7 with the time change for kickoff of the U.S.-Portugal game.
The World Cup draw went about as badly as it could have for the United States. Jurgen Klinsmann's team was put in Group G with Ghana, Germany and Portugal.
Faced with perhaps the toughest group the Americans have ever faced, Klinsmann maintained his perpetually sunny disposition. He refusesd to call his team an underdog, even if the rest of the world disagres.
Jonathan Tannenwald, Philly.com
This week's column is devoted exclusively to the six big CONCACAF World Cup qualifiers coming up over the next five days.
Each game includes the kickoff time and complete TV and radio information, including what time broadcasts begin.
United States at Jamaica
Jonathan Tannenwald, Philly.com
Ian Darke, ESPN's top soccer commentator, caught a lot of people off guard Thursday morning when he announced Thursday morning that he's joining new British sports TV channel BT Sport:
At superb launch today of BT Sport who I am joining to cover Premier League and other games next season in UK.

— Ian Darke (@IanDarkeESPN) May 9, 2013
The channel, run by British Telecom, landed a package of Premier League TV rights in the United Kingdom and Ireland as part of the new round of TV rights deals that start this summer. It will also have a wide range of other sports events, including Major League Soccer.
Jonathan Tannenwald, Philly.com
Here's a nice lunchtime diversion: FIFA president Sepp Blatter's Twitter feed was hacked Friday afternoon.
It was good for a laugh while it was happening, though it should be said in all seriousnes that it's never a good thing when a major public figure's account is compromised.
It certainly doesn't make FIFA's social media team look good, or its internet security team.
Jonathan Tannenwald, Philly.com
As Juan Mata coolly slotted home the final goal of Spain's 4-0 demolition of Italy in the Euro 2012 championship game, I could not help thinking about how lucky we all are to be able to watch a team of such style and grace triumph over all opposition.
So often we see teams win games by doing what is necessary, not what is possible. Spain took the latter path, and though it was often harder, it resulted in victory.
In players like Mata, David Silva, Andrés Iniesta and Xavi Hernández, Spain have assembled a group of players that not only wins, but makes the game genuinely fun to watch. Even star-struck Fernando Torres has has his moments of glory in this tournament, recording three goals and one assist to claim the Golden Boot award.
Jonathan Tannenwald, Philly.com
You can measure the growth of soccer in America in a lot of ways, from television ratings to performances at World Cups. One of the most significant benchmarks is the United States men's national team's performance against its most significant regional rival: Mexico.
From the first meeting between the two North American neighbors in 1957 through the end of the 1990s, the U.S. won just four of the 14 games played between them on American soil. The first ever victory did not come until 1980, and the second was in 1991.
But when the calendar turned past the 90's, the U.S. started to seize control of the rivalry. Under Bruce Arena and then Bob Bradley, the U.S. reeled off a run of 12 wins and two ties in the 14 home games against Mexico between June of 2000 and February of 2009.
Jonathan Tannenwald, Philly.com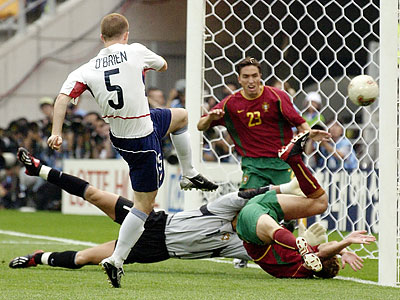 A World Cup wake-up call: John O'Brien scores the United States' first goal in a 3-2 upset of Portugal at the 2002 World Cup in Suwon, South Korea. (Elise Amendola/AP file photo)
Look at the timestamp above.