World Cup
Jonathan Tannenwald, Philly.com
Players watch Maurice Edu's header on goal that was later disallowed, resulting in the United States' 2-2 draw with Slovenia at Ellis Park in Johannesburg. (Luca Bruno/AP)
Anyone see a foul in that picture?
Jonathan Tannenwald, Philly.com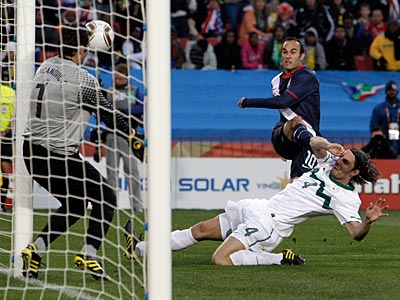 It's a big day of games at the World Cup. In addition to the United States' showdown with Slovenia at 10 a.m., Germany faces Serbia at 7:30 a.m. in a game that will go a long way towards determing the U.S.' potential opponent in the round of 16. There's also England vs. Algeria at 2:30 p.m., the other game in the United States' group.

It's hard to overstate just how huge today is for the U.S. national team. A win means they could win the group outright, while a loss would put huge pressure on them to beat Algeria on Wednesday.

I'll be blogging all three games live from Tir Na Nog in Center City, where the Union are hosting their official viewing party for today's action. Come on in and share your thoughts. It should be a wild day.


Jonathan Tannenwald, Philly.com
A short summary of today's 1-1 draw between Italy and Paraguay: Italy was by far the more attacking team despite the fact that its most prolific goalscorer, Antonio Di Natale, didn't enter the game until the 72nd minute.
Yet for the longest time, it looked like Paraguay's only shot on goal of the entire match would give the South American team all three points. It was a perfectly-executed set piece: in the 39th minute, Aureliano Torres served up a free kick on a silver platter for Antolin Alcaraz to head past an utterly frozen Gianluigi Buffon.
Italy kept charging forward, but couldn't produce the decisive move in the final third that they so badly needed. It didn't help that Paraguay had eight players behind the ball almost every time the Azzuri got near their 18-yard box.
Jonathan Tannenwald, Philly.com
Coming into the World Cup, some people said this might be the year when Germany was finally beaten to first place in the group stage.

After Die Nationalmannschaft's 4-0 blowout of Australia, though, any such talk has been steamrolled into silence. Their performance today was by far the best of the tournament so far. It could have been even more dominant had Miroslav Klose and Lukas Podolski not both missed multiple chances to score in the first half.

You simply cannot count the Germans out in the World Cup. They always find a way to get things together and deliver strong performances when it matters. And in case you'd forgotten, if Germany wins Group D and the U.S. finishes second in Group C, the two teams will meet in the Round of 16.

Brahaus Schmitz was absolutely teeming with fans this afternoon. The video I put together does the best job I can of conveying the atmosphere, but it's only a small slice of the real thing. Enjoy.
Jonathan Tannenwald, Philly.com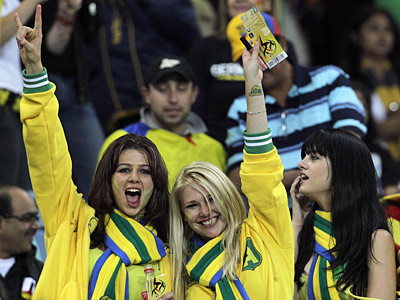 Another day, another game, another party. This time, we turn our attention to another matchup between a perennial power and a feisty upstart: Germany vs. Australia.

Germany has won the World Cup three times, and no matter how little attention they get, they always seem to play well when it counts. Australia made the Round of 16 in 2006, and is looking to pull off the feat again this year.

If there's one thing that the two nations do have in common, it's knowing how to celebrate a big occasion. So we should get into the act with them. And where else to go in Philadelphia but the city's renowned German beer hall Brauhaus Schmitz?

Alas, I can't drink while blogging. But I'll certainly take in as much of the atmosphere as I can, and hopefully I'll be able to convey it back to you during the game.

We'll get started at around 2:30 p.m. Before then, check out the video player over at right to get an insider's tour of PPL Park. It's a neat piece that gets into a lot of the things that make the stadium unique.
Jonathan Tannenwald, Philly.com
If you'd told any United States fan when he or she woke up this morning that the U.S. would play England to a 1-1 draw, they'd have taken it in a heartbeat.
Yet if Robert Green hadn't just barely managed to tip Jozy Altidore's shot off the post in the 64th minute after Altidore's electrifying run down the left flank, the U.S. might have won the game.
Then again, England squandered multiple chances to double its lead after going up 1-0 in the fourth minute.