U.S. National Teams
Jonathan Tannenwald, Philly.com
In honor of the Olympics, you get a bonus match this week. See if you can figure out which one it is.
United States women vs. New Zealand
9:30 a.m. Friday (NBC Sports Network; NBC Olympic Soccer Channel; NBCOlympics.com)
Jonathan Tannenwald, Philly.com
United States women vs. Colombia at Hampden Park, Glasgow
12:00 p.m. Saturday (NBC Sports Network; NBC Olympic Soccer Channel; NBCOlympics.com)
After an impressive 4-2 win over France in their first group stage game, the U.S. women face a Colombia team that they beat 3-0 at last year's World Cup. With starting central midfielder Shannon Boxx fighting a hamstring injury, Delran, N.J., native Carli Lloyd could play a significant role helping star forwards Abby Wambach and Alex Morgan.
Jonathan Tannenwald, Philly.com
Chicago Fire at Sporting Kansas City
8:00 p.m. Friday (NBC Sports Network)
Major League Soccer enjoyed a bonanza of offense last week, as 52 goals were scored in 15 games from Wednesday through Sunday. That trend could continue in this game, as two teams with plenty of firepower face off in the heartland.
Jonathan Tannenwald, Philly.com
NBC announced a long and impressive list of broadcasters for its soccer coverage at the upcoming Summer Olympics in London. Philadelphia Union play-by-play announcer J.P. Dellacamera will be among the talent.
Dellacamera will only miss one Union broadcast: the August 4 game at Montréal.
NBC's top soccer crew will be its mainstays from MLS broadcasts. Arlo White will do play-by-play, with Kyle Martino as color analyst for men's games and Brandi Chastain as color analyst for women's games. Drea Avent will be the sideline reporter.
Jonathan Tannenwald, Philly.com
You can measure the growth of soccer in America in a lot of ways, from television ratings to performances at World Cups. One of the most significant benchmarks is the United States men's national team's performance against its most significant regional rival: Mexico.
From the first meeting between the two North American neighbors in 1957 through the end of the 1990s, the U.S. won just four of the 14 games played between them on American soil. The first ever victory did not come until 1980, and the second was in 1991.
But when the calendar turned past the 90's, the U.S. started to seize control of the rivalry. Under Bruce Arena and then Bob Bradley, the U.S. reeled off a run of 12 wins and two ties in the 14 home games against Mexico between June of 2000 and February of 2009.
Jonathan Tannenwald, Philly.com
The copy below is from the Associated Press. Although the United States could have played better, I do not agree with the assertion that the result is "disappointing." A road draw in World Cup qualifying is worth something, especially in Guatemala City - one of the most intimidating venues anywhere in CONCACAF.
Regardless of Guatemala's actual skill level, the atmosphere and lack of facilities at the Estadio Mateo Flores make it an extremely difficult place to play. Other venues that are home to better teams, including Jamaica and Honduras, have not been as historically hostile to the U.S.
The U.S. has only won twice ever in nine trips to Guatemala City. One was in 2008 and one was in 1988. The record now stands at two wins, three ties and four losses. All four losses were in the U.S.' first four visits there - twice in 1977, once in 1984 and once in 1988.
Jonathan Tannenwald, Philly.com
If you are relatively new to soccer - which I would define as having started to follow the sport at around the time of the last World Cup - then you are going to have a lot of fun over the next few days.
And if you have been at this for a while, then you know that "fun" might not be the best word to describe the range of emotions you'll be feeling.
For some, the trip will only last through early July. For others, the roller-coaster ride that begins now won't end until autumn of next year.
Jonathan Tannenwald, Philly.com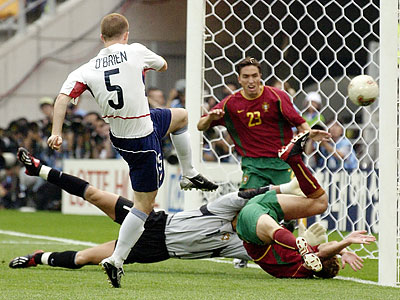 A World Cup wake-up call: John O'Brien scores the United States' first goal in a 3-2 upset of Portugal at the 2002 World Cup in Suwon, South Korea. (Elise Amendola/AP file photo)
Look at the timestamp above.