Sons of Ben
Jonathan Tannenwald, Philly.com
I received some new information from Comcast on August 22 about their issues with Extra Time. Click here to read that post.
For the most part, NBC Sports' inaugural day of Premier League coverage went extremely well. The television broadcasts were smooth, the online streaming was high-quality, and most people who were able to watch the Extra Time overflow channels had few problems.
But there were a few issues with how pay-TV providers delivered Extra Time. Although NBC made all of the feeds available in high defintion, some providers – most notably Cablevision and RCN – scaled them down to standard-definition quality.
Jonathan Tannenwald, Philly.com
PORTLAND, Ore. - Before last weekend's Union-Whitecaps game, I wrote about the goalkeeping situation in Vancouver and Brad Knighton's role in it.
Despite a pretty strong performance against the Union, Knighton was finally benched Saturday night by Vancouver manager Martin Rennie. It was going to happen sooner or later. You don't bring in a foreign goalkeeper, much less one of David Ousted's caliber, and not play him.
The impact of Rennie's decision was even more profound because of the circumstances in which Ousted made his Whitecaps debut: a road game against a huge rival, with some of the most passionate fans in Major League Soccer just a few feet away.
Jonathan Tannenwald, Philly.com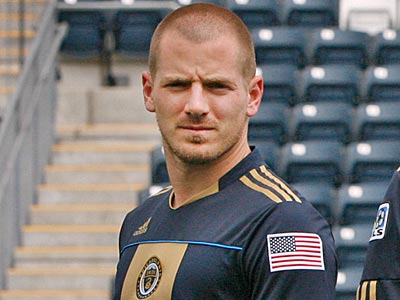 PORTLAND, Ore. - After covering the Union's game in Vancouver last weekend, I stayed in the Pacific Northwest for a week-long tour of Cascadia's soccer hotbeds. The final leg of my trip brought me to the Rose City, where I've been able to catch up with some familiar names to Philadelphia soccer fans.
(Unfortunately, I left Seattle the day before Clint Dempsey's dramatic unveiling as the newest Seattle Sounder. As tempting as it was to stay for the spectacle, I got a pretty nice consolation prize: three games in two days at JELD-WEN Field.)
First up is former Union defender Jordan Harvey. Now with the Vancouver Whitecaps, he has become a stalwart in Martin Rennie's defense - and arguably one of the best left backs in Major League Soccer. Harvey had a great game Saturday, scoring Vancouver's only goal in a 1-1 tie.
Jonathan Tannenwald, Philly.com
In case you missed it over the weekend, here's the video feature on the Sons of Ben that ran on the new MLS Insider show. The program takes a documentary-style look at major stories across Major League Soccer. It airs Friday nights on NBC Sports Network at 7:30 p.m.
Jonathan Tannenwald, Philly.com
Because... well... you know.
David Beckham announced himself to the world with this goal from past the halfway line against Wimbledon in 1998. It's as memorable for the hit as it is for BBC announcer John Motson's breathless commentary:
Perhaps Beckham's most famous goal came for England in a World Cup qualifier against Greece in 2001. With time running out - literally - on the Three Lions' World Cup hopes, Beckham salvaged a 2-2 tie and sealed a trip to Japan and South Korea:
Hitting pinpoint free kicks was Beckham's biggest skill, of course. You might have heard that somebody made a movie made about them. Here's a compilation of his best free kicks:
Here are all 17 goals that Beckham scored for England's national team:
Here are all of the goals that he scored for Manchester United:
Here are all of the goals that he scored for Real Madrid:
Here's a fancy free kick that he scored for AC Milan:
Beckham never scored in his nine games this season for Paris Saint-Germain. But he did provide this nifty assist for Zlatan Ibrahimović in a Ligue 1 game against Rennes on April 6:
Beckham played five seasons for the Los Angeles Galaxy in Major League Soccer. He only made one appearance for L.A. at PPL Park, back in 2010. But he left the sellout crowd with quite a memory, sending an inch-perfect corner kick onto Edson Buddle's head for the game's only goal:
Beckham also had the decisive assist in a 1-0 Union loss at the Home Depot Center in 2011. This time, it came from a free kick:
Beckham's last appearance at PPL Park came just under year ago at the MLS All-Star Game. It took place just days before the opening ceremonies of the Olympics in his native London - in fact, the soccer tournament started that very morning.
He was in London in the days before the All-Star Game to rehearse his role in the opening ceremonies. He flew to Philadelphia on the morning of the All-Star Game, then surprised almost everyone by playing a strong 74 minutes before flying right back to London.
Among Beckham's contributions in the All-Stars' 3-2 win over Chelsea was an assist on the game-tying goal. Jump to the 6:14 mark below to watch:
Beckham won the first of his two MLS Cups with the Galaxy in 2011. He had an assist on the game's only goal, which featured all three of L.A's big-name stars:
Finally, here's a compilation of all of the goals Beckham scored in MLS. Yes, he got older during his time with the Galaxy. And yes, he got slower. And yes, he became more of a central midfielder than a winger. And yes, he got a lot of hype, even though he didn't always seem fully committed to his team.
But Beckham's arrival was a milestone and a launching pad for MLS. Plain and simple. His arrival led to the designated player rule, and brought money to the league that it would have taken years - if not longer - to earn otherwise.
You don't have to like him. But as you watch the montage below, I'd think that you can at least respect what he did in his time in the United States.
Jonathan Tannenwald, Philly.com
On the theory that if you read something on Twitter, it's presumably true...
The guy who DJ'ed star Phillies first baseman Ryan Howard's wedding last December posted a photo from the event on his Instagram account today.
Apparently Howard is a Tottenham Hotspur fan. Who knew?
Jonathan Tannenwald, Philly.com
My colleagues on the Philly.com photo desk were at the Union's "Cocktails and Cleats" fundraiser on Wednesday." Here are some photos from the event.
Jonathan Tannenwald, Philly.com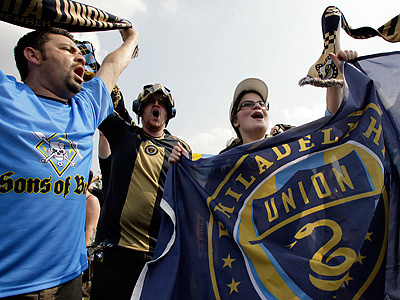 During his press conference Wednesday, Philadelphia Union manager John Hackworth acknowledged that he hasn't finalized his starting lineup yet for the team's season-opening game this weekend.
Hackworth certainly has a lot of options at his disposal. Many of his players can do well in multiple formations, and Hackworth acknowledged he intends to mix things up to keep opponents off guard.
So on Thursday, I asked you all to let me know what lineup you want to see from the Union on against Sporting Kansas City.