Sons of Ben
Jonathan Tannenwald, Philly.com
Now it's official. After lots of rumor and speculation - and some leaked photos on the internet Tuesday afternoon - the Philadelphia Union finally unveiled their new third jersey during their Meet the Team event at Xfinity Live.
The black, white and red color scheme is a tribute to Bethlehem Steel, the famed club from the 1910's and 1920's that won five U.S. Open Cups.
Led by Archie Stark, Bethlehem Steel rose to local and national prominence in an era when soccer was a huge deal in America.
Jonathan Tannenwald, Philly.com
Some of you may have heard about the movie on the Sons of Ben that's been in the works for a while now.
In this morning's Inquirer, Jeff Gammage writes an extensive profile of the movie and its director, Jeff Bell, in today's paper. There are a lot of details about how the movie has come together, and a good look back through the Union's still-brief history.
The story got very good play on the front page of the Inquirer's local news section:
Jonathan Tannenwald, Philly.com
Former Philadelphia Union forward Alejandro Moreno has been hired to replace Bob Rigby as the color analyst on the team's local television broadcasts. He will join J.P. Dellacamera, who returns for another season as the team's play-by-play voice.
Moreno played for the Union in 2010, the team's inaugural season, and was on six different Major League Soccer teams in his 11-year playing career. He played in 272 games over that span, primarily as a forward, and also made 41 appearances for Venezuela's national team.
The 33-year-old spent the 2011 and 2012 seasons with Chivas USA, and was released by the team at the end of the season. Moreno began working in television during the 2011 MLS playoffs, when ESPN hired him as a studio analyst. He reprised that role last year.
Jonathan Tannenwald, Philly.com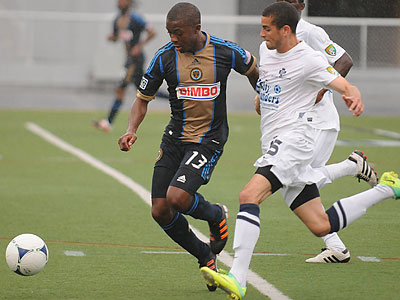 Major League Soccer made one of the biggest announcements in its 18-year history on Wednesday, unveiling a partnership with the United Soccer Leagues to run its Reserve League within the USL PRO league structure.
Starting this year, there will be interleague play between USL PRO and MLS Reserve League teams. This will include the creation of several formal affiliations between USL and MLS clubs.
Although no official affiliations were detailed in the USL's release, I can confirm that the Philadelphia Union will be paired up with the Harrisburg City Islanders. This continues a relationship which has existed less formally since the Union's inception, as players have moved back and forth between the clubs via loans. Now the City Islanders will actually be the Union's reserve team.
Jonathan Tannenwald, Philly.com
INDIANAPOLIS - While there might not be a standout star in this year's SuperDraft, there are plenty of under-the-radar names with real pro prospects.
And as I wrote in my SuperDraft preview, the Union have a history of finding talent under the radar. They'll have two opportunities to do so today, with the 26th and 29th overall selections.
The SuperDraft officially begins at noon. I'll be hosting a live chat throughout the event, and I encourage you to send in questions about today's events and anything else soccer-related that's on your mind.
Jonathan Tannenwald, Philly.com
Comcast has finally delivered on its promise to add beIN Sport's English-language feed to its cable systems. But the move has come at a cost: the nation's largest cable provider has dropped Gol TV.
The good news is that you can finally now watch Spain's La Liga, Italy's Serie A, France's Ligue 1, and U.S. men's national team road World Cup qualifiers. The bad news is that you can't watch Germany's Bundesliga, action from Brazil or Argentina, or the U.S. Open Cup Final.
beIN Sport's English feed took the slot previously occupied by Gol TV's standard definition English feed, channel 726 (at least here in Philadelphia). Channel 586, which had carried Gol TV's Spanish feed, is now dark. Channel 1513, which carried Gol TV's English HD feed, is also dark.
Jonathan Tannenwald, Philly.com
I don't want this to get too buried amid the other stories I've written today, which is part of why I've saved it for last and broken it out separately.
I traded e-mails with a spokesperson at Comcast this afternoon regarding their plans to start carrying the al-Jazeera-owned soccer channel beINSport. The two sides agreed a carriage deal last week, but it was never quite made clear when the channel actually would show up on on local televisions.
That got many soccer fans nervous, as beINSport has the exclusive rights to the U.S. men's national team's big World Cup qualifying game at Jamaica on Friday, Sept. 7.
Jonathan Tannenwald, Philly.com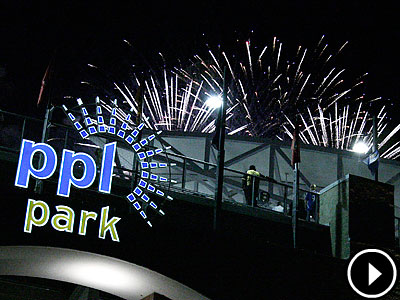 One of the big pregame tifo displays from the record crowd of 19,236 at PPL Park. (Jonathan Tannenwald/Philly.com)
I hope that those of you who spent last night at PPL Park appreciate how special having the MLS All-Star Game in town was.