Riffs
Jonathan Tannenwald, Philly.com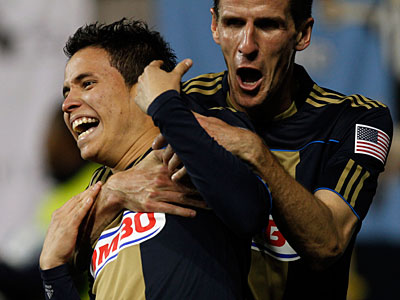 ESPN The Magazine put together a really interesting feature this week ranking payrolls for teams across a wide range of American and other sports.
This allows us to compare how the Union's payroll stacks up against those of the big four professional teams, as well as other MLS and international teams.
Although the article does not directly state the source of its MLS salary data, it does say that the key "average weekly pay" figure is "calcualated from base playeyr salaries from current or most recently completed seasons from each sport."
Jonathan Tannenwald, Philly.com
At this time of year, it's almost impossible to avoid the buzz created by the NHL and NBA playoffs. That's especially true in Philadelphia, and even more so on a day like today. It's pretty special that the Flyers and 76ers (and Phillies) will be playing big games at literally the exact same time.
(It's a headache as regards my real job, though, as I'll be overseeing all of our online coverage of tonight's action. The television near my desk will be getting quite a workout.)
Nonetheless, I've had enough time to keep at least one eye on my MLS All-Star Game watch list. And since it's the first day of May, it's time for the latest edition of All-Star Astrology.
Jonathan Tannenwald, Philly.com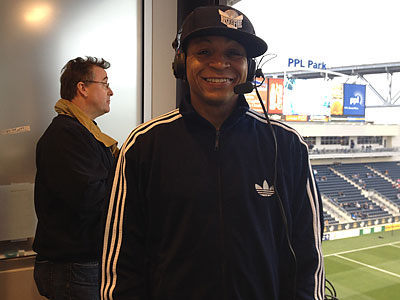 If you follow college football or college basketball, you've almost surely heard Gus Johnson's voice before. The Fox play-by-play broadcaster, formerly of CBS, has developed one of the most recognizable announcing voices in any American sport.
In recent weeks, Johnson has taken his talents to a new sport: soccer. His Twitter posts from European soccer stadiums such as Stamford Bridge in London and the San Siro in Milan have fueled rumors that he might be headed for a role in Fox's 2014 World Cup coverage.
And of course, there was the famous YouTube mashup of Johnson and Bill Raftery's commentary laid over Landon Donovan's goal against Algeria at the 2010 World Cup.
Thanks very much to Gus for the interview. He's as charismatic a guy in person as he is on television - he even showed me some video clips from the touchline at the San Siro that he had shot on his iPhone.
Here's how Johnson's calls of the goals from Saturday's game at PPL Park sounded:
GUS
by bubbaprog
Jonathan Tannenwald, Philly.com
If you don't mind, I'd like to take a moment to tell a personal story.
You may have noticed that yesterday, D.C. United's supporters clubs mourned the passing of one of the team's most famous fans. Javier "Chico" Solares was a fixture at RFK Stadium for many years, and he was a friend to many people across the Washington area's vast soccer landscape.
I was one of those people. You all know that I grew up in the District, and I learned to appreciate soccer by spending many summer nights at RFK in high school and college.
Jonathan Tannenwald, Philly.com
I was sitting with some friends at a Passover seder last night, and I came up with something that I thought you'd enjoy. It's based on one of the traditional readings that's recited at the dinner table.
Whether you're celebrating Passover or Easter this weekend, I hope you do so in full health and full spirits. See you next Saturday at PPL Park.
Who knows thirteen? I know thirteen.
Jonathan Tannenwald, Philly.com
PORTLAND, Ore. – After watching the rest of Major League Soccer kick off the league's 17th season this weekend, the Philadelphia Union will finally take the field tonight to begin their 2012 campaign.
Their first game will be among their biggest challenges of the season. The Portland Timbers enter tonight's game having been just as revamped and revitalized as the Union. But their raucous fan base hasn't changed a bit, and nor have the narrow confines of JELD-WEN Field's artificial surface.
Sunday evening, I spoke exclusively and at length with Union manager Peter Nowak. We discussed his plans for this game, his goals for the coming season, and his long-term plan for keeping the Union successful.
Jonathan Tannenwald, Philly.com
For many of you, the offseason has been too long. For others - myself included, I must admit - the winter has flown by.
Admittedly, I've been plenty busy over the last few weeks covering college basketball. But there's been so much going on with the Union this offseason that it feels like I never stopped writing about soccer.
The Union have already been among the busiest teams in MLS in 2012, even though their preseason training has taken place largely out of public view.
Jonathan Tannenwald, Philly.com
The homegrown player incentive program in Major League Soccer is still relatively new. As such, many of MLS' 19 clubs are still creating their own paths towards developing their own young talent.
We all know what the ends are in the process. Homegrown players don't count against the salary cap, and there's real money to be made if those players are sold to bigger clubs.
But the means to those ends are as varied as the geography of MLS itself.