Philadelphia Independence
Jonathan Tannenwald, Philly.com
After months of sweating out fears over its existence for the 2012 season, Women's Professional Soccer finally has been granted the waiver it sought from the U.S. Soccer Federation to exist as a five-team league.
Here's the press release that U.S. Soccer sent out Tuesday:
CHICAGO (Dec. 13, 2011) – The U.S. Soccer Board of Directors sanctioned Women's Professional Soccer (WPS) as a Division 1 women's outdoor professional soccer league in the United States for the 2012 season.
Jonathan Tannenwald, Philly.com
It was a game with just as much drama as this summer's Women's World Cup final, and for Philadelphia fans, it was just as heartbreaking.
After Amy Rodriguez scored a dramatic tying goal in the 87th minute, the Philadelphia Independence lost the Women's Professional Soccer championship game to the Western New York Flash on penalty kicks, 5-4 in the shootout.
Christine Sinclair scored the game's first goal, a rasping strike past Independence goalkeeper Nicole Barnhart in the 64th minute. It looked like the Flash's defense would hold firm, but Rodriguez finally broke through by cleaning up a shot by Danesha Adams that hit the post.
Jonathan Tannenwald, Philly.com
In case you didn't get to watch Saturday's game, here are the video higlights. Both goals were impressve, but especially Amy Rodriguez's long-distance chip.
Jonathan Tannenwald, Philly.com
Below you'll find postgame reaction from Philadelphia Independence forwards Natasha Kai and Amy Rodriguez, head coach Paul Riley and owner David Halstead after the Independence beat magicJack SC, 2-1, at PPL Park in the Women's Professional Soccer Playoffs Super Semifinal.
If you missed the game, the video highlights are here.
I don't know if the Independence can beat the superstar-laden Western New York Flash on their own turf in the championship game. I rather doubt it, to be honest, but then again the Independence proved a lot of pundits wrong by beating a magicJack squad that features Megan Rapinoe, Abby Wambach and WPS Rookie of the year Christen Press.
Jonathan Tannenwald, Philly.com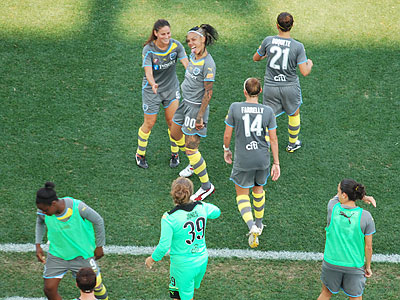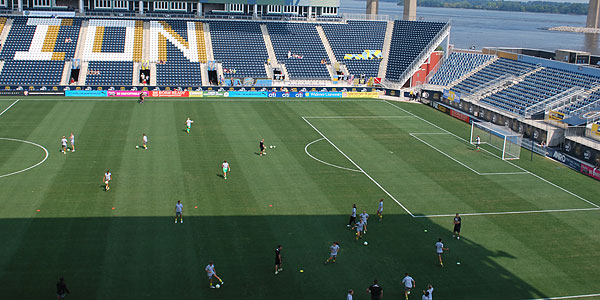 The Independence finally got to play at PPL Park. (Jonathan Tannenwald/Philly.com)
The Philadelphia Independence are in the Women's Professional Soccer championship game for the second year in a row after a 2-0 win over magicJack SC in front of 5,410 fans at PPL Park.
Jonathan Tannenwald, Philly.com
If you were expecting a World Cup star such as Marta or Christine Sinclair to be named Women's Professional Soccer's most valuable player for the season, then you're in for a surprise.
The award went to Independence forward Veronica Boquete, who has played a big role in the team's second-place finish in WPS this season.
Boquete especially excelled while the Independence's national team stars were away at the World Cup. The Spaniard scored five goals - including four game-winners - and dished out five assists in just 11 games played this year.
Jonathan Tannenwald, Philly.com
We had a nice little discussion going here last week about the announcement that the Independence will play their playoff game next month at PPL Park instead of at Widener.
Independence coach Paul Riley and owner David Halstead were at the Union game on Friday, along with the team's World Cup stars that were honored before kickoff. During halftime, I chatted for a few minutes with Riley and Halstead about what finally getting to PPL Park means for the club.
The Independence host Atlanta at Widener University tonight. The game is nearly sold out, but if you decide to go at the last minute, you can get $10 off the ticket price by showing a game ticket from Friday's Union game. If you don't go, the game will be broadcast nationally on Fox Soccer Channel.
Jonathan Tannenwald, Philly.com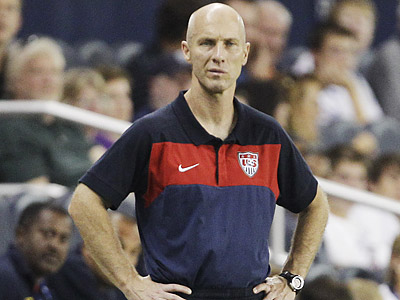 NOTE: If you are reading this after the announcement that Jürgen Klinsmann has been hired, then obviously most of the post is moot. But the video of Klinsmann below is still important, so check it out.
The United States Soccer Federation has fired men's national team head coach Bob Bradley.
The press release is below, and is about as straightforward as it gets: