Major League Soccer
Jonathan Tannenwald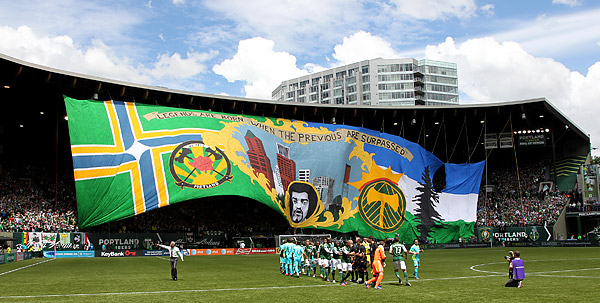 The Portland Timbers' raucous fan base will be featured in ESPN's first MLS broadcast of the 2013 season. (Rick Bowmer/AP file photo)
(UPDATE: I originally said there's a tripleheader on NBC and NBC Sports Network on October 27. That isn't true. The two NBCSN games are on October 26.)
Jonathan Tannenwald
The Philadelphia Union used the second stage of Major League Soccer's Re-Entry Draft to acquire the rights to Colorado Rapids forward Conor Casey. A 6-foot-1 bruiser, Casey is a goal-scorer with the kind of size the Union have sorely lacked in recent times. He has plenty of pedigree, too, having earned 20 U.S. national team caps over the course of his career.
"Conor is that big body we need here on attack, and I believe he still has a lot to prove," Union manager John Hackworth said in a statement. "He has proven that he can be one of the best forwards in this league and for the national team. Our staff believes that Conor still has many goals left in him."
I don't doubt Hackworth in the least. As I said above, Casey clearly has the physical attributes and the career pedigree to make a serious impact for the Union.
Jonathan Tannenwald
Philadelphia Union CEO Nick Sakiewicz and manager John Hackworth officially welcomed Sébastien Le Toux back to the team at a press conference Friday morning. Here are some highlights of what they had to say. There's also a video report from The Inquirer's Marc Narducci.
Jonathan Tannenwald
Since the original list of players eligible for Major League Soccer's Re-Entry Draft was published Monday, a number of those players have agreed to new deals with their clubs. As such, they are out of the draft pool.
Here is the final list of players who are eligible for the first stage of the draft. You can read an explanation of how the process will work here.
Chicago Fire: M Corben Bone (option declined), D Dan Gargan (status unknown), Dan GK Jay Nolly (option declined)
Jonathan Tannenwald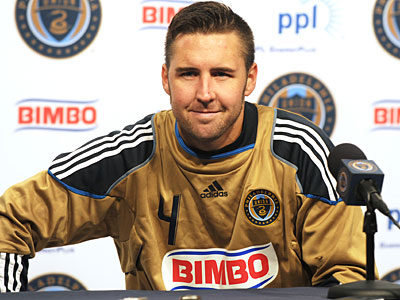 Major League Soccer has announced the full list of players who are eligible for the upcoming Re-Entry Draft. This is a two-stage process by which players with a certain amount of experience can become free agents if they are not selected.
The rules of the process are as follows.
Three classes of player are eligible for selection, according to the MLS Roster Rules:
Jonathan Tannenwald
Throughout this year, and for much of this blog's history, I've tried to write stories with an eye towards how Union fans might learn from other teams and cultures in Major League Soccer.
That was never more true than when I watched the Houston Dynamo win the Eastern Conference Final earlier this month.
I focused on the Dynamo's remarkable consistency in the playoffs, and how they've built a team without stars.
Jonathan Tannenwald
Earlier this week, NBC published its ratings for its debut season of broadcasting Major League Soccer over the air and on the NBC Sports Network.
I've spent some time digging into the numbers. Here's an analysis of what you can take from them. I also spoke with Jon Miller, president of programming for NBC Sports, and you can read his take below.
The shortest bullet point is this: MLS clearly benefitted when it moved from Fox Soccer Channel to the Peacock networks. NBCSN is in nearly 40 million more homes than FSC, and that wider distribution helped net MLS a large increase in viewership.
Jonathan Tannenwald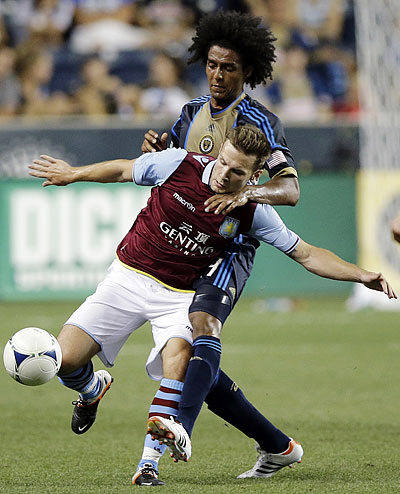 The Philadelphia Union announced Monday afternoon that they have waived defender Porfirio Lopez, midfielder Gabriel Gómez and forward Krystian Witkowski.
Lopez's departure is no surprise. The Costa Rican defender was signed last offseason, and was heralded as the solution to the team's weakness at left back. But he ended up as a complete bust, playing just five league games while earning over $125,000 in guaranteed salary.
Gómez's departure isn't surprising either, though it will be disappointing to a lot of people. I'm one of them - I think he was played out of a lot of position a lot and could have done much better here under different circumstances.
Jonathan Tannenwald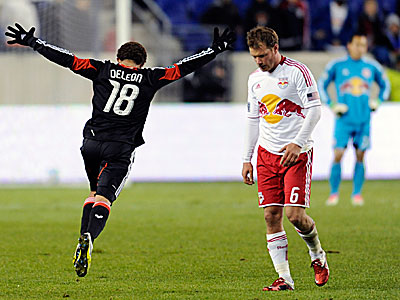 UPDATE: Hans Backe was officially dismissed Friday afternoon. Former MetroStars and Red Bulls defender Mike Petke, who has been an assistant to Backe since last year, takes charge in the interim. And so it begins.
HARRISON, N.J. - The 2012 edition of the New York Red Bulls represented the 17th attempt to bring a Major League Soccer championship to a team from America's largest media market.
The stars seemed to both literally and figuratively be aligned this year. Thierry Henry had a formidable strike partner in Kenny Cooper, and the summer arrival of Tim Cahill bolstered an already talented set of attacking midfielders.
Jonathan Tannenwald
Before Saturday night's D.C. United-New York Red Bulls game, Major League Soccer commissioner Don Garber spent a few minutes chatting with reporters in the press room at RFK Stadium.
Most of the conversation centered around the effects that Hurricane Sandy have had on the D.C.-New York playoff series. Garber confirmed that the second leg of the series will take place at Red Bull Arena on Wednesday night, and also confirmed that there were serious discussions about playing the first leg at PPL Park.
But the really interesting stuff to me was how Sandy affected Garber personally. I thought it would be good to share that, especially for those of you reading this outside the Northeast Corridor.