Daughters of Betsy
Jonathan Tannenwald, Philly.com
I received some new information from Comcast on August 22 about their issues with Extra Time. Click here to read that post.
For the most part, NBC Sports' inaugural day of Premier League coverage went extremely well. The television broadcasts were smooth, the online streaming was high-quality, and most people who were able to watch the Extra Time overflow channels had few problems.
But there were a few issues with how pay-TV providers delivered Extra Time. Although NBC made all of the feeds available in high defintion, some providers – most notably Cablevision and RCN – scaled them down to standard-definition quality.
Jonathan Tannenwald, Philly.com
PORTLAND, Ore. - It took a cross-country trip to do so, but I finally got to a National Women's Soccer League game this past weekend.
In addition to the Timbers-Whitecaps reserve game at JELD-Wen Field on Sunday, there was a showdown between the top two teams so far this season, the Portland Thorns and FC Kansas City.
(The Timbers smartly packaged the two games as a doubleheader on one ticket. I wish the same thing had happened in Philadelphia when the Union had reserve games.)
Jonathan Tannenwald, Philly.com
U.S. women's national team star Alex Morgan paid a visit to ESPN headquarters on Monday to do some interviews and create some buzz.
Morgan stopped by SportsCenter to take a few penalty kicks against former Eagles defensive end Hugh Douglas, who now works as a studio analyst on ESPN's NFL shows.
The U.S. women's team will be back on your televisions on June 2, when they travel to Toronto to face Canada (4:30 p.m., ESPN News). It's the first matchup between the teams since the epic semi-final contest at last summer's Olympics. I'll be up there for the game, as it's the day after the Union play at Toronto FC.
Jonathan Tannenwald, Philly.com
INDIANAPOLIS - Consider the following scenario.
Somewhere out there in this country is a 12-year-old girl who is a big fan of the United States women's national soccer team.
She has a poster in her bedroom of Alex Morgan, or Abby Wambach, or maybe Carli Lloyd or Hope Solo.
Jonathan Tannenwald, Philly.com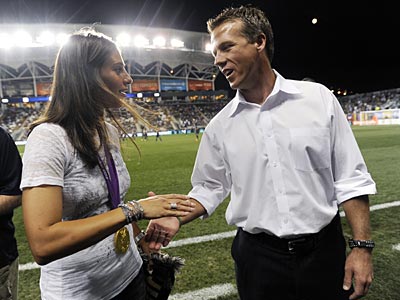 Here's a bit of good news to brighten one of the rare quiet periods in the American soccer calendar.
The U.S. women's national soccer team has been named the Team of the Year by the Philadelphia Sports Writers Association. It's an organization with a lot of history in this region, going all the way back to its founding in 1904.
Carli Lloyd will accept the award on behalf of the team at the PSWA's annual dinner later this month.
Jonathan Tannenwald, Philly.com
Comcast has finally delivered on its promise to add beIN Sport's English-language feed to its cable systems. But the move has come at a cost: the nation's largest cable provider has dropped Gol TV.
The good news is that you can finally now watch Spain's La Liga, Italy's Serie A, France's Ligue 1, and U.S. men's national team road World Cup qualifiers. The bad news is that you can't watch Germany's Bundesliga, action from Brazil or Argentina, or the U.S. Open Cup Final.
beIN Sport's English feed took the slot previously occupied by Gol TV's standard definition English feed, channel 726 (at least here in Philadelphia). Channel 586, which had carried Gol TV's Spanish feed, is now dark. Channel 1513, which carried Gol TV's English HD feed, is also dark.
Jonathan Tannenwald, Philly.com
During her two years with the Philadelphia Independence, Joanna Lohman quietly established a reputation as one of the team's stalwarts.
Though the former Penn State star did not have the name recognition of such stars as Amy Rodriguez and Natasha Kai, Lohman nonetheless became a fan favorite for her hard work and her local ties by way of Penn State.
Although the collapse of Women's Professional Soccer dented the dreams of female soccer players across the country, Lohman turned that into an opportunity. She joined with Independence teammate Lianne Sanderson to form the JoLi Academy, and has been traveling the world to teach young girls about the opportunities soccer can provide.
Jonathan Tannenwald, Philly.com
The Philadelphia Union will have a new co-tenant next year that hails from a professional women's football league.
But there's a catch. It will not be the brand of football that you might have initially expected.
The Lingerie Football League's Philadelphia Passion are moving to Chester next summer. The two-time defending Eastern Conference champions will play home games on June 15 and July 13, both of which are Saturdays.