Archive: June, 2012
Jonathan Tannenwald, Philly.com
I've written a few times on here about how the Union aren't supposed to play their minor-league affiliates, the USL Pro's Harrisburg City Islanders and the PDL's Reading United, in the U.S. Open Cup.
And I wrote last week when the draw came out that the Union would host Harrisburg in the quarterfinals if both teams won their fourth-round games.
Well, that's exactly what happened. Philadelphia won at D.C. United, 2-1, and the City Islanders upset the New York Red Bulls, 3-1. Both results came in extra time.
Jonathan Tannenwald, Philly.com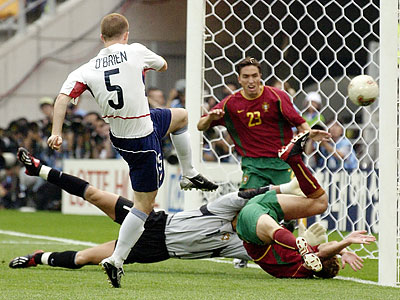 A World Cup wake-up call: John O'Brien scores the United States' first goal in a 3-2 upset of Portugal at the 2002 World Cup in Suwon, South Korea. (Elise Amendola/AP file photo)
Look at the timestamp above.
Jonathan Tannenwald, Philly.com
You may have heard that the U.S. men's national team's World Cup qualifier at Guatemala next Tuesday will only be available on pay-per-view television and online.
This is because national federations within CONCACAF, which oversees soccer in North and Central America, own the broadcast rights to their home game.
Guatemala's federation demanded a rights fee for the game that no American television network was willing to match. Although I do not know the exact number, I have heard rumors from people I trust that it was somewhere in the mid-six figures.
Jonathan Tannenwald, Philly.com
The U.S. Soccer Federation announced the potential U.S. Open Cup quarterfinal pairings Saturday afternoon, and the Philadelphia Union would get a home game if they advance that far.
I have written before about how clubs cannot play their minor-league afilliates until the last possible round. U.S. Soccer decided to not enforce that rule in full on the Union and the Harrisburg City Islanders because of the potential travel costs involved.
So the Union and City Islanders could meet in the quarterfinals, instead of a later stage, if they both advance from the fourth round.
Jonathan Tannenwald, Philly.com
Philadelphia Union forward Lionard Pajoy has been suspended one game and fined an undisclosed amount by Major League Soccer's disciplinary committee, in the wake of a hard foul committed on Toronto FC's Joao Plata this past Saturday.
You can watch video of the incident below. It got Pajoy a yellow card at the time.
The game that Pajoy will miss is the Union's June 16th home game against D.C. United.