Archive: June, 2010
Jonathan Tannenwald, Philly.com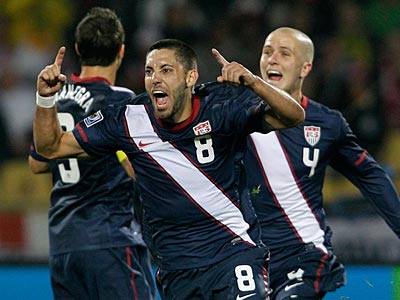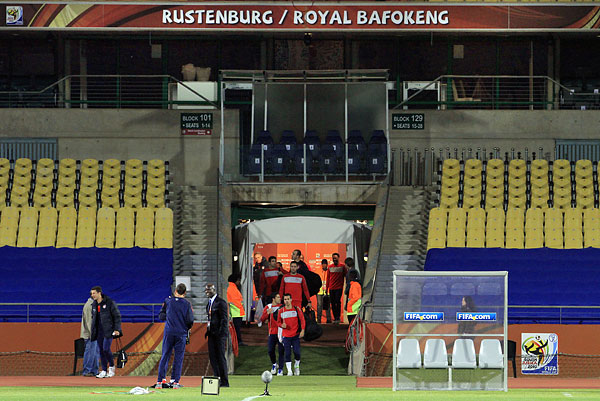 The U.S. national team practiced last night at the Royal Bafokeng Stadium in Rustenburg, site of today's big game against England. (Elise Amendola/AP)
At last, the time has come for one of the most anticipated games in American soccer history. Rare is the occasion when the hype for a sporting event is justified, but I think this time it is.

Sure, the United States has played big games in the World Cup before: Portugal and Mexico in 2002 come to mind, as does Italy in 2006. But whether we like it or not, ENgland has long been and will long continue to be the nation by which American soccer is judged.

We might as well admit it. we see the English Premier League on TV each weekend and are thrilled by its superpowers, with their speed and agility and skills. We see English fans singing and chanting for all 90 minutes, and we try to bring that atmosphere to our shores as best we can.

And most of all, we see legions of condescending English journalists - and some Scottish and Irish ones who like joining their party - who look down their noses and declare with all the authority they can vest in themselves that American soccer is inherently inferior and should go away for the good of the world.

(The world, of course, exists entirely to the east of the Atlantic Ocean and north of the English Channel. Unless it's vacation season, in which case going to New York is acceptable.)

Of course, not everyone in England or the rest of the UK thinks this way. I've met plenty of British journalists who are quite open-minded about the growth of soccer in America and this country's ability to sit at the sport's global table. Consider Kevin Garside of the Telegraph, whose analysis of the U.S.-Turkey game in Philadelphia neatly captured what the day meant to a lot of people.

But those of you who follow soccer both here and abroad know exactly who I'm talking about. And you know, as a result, that today represents a chance for the U.S. national team to prove itself in a way that it has never been able to before on this kind of stage.

I'll be honest with you: I have no idea what's going to happen today. There are games I look at and have a reasonable guess as to what the result will be. But this one has me stumped. It could end 1-0 to either team, or 1-1, or 2-1. There's also a chance that England could storm out of the gate like the Czech Republic did four years ago and blow the U.S. away.

But I do know this. A lot of the English voices I've read and listened to think their team could be in real trouble today. England's back line is shaky and key midfielder Gareth Barry is out injured. If Wayne Rooney draws the referee's ire for running his mouth, the consequences for his team could be catastrophic.

It sounds, in a lot of ways, like a classic duel between a big brother and a little brother. England believes it can win the World Cup, but knows that it has to win today. They know that this is a game they can't afford to lose, and it's a team that the fans really don't want to lose to.

Which means, of course, that another quintessentially English trait comes into play: fear of losing. When the Three Lions look across the field today, they will see an American squad full of confidence and desire. There's no team in this tournament that Landon Donovan, Clint Dempsey and the rest want to beat more. The games against Algeria and Slovenia are just as important, but they don't inspire the same kinds of emotions that this one does.

Kickoff is set for 2:30 p.m. I'll be watching on the big screen at PPL Park during the Union's open house for its new stadium. I haven't been to the place yet, so I'm really looking forward to it.

And of course, I'll be chatting live during the game. I hope you'll join me for what should be quite an occasion.
Jonathan Tannenwald, Philly.com
If you're just about anyone on the planet today, you've got the name "Tshabalala" rolling off your tongue. South African winger Siphiwe scored a brilliant goal, and Univision play-by-play man Pablo Ramirez was quite literally singing his praises all morning.

The strike by Tshabalala - or should I say "Tshabalala Ooh!" as Ramirez did - produced a "GOLAZO" call that lasted a full ten seconds. I haven't been able to find the clip on YouTube yet, but if you do, please email me. It was spectacular.

Unless you're a Mexico fan, that is. For them, El Tri's 1-1 draw with Bafana Bafana had to be a bit disappointing. Mexico had tons of possession, but never got its attack really going untl late in the game. It took central defender Rafael Marquez coming forward on a free kick to finally get a ball in the net in the 79th minute.

Mexico has so much firepower that surely it should be able to score more than one goal a game. But today's result brings back memories of four years ago, when El Tri also struggled to get its attack in gear.

Nonetheless, you have to give credit to South Africa. It took them a while to get going, but they were full of spirit in the second half especially.

After the game, I talked with a number of Mexican fans who watched the game. As you'll see in the video below, they weren't all that pleased with what they saw. But many of them also accepted that playing the home team presented a unique challenge.

Tomorrow, I'll be at PPL Park for the big U.S.-England viewing party. Join me for a live chat starting at around 2 p.m. It should be quite the occasion.

Oh, in case you were wondering: I have nothing to say about the France-Uruguay game. A scoreless draw like that doesn't deserve our attention.
Jonathan Tannenwald, Philly.com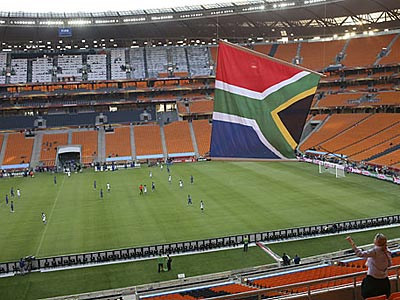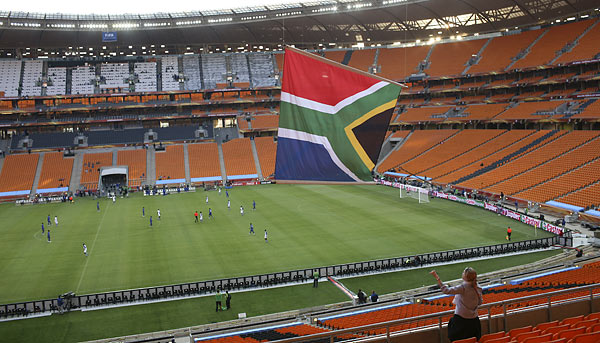 Johannesburg's Soccer City Stadium is ready to stage the opening match of the 2010 World Cup between Mexico and the host nation, South Africa. (Armando Franca/AP)

On this morning, we turn once again to the words of soccer's greatest philosopher. Although Soccer in Sun and Shadow hasn't been updated since the 2002 World Cup, Eduardo Galeano's words still resound as the 2010 edition begins:
I go about the world, hand outstretched, and in the stadium I plead: "A pretty move, for the love of God." And when good soccer happens, I give thanks for the miracle and I don't give a damn which team or country performs it.
Jonathan Tannenwald, Philly.com
The Associated Press got an exclusive video interview with Martin Tyler, the lead play-by-play announcer on ESPN's World Cup telecasts. He has some pretty interesting things to say about his style and how he'll call the action in South Africa. You can watch the video below.
Jonathan Tannenwald, Philly.com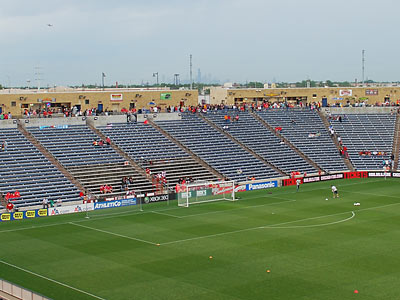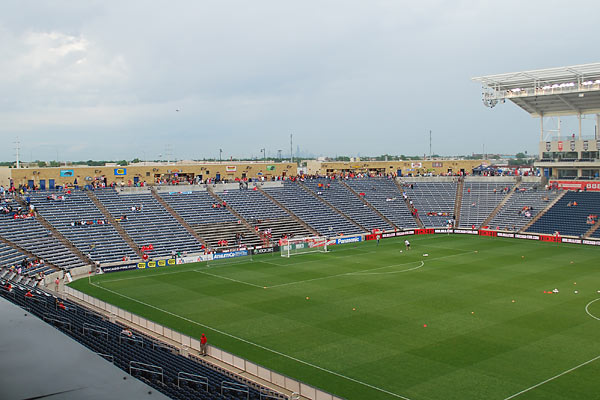 If you look hard enough, you can see the Chicago skyline from the press box at PPL Park. It's about 15 miles from Bridgeview to the Loop. (Jonathan Tannenwald/Philly.com)
With another Union game coming up Thursday, plus the looming World Cup and my work with our Flyers coverage, I didn't have time to watch the full replay of this past weekend's Union-Fire game.

So there's no Take Two this time, and I'm not sure there will be one for this week's game at Kansas City either. I'm going to offer two thoughts of my own before turning things over to our reader panel.

The first is that I've watched the closing moments of Saturday's game, and I'm convinced Alejandro Moreno was pushed over in the 18-yard box right before Abbey Okulaja blew the final whistle. Go back to the game highlights here. You have to get to the last few seconds, but you'll definitely see it.

Moreno was knocked down by Wilman Conde right as the ball arrived in the box after being sent in from near midfield by Stefani Miglioranzi. Fire goalkeeper Andrew Dykstra caught the ball, punted it away, and Abbey Okulaja blew the whistle.

"And a stumble there," J.P. Dellacamera said on the WPVI broadcast. There wasn't a replay afterwards, though, as the game ended a few seconds later.

Okulaja was looking at the play. If he didn't see the contact, then his linesman should have. I know Moreno has a reputation for going down easily, and Saturday's game was not Okulaja's best in my opinion. But I thought it was a foul. Let me know what you think in the comments.

My second thought is that it really saddened me to see Toyota Park well short of full for Saturday's game. I'm sure the threatening weather had something to do with it, as did the Fire's middling record and style of play this season. But this is a franchise that used to regularly draw big crowds at Soldier Field - I'm talking close to 20,000 fans on a regular basis.

A significant portion of the Fire's fan base lives in the city of Chicago itself, and within that a lot of them live north of the Loop. It takes almost an hour to get to Bridgeview from there, whether by car or by public transportation.

Some Fire fans take buses from the Loop that are chartered by Section 8, the team's long-established supporters club. Anyone else who doesn't want to drive has to do what I did Saturday.

I took the subway to Midway Airport, a half-hour ride from the Loop, then wait for a bus from there to the stadium. The bus ride takes 15 minutes and the bus runs every 20 minutes, starting two hours before a match. That's fine, but after a match the bus back leaves 30 minutes after the final whistle. It's not a lot of time, and it's impossible if you have to stay at the stadium to do interviews and such.

I didn't rent a car because I knew that taking a cab from the stadium to my hotel near Midway would be far cheaper. But as I made my way to Toyota Park, I spent a while chatting with some Fire fans who were going the same way. All of them lamented how hard it was to get to the stadium.

This isn't to say that teams can't be successful playing in suburbs. But it's become pretty clear at this point that young urban professionals are a key demographic for Major League Soccer. It's a group of people who came of age at the same time the sport grew up in this country.

Some of us played the game growing up, whether on school teams or youth clubs or just in the backyard. The 1994 World Cup showed us the game's potential, and soon after that MLS arrived. Now that group of former youth players has grown up, and has some disposable income to spend. They've chosen to spend it on soccer.

It may or may not be coincidental that this group has chosen in fairly large numbers to live in urban areas where a car isn't necessarily required. I don't think it's a coincidence, however, that most of MLS' best fan bases watch games in stadiums that they don't have to drive to.

D.C. United fans pack the Metro to travel to RFK Stadium. Same with Toronto FC fans, the TTC's streetcars and BMO Field. Seattle has decent public transit, but more importantly Qwest Field is right on the edge of downtown. So a lot of people walk to the stadium.

Fire games at Soldier Field had that same vibe. You could take the subway or commuter rail to the stadium, or even take a decent walk from the Loop. At Toyota Park, though, the view of the skyline from the press box looks at times like a mirage.

Everyone knows that a system of MLS teams playing in NFL stadiums can't work in the long run. Seattle is the exception, of course, but there aren't as many teams in that market for the Sounders to compete with. Soccer-specific stadiums are the way to go, and the cost of land is a lot lower in suburbs than it is in cities.

So instead of Los Angeles, MLS has Carson. Instead of Dallas, it has Frisco. Boston hasn't ever been officially on the map. And now the Union are on the clock. We know that there are going to be shuttle buses from the Chester Transportation Center R2 station, and the 113 bus does run from outside the stadium to 69th Street Terminal.

But none of it has actually been put into practice yet. It will soon, though, as PPL Park opens 19 days from today. That's when we'll finally know whether the lessons of Bridgeview have been learned.
---
Jonathan Tannenwald, Philly.com
As you might have noticed, Philly.com is running a World Cup prediction contest. I've created a group for readers of the Goalkeeper to pick against me and each other. You can get at it here.
Register for the contest, then go to "My Groups," then click "Join a Private Group." The group is called "The Goalkeeper Readers" and the password is "union" without quotes, all lowercase.
I hope you'll join in.
Jonathan Tannenwald, Philly.com
Fire defender C.J. Brown salutes Section 8 after Chicago's 2-1 win over the Union at Toyota Park. (Jonathan Tannenwald/Philly.com)
BRIDGEVIEW, Ill. - Union coach Peter Nowak cited the Chicago Fire's packed-in defense as the main reason why it took his team 91 minutes and 43 seconds to score last night.

I can't help thinking, though, that the Union were complicit in their own demise. Despite playing the second half in a 3-4-3 formation, there was very little offensive spark from Danny Mwanga, Shea Salinas, or Roger Torres. The only person who really forced the ball towards the Fire's net was Sebastien Le Toux, with a rocket over the bar in the 44th minute and a long-distance free kick in the 69th.

Mwanga finally broke through in the 92d minute, his third stoppage-time goal in as many games. But the kind of thrust the Union showed on that play wasn't there earlier in the half.

Somehow, the Union had a decent chance to tie the game on a cross into the box in the 93rd minute, but it went begging. And I really thought Alejandro got pushed over in the box as the ball was cleared from that play, but referee Abbey Okulaja blew his whistle right after the clearance.

I'm not sure Okulaja saw the push and I couldn't tell if the linesman did either. Moreno also has a reputation for going down easily, but I thought this one was legitimate.

It's certainly true that Fire coach Carlos de los Cobos did not go out there to entertain the fans.

The Fire played in a 4-5-1 formation at home, with Patrick Nyarko wide left and Marco Pappa wide right. Brian McBride was the lone striker. Nyarko was by far the best player in the match, racing down the flank time and again to set up chances. Pappa got one of the goals, but he's much more effective centrally and I thought he was stranded out wide at times in this game.

Whenever the Union had the ball, though, they found midfield totally jammed. Nowak was not pleased at all about this, and he took a shot at the team he used to play for in his postgame remarks.

"The team that is supposed to play attractive soccer, attacking soccer at home played with 10 guys in the back, behind the ball," Nowak said. "This team I watched, I played here, and I believe it's the passion - the way the Fire play, it was not even close to what we've witnessed tonight."

The Union don't have much time to dwell on last night, though - it's a pretty quick turnaround to Thursday's game at Kansas City. I haven't got all that much time left tonight myself, as I have to go to sleep so I can catch a flight back to Philadelphia.

Below here, you'll find postgame audio from the locker room and video highlights from the match. There's also a video in the player at right with highlights of Nowak's press conference and an interview I did with Danny Mwanga afterwards.

What did you think of the match? Post your reactions in the comments.



Jonathan Tannenwald, Philly.com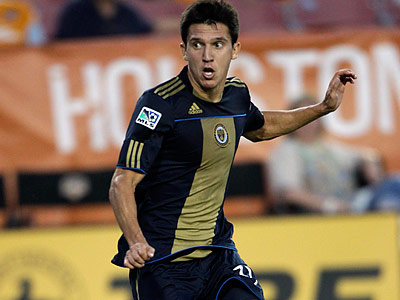 Time: 8:30 p.m.
Venue: Toyota Park, Bridgeview, Ill.
TV: WPVI-6, with a pregame show at 8:00 p.m. (J.P. Dellacamera and Kyle Martino)

BRIDGEVIEW, Ill. - The rumor is that a sizeable delegation of Sons of Ben will be here tonight. That should make the atmosphere even more fun than it already will be, with former Fire star Peter Nowak returning to face the club where he built his legacy.

While you're watching on TV, join me for a live chat during the game. Between this and the U.S. national team's win over Australia this morning, there's plenty for us to talk about.