Archive: March, 2011
Jonathan Tannenwald, Philly.com
Believe it or not, the 2011 Major League Soccer season starts tonight.
Yes, really.
The first of 306 fixtures this season kicks off at 10:00 p.m. Eastern time tonight, as the Seattle Sounders host the Los Angeles Galaxy at Qwest Field. ESPN will broadcast the match beginning at 9:30, or perhaps a bit later if the Harvard-Oklahoma State basketball game runs long.
Jonathan Tannenwald, Philly.com
Philadelphia Union manager Peter Nowak talked with The Inquirer's Marc Narducci about blending his team's young players and experienced veterans in an interview on Monday.
Jonathan Tannenwald, Philly.com
NEW YORK - You may have noticed that I'm spending this week at the Big East men's basketball tournament, writing as my alter ego Soft Pretzel Logic.
Thursday night, my two sporting worlds collided in spectacular fashion.
Sports Illustrated soccer writer Grant Wahl sent around a brilliant YouTube mashup of famed college basketball announcers Gus Johnson and Bill Raftery calling Landon Donovan's big goal against Algeria at the World Cup this past summer.
Jonathan Tannenwald, Philly.com
UPDATE: I've added more of Peter Nowak's remarks to the bottom of this post. After going back ovr the quotes, Nowak did say "you," not "we," in response to my question about Michael Orozco Fiscal's loan. I've copied the entire quote below, and added much more from the conference call. My original point from this afternoon still stands, though, as you'll see.
The Union chose to not extend Michael Orozco Fiscal's loan deal past its initial one-year term, manager Peter Nowak told reporters on a conference call today.
"Michael Orozco Fiscal was on a one-year loan with an option to buy," Nowak said. "We didn't exercise our option."
Jonathan Tannenwald, Philly.com
Veteran soccer broadcaster J.P. Dellacamera has moved from ESPN, where he was the network's top soccer announcer for many years, to Fox Soccer Channel, a source confirmed to me this evening. He will be the play-by-play voice of FSC's Friday night Major League Soccer telecasts this season.
Dellacamera will only work FSC's Friday games, not its Saturday games, so that he can remain the play-by-play voice for the Philadelphia Union on its local broadcasts. I was told by a team spokesperson today that the club has not yet decided who the color analyst will be this season.
Dellacamera had been with ESPN for a very long time, going back to the Major Indoor Soccer League in the 1980s. Among his most famous calls for the network was Paul Caligiuri's "shot heard 'round the world" goal for the U.S. national team against Trinidad and Tobago in 1989, that qualified the U.S. for the 1990 World Cup. He also was the lead announcer for the 1999 Women's World Cup on ESPN and ABC.
Jonathan Tannenwald, Philly.com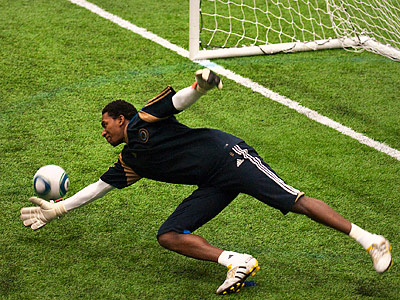 NOTE: I also wrote an exclusive piece this evening about Union TV broadcaster J.P. Dellacamera moving from ESPN to Fox Soccer Channel. Click here to read it.
Today was the deadline to comply with Major League Soccer's 30-player roster regulations, and the Philadelphia Union made a flurry of moves while abroad in Greece.
The club signed Trinidadian goalkeeper Thorne Holder, who had been on trial since the preseason camp in Wayne, and former La Salle midfielder Ryan Richter, a supplemental draft pick.