Archive: July, 2012
Jonathan Tannenwald, Philly.com
Time: 2:30 p.m. EDT
Venue: Red Bull Arena, Harrison, N.J.
TV/Online/Radio: ESPN/ESPN3.com (Adrian Healey and Taylor Twellman, with Max Bretos and Alexi Lalas in the studio); WIP 610-AM (Tony Limarzi and Peter Pappas)
HARRISON, N.J. - Freddy Adu is out of the Philadelphia Union's lineup for today's game at the New York Red Bulls. The Union's media relations staff would only say that it is due to an "internal matter."
Adu was seen at Xfinity Live last night, and this is one example of fans who've sent me proof of it.
Jonathan Tannenwald, Philly.com
Major League Soccer commissioner Don Garber was in town Friday afternoon for a promotional event to kick off the countdown to next Wednesday's All-Star Game at PPL Park.
The centerpiece of the event was a bunch of kids kicking soccer balls en masse down the steps in front of the Philadelphia Museum of Art. You can watch video of that at the bottom of the post.
The more important part, though, was Garber's Q&A with reporters afterward. He chatted with me and The Inquirer's Chad Graff for a few minutes about the importance of the All-Star Game, and the state of MLS in Philadelphia.
Jonathan Tannenwald, Philly.com
MLS has released its 18-man roster for the 2012 AT&T MLS All-Star Game vs. Chelsea. Who are the players to watch for? CineSport's Tara Petrolino and Philly.com's Jonathan Tannenwald discuss.
Jonathan Tannenwald, Philly.com
It's time for your quadrennial reminder that the Summer Olympics don't actually start with the Opening Ceremonies. They begin with the soccer tournament's first game on Wednesday, July 25 - two days before the flame is lit in London on Friday, July 27.
It so happens that July 25 is also the day of the Major League Soccer All-Star Game. As you'll see below, there will be a lot of great soccer on a lot of TV networks that day.
Your remote control has been warned.
Jonathan Tannenwald, Philly.com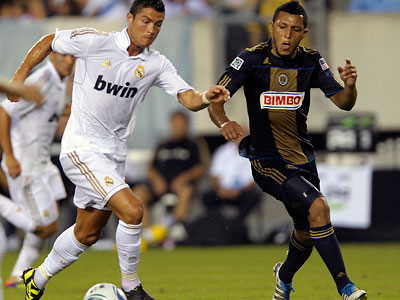 Philadelphia Union defender and captain Carlos Valdés has been named to the 18-player roster for the Major League Soccer All-Star game, which will take place at PPL Park on July 25.
Valdés was selected to the squad by MLS commissioner Don Garber, who picks two players for the roster. Garber's other selection was San Jose Earthquakes defender Ramiro Corrales, the only player left in MLS who has played every season of Major League Soccer's 17-year existence who played in the league in its original season.
(Corrales went overseas for a few years in the mid-2000s, which I overlooked when digging up his stats.)
Jonathan Tannenwald, Philly.com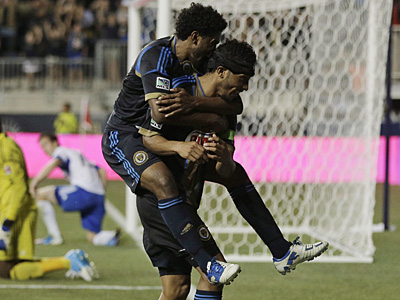 Plenty of people who watch the Union on a regular basis have weighed in on forward Lionard Pajoy's lack of production with the team.
But if it has been rare for Pajoy to score, it has been even rarer for Carlos Valdés to put the ball in the net. Of course that's in large part because Valdés is a defender, but it's worth noting that he has scored just two goals in nearly 4,400 minutes played in league games for the Union.
Pajoy has been more productive - despite the often-merited criticisms leveled at him by fans and the media. He has scored five goals in 14 league games this year, as well as two goals in the U.S. Open Cup and one in a friendly against Schalke.
Jonathan Tannenwald, Philly.com
Time: 7:00 p.m. EDT
Venue: PPL Park, Chester, Pa.
TV: The Comcast Network (J.P. Dellacamera and Bob Rigby)
It seems appropriate that Major League Soccer's only French-speaking club is in town on Bastille Day. Follow along below for live game updates throughout the evening.
There are a lot of changes in the Union's starting lineup tonight. With Michael Farfan out injured, Freddy Adu drops back to the midfield playmaker position. Josué Martinez replaces Adu on the right side of the forward line. In addition, Lionard Pajoy is on the bench, rwith Keon Daniel taking his place on the left side of the forward line.
Jonathan Tannenwald, Philly.com
CORRECTION: I screwed up the intro to this. Valentin has been playing right back for the Impact, not left back. So while Tyson Wahl's departure affects him, it doesn't so so as much as I first thought. Apologies for not having done my homework.
When I went out west for the opening weekend of the Major League Soccer season, I packed one of those Philly.com microphone flags that you see in our videos.
I had it with me in Vancouver to cover the Montréal Impact's first ever game in MLS. When I got into the Impact's locker room after the final whistle, I heard someone behind me shout "Hey, Philly.com! I know that site!"