Archive: July, 2010
Jonathan Tannenwald, Philly.com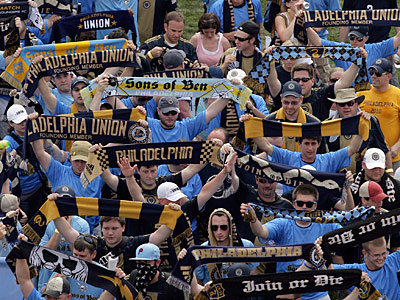 Time: 6:00 p.m.
Venue: PPL Park, Chester, Pa.
TV: Fox Soccer Channel/Fox Sports en Español (Brian Dunseth, Christopher Sullivan and Katie Witham)
A little rain never hurt anyone, right?
Jonathan Tannenwald, Philly.com
As I did for the last home game, I've put together a schedule of SEPTA service to PPL Park for the Union's game Saturday against the San Jose Earthquakes. Kickoff is scheduled for 6 p.m. Shuttle buses start running from the Chester Transportation Center four hours before the game, and will run after the game until everyone has cleared out of PPL Park. An announcement will be made over the public address when it looks like it's time for the last bus.

Note that there is Saturday R2 service from Wilmington, Del., but the postgame southbound trains only run to Marcus Hook. Still, I've listed the Wilmington departures when trains start from there., since I know a number of you live in that area.

Pregame service

From Center City

Depart Suburban Station 1:34 p.m., Arrive Chester TC 2:03 p.m.
Depart Suburban Station 2:34 p.m., Arrive Chester TC 3:04 p.m.
Depart Suburban Station 3:34 p.m., Arrive Chester TC 4:03 p.m.
Depart Suburban Station 4:34 p.m., Arrive Chester TC 5:04 p.m.

Trains leave Market East at 29 minutes past the hour and 30th Street Station at 38 minutes past the hour.

From Marcus Hook and Wilmington

Depart Marcus Hook 1:47 p.m., Arrive Chester TC 1:53 p.m.
Depart Wilmington 2:36 p.m., Arrive Chester TC 2:54 p.m. (Marcus Hook at 2:48 p.m.)
Depart Marcus Hook 3:47 p.m., Arrive Chester TC 3:53 p.m.
Depart Wilmington 4:36 p.m., Arrive Chester TC 4:54 p.m. (Marcus Hook at 4:48 p.m.)
Depart Marcus Hook 5:47 p.m., Arrive Chester TC 5:53 p.m.

Postgame service

To Center City

Depart Chester TC 8:54 p.m., Arrive Suburban Station 9:25 p.m.
Depart chester TC 9:43 p.m., Arrive Suburban Station 10:15 p.m

Trains arrive at 30th Street Station at 9:20 and 10:10, and at Market East at 9:30 and 10:20.

To Marcus Hook

Depart Chester TC 9:04 p.m., Arrive Marcus Hook 9:10 p.m.
Depart Chester TC 10:55 p.m., Arrive Marcus Hook 11:01 p.m.

There is a train that leaves Chester at 8:03 and runs all the way to Wilmington, reaching Marcus Hook at 8:09 and Wilmington at 8:21. But I doubt the game will be over in time for that.

If you took the train to the first game, please share your experience in the comments. If you do so tomorrow, email me and let me know how it goes. I'm planning to do it at some point this year and write about it, and I'm sure that people who are thinking about taking the train would like to hear from people who have.
Jonathan Tannenwald, Philly.com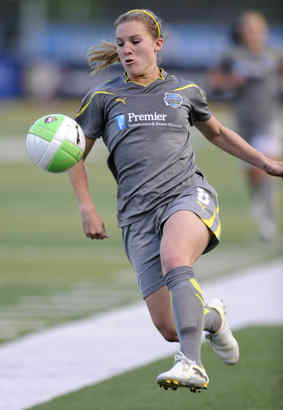 Philadelphia Independence forward Amy Rodriguez has been named Women's Professional Soccer's player of the month for June.
Rodriguez scored five goals and recorded two assists in June, including two goals in the come-from-behind 3-2 win over the Washington Freedom on June 26. She won the award unanimously, which no player had ever done before in WPS' two-year history.
The Independence are in second place in the WPS table with 21 points, four points behind FC Gold Pride. The two teams will meet in California on June 17, which is the Independence's next game.
Jonathan Tannenwald, Philly.com
I had my say yesterday; now it's your turn. I find it interesting that Saturday's game merited a remarkable number of exact 5.00 scores. Then again, the 1-1 draw was the definition of a middling result.
As always, if you want to join the fun, just email me and I'll get you on our listserv.

Goalkeeper

Chris Seitz: 5.80
- "Seitz gets better every game. His improvement has been really remarkable." (Nathan M.)

Defenders

Cristian Arrieta: 4.40
- "Another game, another lazy clearance by the defense resulting in an opposing goal." (Nathan M.)

Danny Califf: 5.20

Jordan Harvey: 5.00

Michael Orozco Fiscal: 4.80
- "I am done with him. Play him as a defender or a midfielder, I am not impressed. He had a below average game." (Ethan Gomberg)
Shea Salinas: 5.60

Midfielders

Fred: 5.00

Andrew Jacobson: 5.00

Stefani Miglioranzi: 5.00

Amobi Okugo: 5.00

Roger Torres: 5.20

Forwards

Sebastien Le Toux: 6.00

Jack McInerney: 5.00

Danny Mwanga: 7.60
- "Danny Mwanga should have had a brace in this game. Feel free to question the referee's parentage." (Bryan James)
- "It's all about Mwanga, which is good and bad. He had a great night with 2 goals. But if he is the only one producing, the Union have problems." (Ethan Gomberg)
- "Mwanga is a stone cold assassin. Can someone convince him to take US citizenship and apply for FIFA eligibility to play for the Yanks? Bradley was in attendance on Saturday night - let's have him look into it." (Nathan M.)
Jonathan Tannenwald, Philly.com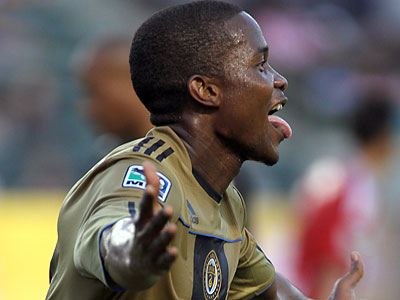 Now that everyone's back from the holiday weekend, let's take a look at the Union's 1-1 draw at Chivas USA late Saturday night. There weren't too many standout moments after Danny Mwanga's superb goal in the 21st minute, but there was one play that is very much worth discussing.

It came in the 37th minute. Danny Mwanga broke towards the box, and Chivas USA defender Ante Jazic was racing to shut him down. Mwanga got the shot off from about 10 yards away and put the ball in the net, but the goal was disallowed by referee Edvin Jurisevic. He blew his whistle for what he thought was a pushoff on Mwanga.

Except there was no foul whatsoever. Nor was there even a dive. Jazic simply tripped over his own feet and went down. Jurisevic was behind the play, and while Mwanga and were certainly close to each other going for the ball, Mwanga did not have his hands out.

Fox Soccer Channel play-by-play announcer Christian Miles saw it clearly on the replay.
"Or was it just a case of a misstep?" Miles said. "He appeared to trip himself up."

Unfortunately, there is no standalone video clip of the play online anywhere that I can find. If you subscribe to the live game video package on MLSSoccer.com, you can go on the site and jump to that point in the game. But there isn't anything I can directly link to or embed as of now.

The best thing I can give you is a freeze-frame of the moment when Jazic started to go to ground.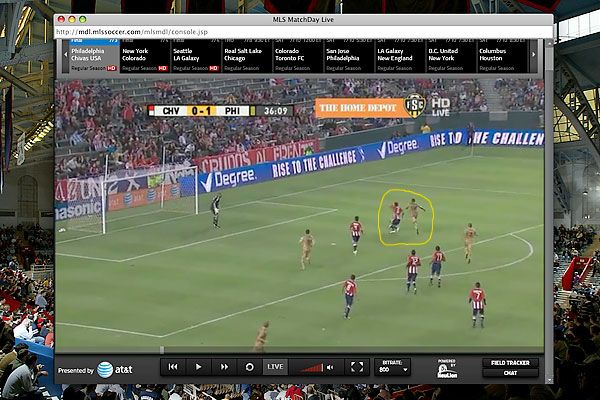 Jonathan Tannenwald, Philly.com
I took the names suggested for the Union's postgame celebration and narrowed them down to the five most-often suggested by readers. Nominations came from comments on the last post, Twitter and email.
Your choices are at right. Vote early and often. I'm heading out of town for the holiday, so there won't be any blogging for a few days. Enjoy the weekend, and don't forget about the Union's game against Chivas USA on Saturday night. Kickoff is at 10:30 p.m. and the broadcast will be on Fox Soccer Channel.
If you're staying in town, the Independence host Boston at Farrell Stadium on Sunday at 4 p.m. If you're willing to venture outside in the heat, you'll see a team that would claim first place with a win if FC Gold Pride loses at Atlanta on Saturday.