Archive: March, 2012
Jonathan Tannenwald, Philly.com
PORTLAND, Ore. – When the Philadelphia Union got in a fight in their final preseason game against Costa Rican club Belén, a video of the brawl sparked headlines across the American soccer community.
Nobody with the club said much about the incident at the time, but Union president Nick Sakiewicz finally gave me his side of the story in an exclusive interview Sunday evening. We also addressed a few other big issues on the eve of the Union's third season.
A lot of fans saw the video of the fight in the game against Belén. From your perspective, what happened, and did anything happen as a result of the incident?
Jonathan Tannenwald, Philly.com
PORTLAND, Ore. - It would be easy to call midfielder Brian Carroll one of the Philadelphia Union's unsung heroes.
But it's hard to say that a guy who's about to enter his 10th year in Major League Soccer is unsung. Especially when you consider that he's reached the playoffs in all nine of his previous campaigns.
So let's describe Carroll for what he truly is: one of the best holding midfielders that MLS has ever seen, and a voice of leadership and experience on a Union squad in need of those traits.
Jonathan Tannenwald, Philly.com
PORTLAND, Ore. – The spotlight will shine brightly upon goalkeeper Zac MacMath when he takes the field for the Philadelphia Union tonight.
It would be hard to replace Faryd Mondragón in any team. But MacMath must also do so on in a city with a history of chewing up and spitting out netminders who don't live up to expectations.
I chatted with MacMath on Sunday evening as he prepared to step between the sticks at JELD-Wen Field in the Union's season opener against the Timbers.
Jonathan Tannenwald, Philly.com
PORTLAND, Ore. - Taylor Twellman's voice should be familiar to all of you by now. After spending last year as the Philadelphia Union's local TV color analyst, Twellman took a full-time job with ESPN to be the lead color analyst for Major League Soccer and U.S. men's national team broadcasts.
The former New England Revolution striker is not short of opinions on the state of American soccer, nor is he short of a willingness to voice them. We chatted for a few minutes after I got into town Sunday ahead of the Union's season opener against the Timbers.
Jonathan Tannenwald, Philly.com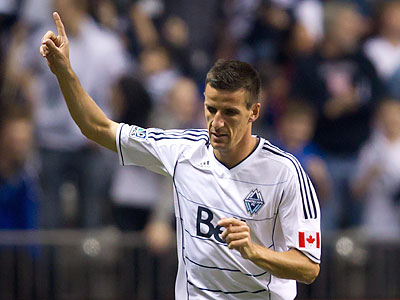 VANCOUVER, B.C. - Just like the last time Sébastien Le Toux joined a new team in Major League Soccer, it didn't take long for him to make a dramatic first impression.
Two years ago at Lincoln Financial Field, Sébastien Le Toux scored in the fourth minute of in his first home game with the Philadelphia Union.
Saturday afternoon at B.C. Place, Le Toux did the very same thing for the Vancouver Whitecaps. His breakaway finish proved to be the game-winner in a 2-0 victory over the expansion Montréal Impact.
Jonathan Tannenwald, Philly.com
SEATTLE - Major League Soccer commissioner Don Garber held a preseason conference call with reporters Thursday afternoon. If you weren't following it as it happened, here's a summary of my live-tweeting.
Jonathan Tannenwald, Philly.com
SEATTLE - The North American Soccer Reporters has released its preseason media poll. The Union were picked to finish fourth in the Eastern Conference.
I am a member of the NASR and I was one of the voters. It tells you something about the state of the American soccer media that only 21 people cast ballots. The NASR has many more members than that, but we aren't anything like the Baseball Writers Association of America or the U.S. Basketball Writers Association (I'm a member of the USBWA too, for the record).
In addition to ranking MLS' 19 teams, voters were asked to pick one player from each team to single out as the most important.
Jonathan Tannenwald, Philly.com
SEATTLE - Any time I cover a Sounders game, whether here in the Pacific Northwest or elsewhere, I make sure to say hello to Jeff Parke. The Abington native and Drexel alumnus is a great guy, and still keeps close ties to the Philadelphia area despite living on the other side of the country.
After the Sounders' CONCACAF Champions League game vs. Santos Laguna on Wednesday night, I chatted with Parke for a few minutes. We discussed Wednesday's game, what it was like to play with new teammate Eddie Johnson; and his future (or lack thereof) with the U.S. national team.
And I couldn't help asking Parke whether he thinks his alma mater's men's basketball team will make into the NCAA Tournament. Drexel is squarely on the bubble right now, and hasn't been to the Big Dance since 1996.
Jonathan Tannenwald, Philly.com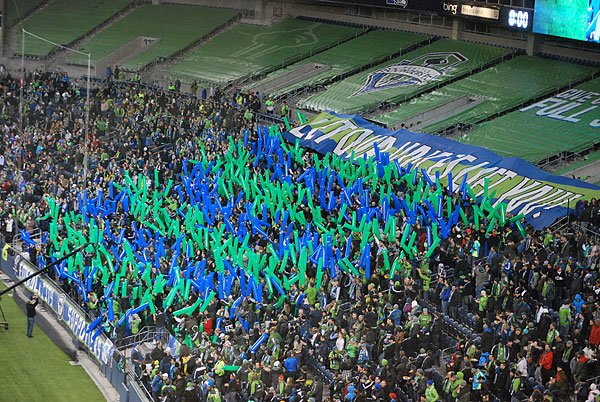 The Emerald City Supporters' pregame display Wednesday night. (Jonathan Tannenwald/Philly.com)
SEATTLE – If you stayed up late on the east coast to watch the CONCACAF Champions League game between the Seattle Sounders and Santos Laguna, I'm guessing it wasn't out of a sense of masochism.
Jonathan Tannenwald, Philly.com
For many of you, the offseason has been too long. For others - myself included, I must admit - the winter has flown by.
Admittedly, I've been plenty busy over the last few weeks covering college basketball. But there's been so much going on with the Union this offseason that it feels like I never stopped writing about soccer.
The Union have already been among the busiest teams in MLS in 2012, even though their preseason training has taken place largely out of public view.