Archive: October, 2010
Jonathan Tannenwald, Philly.com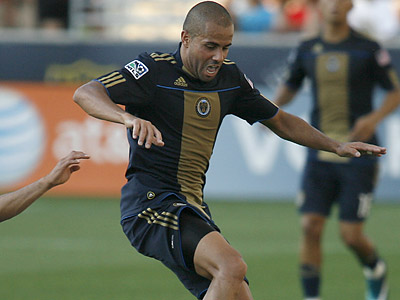 Time: 8:00 p.m.
Venue: PPL Park, Chester, Pa.
Television: ESPN2 (J.P. Dellacamera and John Harkes)
Injury Report

Los Angeles Galaxy

Questionable: D Gregg Berhalter (neck strain), D Leonardo (left quad strain), M Dema Kovalenko (right adductor strain)

Philadephia Union

Probable: GK Brad Knighton (left shoulder strain), D Juan Diego González (left groin strain); M Eduardo Coudet (right calf strain); F Danny Mwanga (left shoulder sprain)

Before we get to tonight's game, a bit of news. In case you didn't see it because of the Phillies game, the Washington Post's Steven Goff reported last night that only around 6,000 tickets have been sold for next week's U.S.-Colombia game.

I know I'm supposed to be objective about these things, but that number is not good.

Goff cited a number of plausible reasons why sales have been so sluggish. Among the most prominent are high ticket prices for the game, and the attention being paid to the Phillies and the region's other sports teams at the moment.

I can certainly sympathize with those who have complained about the ticket prices. This has been a recurring point of annoyance with many U.S. national team fans in recent months, going back to the U.S.-Brazil game at the Meadowlands after the World Cup.

I can also understand the point about how crowded our local sports landscape is at the moment. I am willing to excuse the poor attention at last night's U.S. women's game, because the entire region is transfixed by the Phillies right now. Even I have been caught up in it, as I hosted our live Phillies chat last night instead of going to the soccer game.

But the Phillies aren't playing next Tuesday. Nor are the Flyers. So the U.S. game will have a relatively high proportion of local sports fans' attention, as it will be the major live action in town that night.

I'm sure a number of you are going to the game. If you aren't, feel free to explain why in the comments. And if you're on the fence, give it some thought. I know the ticket prices are steep, and I know that as someone who gets in for free with a press pass I have no right whatsoever to tell people how to spend their money.
But the best argument Philadelphia can make to get the U.S. national teams here on a regular basis is to keep bringing big crowds to games. No city, no matter how many soccer fans it has, has any kind of right to host national team games. The U.S. Soccer Federation will only go to places where it thinks it can make a profit.

With that out of the way, I hope you'll join me for a live chat during tonight's Union game. It should be quite a spectacle with David Beckham and Landon Donovan in town. If you're on a mobile device, you can join the chat by clicking here. It would be great to have some interaction from fans in the stadium tonight.
Jonathan Tannenwald, Philly.com
Before we get to the ratings from Saturday's game, here's something to think about now that the Union are out of the playoff race.

I am sure there are plenty of people for whom this season has been a disappointment, including people at the club itself. But I never expected the Union to make the playoffs this year. So many other teams in the league had more talent or more experience.

There was also a lot of history working against the Union. In the 15-year history of Major League Soccer, only once has an expansion team starting from scratch made the playoffs in its first season of operation. Yes, that team was the 1998 Chicago Fire, which won MLS Cup with Peter Nowak as its captain. But eight of the league's 12 teams made the playoffs that season. Now MLS has 16 teams, with eight qualifying for the postseason. That's a huge difference.

What about last year's Seattle Sounders, you ask? They made the playoffs in their first year in MLS, and were much more successful on the field than the Union have been.
Seattle is the reason why used the phrase "starting from scratch." The Sounders as an organization had existed for many years as a second division A-League franchise before joining Major League Soccer. Because of that, the club already had a front office and fan base in place when it moved up to the big league. The Union had to start from nothing, especially when it came to scouting and player development.
And what about the Dynamo's first season in Houston? Remember that the Dyanamo were not an expansion team when they arrived in Houston in 2006. They were the relocated San Jose Earthquakes, which had finished in first place in the Western Conference the year before.

Here's a list of how MLS expansion teams have fared in their first seasons. I'll even include Seattle, because I think the list will still make my point pretty well:

1998 Chicago Fire

Regular season: 2nd in Western Conference, 56 points from 32 games
Postseason: Qualified, won MLS Cup
Playoff format: Eight of 12 teams qualified, top four in each of two six-team divisions

2005 Chivas USA

Regular season: 5th in Western Conference, 20 points from 32 games
Postseason: Did not qualify
Playoff format: Eight of 12 teams qualified, top four in each of two six-team divisions

2005 Real Salt Lake

Regular season: 6th in Western Conference, 18 points from 32 games
Postseason: Did not qualify
Playoff format: Eight of 12 teams qualified, top four in each of two six-team divisions

2007 Toronto FC

Regular season: 7th in Eastern Conference, 25 points from 32 games
Postseason: Did not qualify
Playoff format: Eight of 13 teams qualified, top two in each division then next four best overall (East had seven teams, West had six teams)

2008 San Jose Earthquakes

Regular season: 6th in Western Conference, 33 points from 30 games
Postseason: Did not qualify
Playoff format: Eight of 14 teams qualified, top two in each seven-team division then next four best overall

2009 Seattle Sounders

Regular season: 3rd in Western Conference, 47 points from 30 games
Postseason: Qualified, lost in first round
Playoff format: Eight of 15 teams qualified, top two in each division then next four best overall (East had even teams, West had eight teams)

2010 Philadelphia Union (as of today)

Regular season: 6th in Eastern Conference, 28 points from 27 games (can finish as high as 3rd and 37 points)
Postseason: Did not qualify
Playoff format: Eight of 16 qualified, top two in each eight-team division the next four best overall)

You can see from this data that what the Union have gone through is not unusual for a first-year club. If anything, it's a compliment to the Union that there have been so many what-if moments that could have made their record so much better.

I certainly did not expect the Union to play the quality of soccer that they have. Teams that play creative, attacking soccer do not just fall out of the sky fully-formed. It takes time and work to build that kind of form.

That won't stop many of you from wondering what could have been. But while there won't be playoff soccer at PPL Park this year, there wil be a very big consolation prize for local soccer fans: visits from the U.S. men's and women's national teams over the next week and a half.

It is a testament to the passion and loyalty of all of you that these games will be here instead of in Washington, Boston, or somewhere else. It was not that long ago that Philadelphia was in the proverbial wilderness, with fans forced to travel to New York or Washington to get their fix. Now our region is firmly established on the American soccer map.

The Gold Cup match here in 2009 was the U.S. men's national team's first game in Philadelphia since 1989. Next Tuesday's game against Colombia will be the squad's third visit here in 16 months. The U.S. women's team's game here tomorrow will be its fourth in Philadelphia since Lincoln Financial Field opened in 2003. Only Los Angeles has hosted the women more since then, annd only four cities have equaled Philadelphia's total: Washington, Chicago, San Diego and Portland, Oregon.

I won't be at PPL Park tomorrow night because of the Phillies game, but I hope you'll consider going to watch the women's game. The current U.S. squad has a strong mix of veterans and rising stars, and tomorrow's game against China will be the U.S.' last text before the CONCACAF World Cup qualifying tournament in Mexico next month.

If you can't make it, fear not. PPL Park and the Linc have proven themselves to be worthy homes for big-time soccer games, so you can expect both U.S. national teams to visit our region even more in coming years. Take that to heart as the Union's season starts to wind down.
---
Jonathan Tannenwald, Philly.com
A few highlights and lowlights from watching a replay of Saturday's 1-1 draw at PPL Park...

- Sebastien Le Toux's goal will be remembered for a lot of reasons. Most notable among them, of course, is the way the ball seemed to stick to Le Toux's left foot as he received Roger Torres' pass. But the goal was built on much more than just the pass and finish.

Before Torres sent the ball into the box, he worked his way out of a challenge from Houston's Brad Davis. Torres was able to stay on his feet through the contact and recover the ball, and he had enough time to look up before delivering the pass.

That struck me as a real sign of maturity and confidence from the 19-year-old. Torres is 5-foot-5, 143 pounds, and Davis is 5-11, 175. I'd say there's a little bit of a mismatch there. Earlier in the season, when Torres was still getting settled in MLS, I'm not sure he would have fought to stay on his feet after contact like that. But Torres worked through it, and as often happens, he was richly rewarded for his effort.

- Here's a stat from the game that shouldn't get overlooked. Torres' 76 minutes played represented the most time he's spent on the field in a game this season. That performance did not go unnoticed by Union coach Peter Nowak.

"Roger played well," Nowak said. "He moved from spot to spot and played a great pass for the assist to Seba on the goal, so I was very happy to see that. Sometimes there's one pass like that, and then you try to do another one instead of doing the simple things and moving the ball left to right, but I was very happy with his performance.

- I was surprised that referee Kevin Stott did not stop the game when Kyle Nakazawa stayed on the turf after Andrew Hainault pushed him down. I also think it was a foul in the first place, though Stott let quite a bit go during the game. As for Nakazawa staying down, I counted six seconds that he was on the turf.

I would ask those of you who are referees: is there a certain amount of time that you keep in mind to decide how injured a player is? Obviously six seconds isn't a long time, and to pick any specific number can be considered arbitrary. But I'd like to know what you do when you're out there in the middle of the field.

- The Union were lucky that Houston did not score in the last 10 minutes. Peter Nowak's decision to play three forwards and Sebastien Le Toux opened up big gaps in the midfield, especially on the flanks, and the Dynamo served a couple of crosses into Brad Knighton's box that should have been converted to goals.

You can't fault Nowak for going for the win, but I think his substitution strategy put too many pastry chefs in the kitchen and not enough line cooks. The Union's midfield in the last stages of the game was comprised of Andrew Jacobson, Kyle Nakazawa, Sebastien Le Toux, with earlier substitute Shea Salinas moving to left back after Jack McInerney replaced Jordan Harvey.

That meant the Union had a three-player midfield, which makes it harder to occupy the entire width of the pitch. So it wasn't surprising to see Dynamo players with space on the flanks to send crosses into the box late in the game.

The most glaring example came in the 92nd minute. Lovell Palmer passed the ball to Corey Ashe, who was unmarked on the left side about 25 yards out. Sheanon Williams ran over to close Ashe down, but Ashe had more than enough time to deliver a great cross on to the head of Cam Weaver. Fortunately for the Union, Weaver's header went over the crossbar - as did Brian Ching's header off a cross from the right side just seconds later.

It's a short turnaround this week, and with the baseball playoffs starting Wednesday the next few days are going to be really busy for me. So I'll post your player ratings tomorrow, then that will be it until Thursday's game against Los Angeles.
Jonathan Tannenwald, Philly.com
There was a certain sense of inevitability in the air at PPL Park yesterday afternoon.

Despite the best attempts of fans and media to put the situation in a positive light, it had been clear for some time that the Union were not going to make the playoffs this season.

Yes, the team was still mathematically in the race at the start of the day, even after Wednesday's loss at Colorado. But there were so many clearly better teams to overcome in the standings that the task seemed all but impossible.

The last flickering embers of hope were finally extinguished when Seattle wrapped up a 3-2 win over Toronto during the second half of the Union's 1-1 draw against Houston. But the first admission of reality came an hour before kickoff.

When the starting lineups were announced, the Union's XI was missing four veterans: Danny Califf, Justin Mapp, Stefani Miglioranzi and Fred. Nowak said after the game that he wanted to give them a game off, because of the quick turnaround from Wednesday's game and the fact that it was played at altidute in Colorado.

Still, the names on the teamsheet were surprising. Juan Diego Gonzalez paired with Michael Orozco Fiscal in central defense, and the midfield was comprised of Kyle Nakazawa, Andrew Jacobson, Roger Torres and Sebastien Le Toux. With Danny Mwanga still nursing an injured shoulder, Nick Zimmerman partnered with Alejandro Moreno up front.

It was a statement not just about the present, but about the future. Yes, the Union are already looking towards next season, and the last three games of this year will go a long way towards proving who stays and who goes.

I'm sure that will disappoint the segment of Philadelphia sports fans who demand that the Super Bowl and Stanley Cup be won every five minutes. But with all due respect, Peter Nowak does not care what you think. He is of a firm believe that his task with the Union is to build a team that will grow towards success over time.

That's not news, to be sure. Nowak expressed his philosophy all the way back at the Expansion Draft, and reinforced it by not signing a designated player.

That doesn't mean Nowak doesn't want to win. The Union played the last 10 minutes of yesterday's game with four forwards, throwing as much as they could at the Dynamo in order to find the winning goal. That the strategy backfired - Houston had most of the possessin and almost all of the chances in the latter stages of the match - is beside the point. It was clear that the Union intended to give everything they had to win.

So where to from here? Fortunately for the Union, their last three games of the season will offer plenty of motivation. Los Angeles and New York will bring superstars and sold-out crowds to PPL Park, while the trip to Columbus will be the last chance for players to prove they should be here next season.

In the audio player below, you'll hear from Nowak and a number of his players about how they'll keep their heads up as the team plays out the stretch. There is every reason for Union fans to take them at their word.
---
Of course I wouldn't overlook the best moment of yesterday's game. Sebastien Le Toux scored arguably the Union's goal of the year, trapping an inch-perfect pass from Roger Torres with his left foot and calmly slotting the ball home with his right. A "golazo" if ever there was.

The finish further strengthened Le Toux's case to be this season's Most Valuable Player in MLS, and again showed Torres' potential as a playmaker. I'll get into this more in Take Two, but I thought Torres had the most creative license today of any game he's played this season.

Here's the video:



Jonathan Tannenwald, Philly.com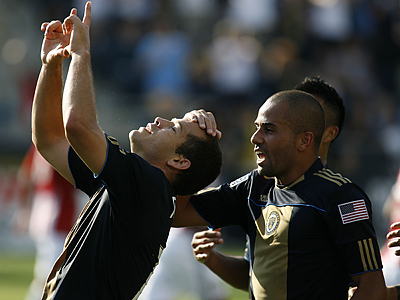 Time: 4:00 p.m. EDT
Venue: PPL Park, Chester, Pa.
TV: WPVI-6.2 (Glenn Davis and Kyle Martino) and Telefutura (Jorge Pérez-Navarro, Diego Balado and Ivan Kasanzew)
If you're on a mobile device, you can join the chat by clicking here.
Jonathan Tannenwald, Philly.com
The latest ratings are about what you'd expect. You know it was a bad game when even Sebastien Le Toux gets a low number.

I will be chatting during tomorrow's game against Houston, so if you won't be at PPL Park I hope you'll join me. Kickoff is at 4 p.m.


Goalkeeper

Brad Knighton: 3.88
- "Knighton cannot be blamed for most of the goals, but he has to smother shots like the 3rd goal." (Chris Lane)

Defenders

Danny Califf: 3.13
- "Space never scored a goal, so why mark it?" (Osager)

Jordan Harvey: 3.38
- "Only defender that was not directly responsable for a goal." (Jared R.)

Michael Orozco Fiscal: 3.17

Sheanon Williams: 3.38
- "The worst offender of the bunch was Williams. His vaunted throw-ins did nothing and he contributed nothing to the offense. To the defense he contributed, but all negative. I am not positive who was supposed to be marking Cummings on the first two goals, but it would seem it should have been Williams. Then he was standing right next to Thompson on the free kick, but just stood there when the ball rebounded off, letting "his man" go in for an easy score." (Chris Lane)


Midfielders

Fred: 3.75
- "Deserved to be subbed out. As much as I appreciate his creativity and passing, he cannot play a wide position." (Jeff P.)

Andrew Jacobson: 4.50
- "Should be playing more, maybe in place of Miglioranzi, who looked fatigued and disinterested." (Jeff P.)

Justin Mapp: 4.13
- "Not so sure about subbing him off, as he has provided a spark since his arrival." (Jeff P.)

Stefani Miglioranzi: 4.00

Kyle Nakazawa: 4.25

Amobi Okugo: 3.00
- "Mwanga, apparently, did not make the trip. From the looks of the action on the field, neither did Califf or Okugo." (Peter N.)
- "Okugo was essentially useless the entire match. He didn't make any stops of significance and his distribution was non-existent. Almost like we were playing with 10 men." (Chris Lane)

Forwards

Sebastien Le Toux: 4.50
- "Really needs Danny out there to take coverage away. Without Mwanga, he had a tough time getting open." (Jared R.)

Jack McInerney: 5.63
- "Great finish on the goal! I look forward to more playing time for him next year." (Steve O.)

Alejandro Moreno: 4.00