Archive: September, 2010
Jonathan Tannenwald, Philly.com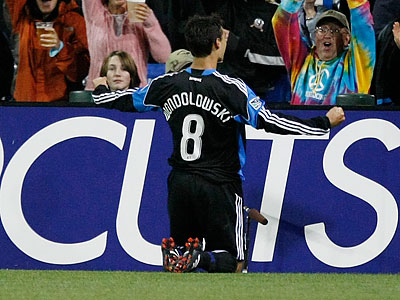 Chris Wondolowski scored the game's only goal in the 69th minute, dealing the Union a 1-0 loss to the San Jose Earthquakes at Buck Shaw Stadium.
The Union had a fair amount of the possession, but couldn't do much with it. Arguably their best chance of the match came in the last minute of stoppage time, when a Sebastien Le Toux free kick from just outside the left edge of the 18-yard box found an open Shea Salinas at the top of the box in the middle. Salinas shot into the crowd, and the deflection landed in the hands of Earthquakes goalkeeper Jon Busch.
Philadelphia took nine shots to San Jose's eight, though in shots on goal the Earthquakes held a 6-5 advanage. Busch and Union goalkeeper Brad Knighton made five saves each. Knighton made the most impressive save of the night, deflecting a swerving free kick from Geovanni over the crossbar in the 89th imnute.
Jonathan Tannenwald, Philly.com
The U.S. World Cup bid committee put together a series of videos from the FIFA delegation's visit last week, and made them available for distribution by the media.

I've posted the videos here on Philly.com for you to check out. There is a lot of interesting footage, in particular from the group's tours of the stadiums involved in the bid.

Most of the video is just straight "b-roll" footage, without any narration or graphics. But you'll hear quite a few conversations betwen people in the shots. Among the voices you'll hear are those of U.S. World Cup bid CEO David Downs and Dallas Cowboys owner Jerry Jones.

There's also a video of the closing press conference in Houston with delegation chief Harold Mayne-Nicholls and U.S. Soccer Federation president Sunil Gulati.

All of the videos are in the player at right. You can also watch them by clicking on the links below.

New York/New Jersey: The group visited Giants Stadium and Red Bull Arena.

Washington Part 1: The group arrived at Dulles Airport, then toured George Mason University.

Washington Part 2: The group toured the Washington Monument and FedEx Field. Make sure to check out the rendering of the National Mall as a Fan Fest site.

Dallas: The group toured Cowboys Stadium, including the Cowboys cheerleaders' locker room. There are some great shots of the FIFA delegation looking at the giant video screen.

Houston Part 1: The group toured Reliant Stadium. While there, they watched a video message from former president George H.W. Bush.

Houston Part 2: The group visited the George R. Brown Convention Center, and was met there by NBA star Yao Ming as well as U.S. national team forward Brian Ching and Houston Dynamo coach Dominic Kinnear.

Closing Press Conference: In Houston, U.S. Soccer Federation president Sunil Gulati and FIFA delegation chief Harold Mayne-Nicholls met with reporters.
I hope you'll share your thoughts about the videos in the comments.
Jonathan Tannenwald, Philly.com
I had my say yesterday. Now it's your turn. As ever, if you want to cast a ballot, just email me and I'll add you to the listserv. The more, the merrier.

Goalkeeper

Brad Knighton: 7.29
- "Knighton was an improvement over Seitz and was as aggressive as Seitz is terminally indecisive. He was lucky not to incur another red card, however. (Peter N.)
- "Congratulations to Brad Knighton on a clean sheet... but he should probably thank his good fortune and his defenders (and a rather anemic Chicago offense - more like Smoldering Embers than Fire)." (Osager)


Defenders

Danny Califf: 6.43
- "Back-to-back solid performances from the captain." (Jeff P.)

Jordan Harvey: 5.86

Michael Orozco Fiscal: 6.29

Sheanon Williams: 6.43
- "Who is Sheanon Williams? More of him, please!" (Osager)
- "Liked the shakeup with Williams playing the outside back rather than Orozco Fiscal. It gave Orozco Fiscal the chance to help Danny in the middle." (Jared Remster)

Midfielders

Fred: 4.86

Sebastien Le Toux: 7.86
- "Le Toux for MVP!!! And when you're tearing it up in Ligue 1, we can say we knew you when..." (Osager)

Andrew Jacobson: 5.86
- "He looked strong in the middle with Miglioranzi, and broke up several counters by cutting off passing lanes." (Jefff P.)

Justin Mapp: 6.86
- "Mapp played a good game, but could have been a bit more aggressive. He had a fairly open goal in front of him, and all had to do was put a decent strike on it with his right... oh, yeah, sorry I forgot." (Osager)

Stefani Miglioranzi: 5.86

Kyle Nakazawa: 5.17

Shea Salinas: 6.43
- "Great to have him back on the roster, love the effort and the speed." (Jared Remster)


Forwards

Alejandro Moreno: 5.00
- "Moreno's flopping is really tiresome. If he didn't dive so often, he might actually get calls when it matters." (Peter N.)
- "At the end of his career and is not making the needed runs, it is getting to the point that when he goes down, the fans don't even believe it anymore." (Jared Remster)

Danny Mwanga: 5.71
- "Hopefully the injury is nothing serious, seemed to be the reason that he was subbed for." (Jared Remster)

Mwanga told reporters after the game that he had a separated shoulder. He then had an x-ray, which came back negative. The team flew to San Jose yesterday, and we should find out more about Mwanga's condition today.
Jonathan Tannenwald, Philly.com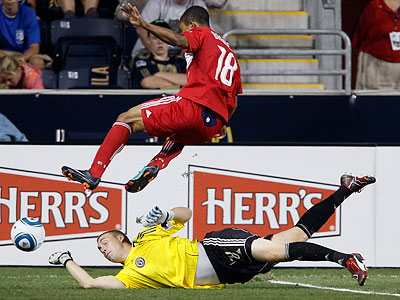 A few thoughts after watching a replay of the Union's win Saturday night at PPL Park...
- Sebastien Le Toux's goal was set up by a potential Justin Mapp hand ball. This is another situation where we can debate the letter and the spirit of the law. From the right flank, Alejandro Moreno played a ball forward over a few defenders. The ball bounced, and Dasan Robinson headed it back at Mapp. The ball struck Mapp on the top of his left forearm, with Mapp's forearm extended about halfway out from his body.

If that play had happened inside the 18-yard box, I think the referee would have blown his whistle. You can say that it is a case of ball-to-hand, but we've discussed before the difference between when the arm is extended and when it's not extended. Another factor is that Mapp clearly took advantage of the deflection, as it helped him play the ball to Le Toux.

This shot isn't the best quality, but you can see fairly well where the ball struck Mapp's arm: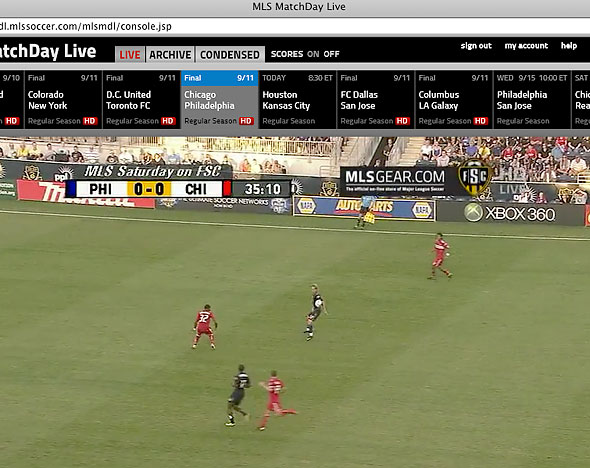 - Brad Knighton came within an inch of touching the ball outside the penalty area. In the 65th minute, Knighton chased after a loose ball against Fire midfielder Mike Banner. Knighton dove for the ball and was clearly outside of the 18-yard box as he hit the turf. Luckily for the Union, though, Knighton never appeared to actually touch the ball. I watched the play multiple times, and I don't think Knighton touched the ball. I did not see the ball's spin or trajectory change as it came near him.

It was extremely close, though, as you can see here:
Jonathan Tannenwald, Philly.com
The big headline is that the Union got its first shutout of the season in its 1-0 win over the Chicago Fire at PPL Park.

The small headline is that the back line deserves as much credit as goalkeeper Brad Knighton.

So many times this season, the Union have played 85 minutes of great soccer, and made one big mistake that cost them a win. This time, finally, there was no mistake. It took 23 games for it to happen, but at a certain point you had to wonder if it ever would.

I was most impressed by Danny Califf. Knighton made a few big saves, but Califf did just as much to keep the clean sheet. His positioning was solid and his tackles were strong without being too forceful.

Sheanon Williams also made an excellent impression in his first MLS start with the Union. He positioned himself well partnering Califf in the central defense, and also made a number of good attacking runs up the field. But he never left his space too exposed.

There is postgame audio from both teams below. I know that many of you will want to discuss the news that broke tonight about "preliminary negotiations" between the Union and Villanova's football program.

In addition to Kerith Gabriel's story, I have a post up on my college sports blog, Soft Pretzel Logic, with more quotes from Union president Tom Veit. I'd like to keep the discussion about Villanova over there, even though the Union clearly have a role to play in how the story progresses.

From everything I have read in the media and heard from my sources, there is still a very long way to go with this. I would not make any assumptions about what will happen until we get official statements, especially as regards the decisions about what facilities Villanova will use.

That is especially true regarding PPL Park. There are dynamics at play with the Union and with MLS as a whole that are very specific to soccer facilities. They are unlike any Villanova would have to deal with at Franklin Field or Lincoln Financial Field. In particular, the philosophical objection on the part of the Union and MLS as a whole to gridiron lines at soccer-specific stadiums will be very, very hard to overcome.

The move to soccer-specific stadiums is a large part of what has brought Major League Soccer legitimacy from fans in the U.S. and around the world. When soccer teams play on top of gridiron lines, there is a definite feeling of second-class citizenship. Even those of you who are new to soccer can understand why that is the case.

Having said that, PPL Park also presents advantages in terms of scale, amenities and availability that the Linc and Franklin Field do not offer.

So let's take the discussion from here to my other blog, and use the rest of this space to discuss the Union's first shutout of the season. I'll be back tomorrow with more thoughts on the game in Take Two.



Jonathan Tannenwald, Philly.com
Time: 6:00 p.m. EDT
Venue: PPL Park, Chester, Pa.
TV: Fox Soccer Channel (Brian Dunseth, Christopher Sullivan, Katie Witham and Todd Grisham)

Injury Report

Philadelphia Union

Doubtful: D Juan Diego González Alzate (left groin strain)
Questionable: D Toni Stahl (right ankle strain), M Eduardo Coudet (right calf strain)
Probable: D Michael Orozco Fiscal (left hamstring strain)

Chicago Fire

Out: M John Thorrington (right hamstring strain), M Marco Pappa (right hamstring tightness), F Brian McBride (left quad contusion)

In case you hadn't heard, McBride is retiring at the end of this season. This will be his first, and only, appearance in Philadelphia as a professional soccer player. I will be very interested to see what kind of reception he gets from the fans.

I know that Philadelphia is not a town that treats visiting players kindly, but I've heard discussion among some members of the Sons of Ben that McBride deserves a good cheer when he is introduced. He is certainly one of the best players in U.S. national team history, and arguably its best ever pure striker.

I'll be chatting live from PPL Park during the game. You'll find the SEPTA schedule below the chat console. Note that there is extra service to and from Delaware for the evening.
Pregame service
From Center City
| | | | |
| --- | --- | --- | --- |
| Market East | Suburban | 30th Street | Chester |
| 1:29 p.m. | 1:34 p.m. | 1:38 p.m. | 2:03 p.m. |
| 2:29 p.m. | 2:34 p.m. | 2:38 p.m. | 3:04 p.m. |
| 3:29 p.m. | 3:34 p.m. | 3:38 p.m. | 4:03 p.m. |
| 4:29 p.m. | 4:34 p.m. | 4:38 p.m. | 5:04 p.m. |
From Newark, Wilmington, Marcus Hook and Chester
| | | | |
| --- | --- | --- | --- |
| Newark | Wilmington | Marcus Hook | Chester |
| ----------- | 2:36 p.m. | 2:48 p.m. | 2:54 p.m. |
| ----------- | ----------- | 3:47 p.m. | 3:53 p.m. |
| ----------- | 4:36 p.m. | 4:48 p.m. | 4:54 p.m. |
| ----------- | 5:35 p.m. | 5:47 p.m. | 5:53 p.m. |
Postgame service
To Center City
| | | | |
| --- | --- | --- | --- |
| Chester | 30th Street | Suburban | Market East |
| 8:54 p.m. | 9:20 p.m. | 9:25 p.m. | 9:30 p.m. |
| 9:43 p.m. | 10:10 p.m. | 10:15 p.m. | 10:20 p.m. |
To Marcus Hook, Wilmington and Newark
| | | | |
| --- | --- | --- | --- |
| Chester | Marcus Hook | Wilmington | Newark |
| 9:04 p.m. | 9:10 p.m. | 9:21 p.m. | ----------- |
| 10:55 p.m. | 11:01 p.m. | ----------- | ----------- |
Jonathan Tannenwald, Philly.com
The FIFA World Cup bid inspection delegation left the United States yesterday afternoon, and U.S. bid chair Sunil Gulati looked back at the visit in a conference call with reporters this morning. I've put together a photo gallery from the inspection trip, and over the weekend I'll have some videos as well.

The U.S. presentation brought everything it could. Even the most diehard Eagles fan would have to admit that the other three stadiums in the NFC East - Giants Stadium, FedEx Field and Cowboys Stadium - are impressive facilities. The delegation also visited stadiums in Houston and Miami.

"I think all decisions in our lives come down to your ability to impress people," Gulati said. "This was a technical inspection - they will be writing down pros and cons, they won't say the World Cup should go to country X or Y."

Certainly, the U.S. bid has some issues to look at. Gulati said that the main questions during the inspection visit were about transportation and other logistical issues - airports, hotels, and so forth.

In addition to moving fans between cities, moving fans within cities is always an issue - specifically via public transportation. As many of you have pointed out in the comments, places like Miami and Phoenix don't have the level of public transportation that Philadelphia, New York and Washington do.

"The typical experience around an NFL game, where most or many people are driving and tailgating, is not what a World Cup will look like," Gulati admitted. He said that the World Cup bid incorporates "either existing infrastructure or things that can be put in place on a short term basis, like at the Super Bowl [where] they run hundreds of buses. And any public sector plans between now and 2018 or 2022, [if] there are plans in those cities to add light rail or other public transport."

Another infrastructure matter that the bid inspectors looked at was training facilities. The inspectors visited Red Bull Arena and George Mason University's soccer facility as examples. In Philadelphia, we'd probably see PPL Park, the NovaCare Center, and facilities at area colleges used by teams.

Finally, there is an issue that will resound a lot with soccer fans - the width of the playing surfaces at NFL Stadiums. In 1994, some concessions were made to stadiums that could not get their surfaces to the FIFA standard width. That won't happen this time.

"All of our venues can get to 75 yards, 68 meters," Gulati said. "We've assured FIFA we can get to international dimensions, and that we can do it in a cost-effective way."

And if one or two of the 18 cities currently in the bid can't do that, they'll probably be dropped. The final World Cup package will probably have 12 to 15 cities in it.

As for the ever-popular Fan Fests, those can be spread around on a much wider scale. The bid inspection team saw three potential fan fest sites in current bid markets: the National Mall in Washington, a site near the convention center in downtown Houston, and a beach site near Miami.

"We can all think of places in our American cities, the great public spaces that exist," Gulati said. "And we will talk about cities not hosting games that can host fan fests."

Gulati said he can think of "multiple" places in Philadelphia that would work as fan fest sites. He didn't name any specific sites, but certainly we can discuss it here. Would you like to see the Ben Franklin Parkway near the Art Museum as a site? What about Penn's Landing?

In the end, a lot of this will come down to power-point presentations and backroom negotiations. The final vote will be as political as any American presidential election. There are 24 people on the committee that will cast the final votes on which nations will host the 2018 and 2022 World Cups.

"Some [voters] will be very strong supporters regardless of what the report says," Gulati said. "CONCACAF [as a voting block], for example, which is supporting our bid, is unlikely to be swayed by anything negative in our report because they are supporting us."

Similarly, you can be sure that voters the Asian confederation will support an Asian nation, such as South Korea or Qatar. The swing votes will probably come from Africa and Europe, especially if a European nation hosts the 2018 World Cup. That is highly likely.

So what do you think? Will the U.S. bid be successful? Share your thoughts in the comments.
Jonathan Tannenwald, Philly.com
Sorry this took so long to put together, as I've been busy with other work for the last few days. Let's first round up a few news items of note.

- The FIFA World Cup inspection team arrived in New York yesterday. There are some photos of the group's visit to the Meadowlands and Red Bull Arena here. There's also a short video of a press briefing by U.S. Soccer Federation president Sunil Gulati here.

There's also a short story on the reception with representatives of the 18 cities in the current bid package here. It mentions that "Philly cheesesteaks" were served to attendees. There's no word as to whether they came from Pat's, Geno's or Jim's. Attendees also dined on "sushi from Los Angeles, lobster rolls from Boston, crab cakes from Baltimore [and] peach cobbler from Atlanta." Sounds tasty.

You already knew the names in the Philadelphia delegation. Other attendees included ESPN senior vice president and GM John Skipper; New York mayor Michael Bloomberg; Atlanta mayor Kasim Reed; Nashville mayor Karl Dean; and Seattle Sports Commission executive director Ralph Morton. The Seattle Times' Joshua Mayers tallked to Morton earlier this week before heading to New York.

It's all very formal and political, but it's also important. FIFA's bigshots enjoy being wined and dined, and there's definitely plenty of that on this trip. The group will have breakfast at the White House today; it's not yet known whether President Obama will attend. There's more from the Washington Post's Steven Goff about the trip to D.C. here.

- Chicago Fire defender Gonzalo Segares won't play in Saturday's game against the Union after being suspended an extra by Major League Soccer for a red card foul. Segares was sent off in the 21st minute of Chicago's game this past Saturday against Los Angeles. He elbowed Galaxy defender Leonardo in the head, as the two jostled in the box going up for an in-swinging free kick.

Segares was sent off immediately. Any red card draws a one-game suspension, which put Segares out of tonight's game at Toronto, and a $250 fine. MLS' disciplinary committee doubled the suspension and the fine.

- U.S. women's national team head coach Pia Sundhage has named a 30-player preliminary roster for her squad's two friendlies against China next month, including the October 6 game at PPL Park. There are four Independence players: defender Heather Mitts, midfielders Lori Lindsey and Joanna Lohman, and forward Amy Rodriguez.

Sundhage will open a training camp on September 20 at Kennesaw State University Soccer Stadium near Atlanta, where the first game against China will be played on October 2. Not all the players will report on opening day, as some of them (likely including the Independence players) will be involved in the WPS playoffs. Players will report as their teams' seasons end.

The group of 30 will be cut to a group of 18 for each the friendly matches. A 20-player roster will be then be named for the CONCACAF World Cup Qualifying tournament, which runs from October 28 to November 9. Those games will be played in Cancun and Playa Del Carmen, Mexico.

Here's the group of 30 players:

Goalkeepers (4): Nicole Barnhart (FC Gold Pride), Jill Loyden (Chicago Red Stars), Alyssa Naeher (Boston Breakers), Hope Solo (Atlanta Beat)

Defenders (9): Rachel Buehler (FC Gold Pride), Stephanie Cox (Boston Breakers), Whitney Engen (Chicago Red Stars), Ali Krieger (FFC Frankfurt), Amy LePeilbet (Boston Breakers), Heather Mitts (Philadelphia Independence), Christie Rampone (Sky Blue FC), Meghan Schnur (Sky Blue FC), Brittany Taylor (Sky Blue FC)

Midfielders (12): Yael Averbuch (Sky Blue FC), Shannon Boxx (FC Gold Pride), Tobin Heath (Atlanta Beat), Sarah Huffman (Washington Freedom), Kristine Lilly (Boston Breakers), Lori Lindsey (Philadelphia Independence), Carli Lloyd (Sky Blue FC), Joanna Lohman (Philadelphia Independence), Kelley O'Hara (FC Gold Pride), Heather O'Reilly (Sky Blue FC), Megan Rapinoe (Chicago Red Stars), Lindsay Tarpley (Chicago Red Stars)

Forwards (5): Lauren Cheney (Boston Breakers), Sydney Leroux (UCLA), Alex Morgan (California), Amy Rodriguez (Philadelphia Independence), Abby Wambach (Washington Freedom)
---
Now, finally, we get to your player ratings from the Union's 1-1 draw with Kansas City this past Saturday at PPL Park. A reminder that if you want to participate, just email me and I'll add you to the survey listserv.

Goalkeeper

Chris Seitz: 2.20
- "Seitz is the soccer equivalent of George Hegamin: looks like Mr. Universe, plays like the Little Sisters of the Poor." (Peter N.)

Defenders

Danny Califf: 4.40
- "Jimmy Conrad provided a great example of a steady defender and leader that we should have on our backline." (Robert Gregory)
- "What does Califf add to this team besides cool hair?" (Peter N.)

Juan Diego González Alzate: 5.00
- "He took a knock in the forehead that would make Rocky proud and didn't even require medical attention. But, he still seems to make a few miscues with his touch or marking. (Robert Gregory)

Jordan Harvey: 5.20

Michael Orozco Fiscal: 5.20
- "Califf, Gonzalez, Harvey and Fiscal played better then they had in recent league games. I want to know why they don't play the way they do in friendlies in league games." (Joe Gallelli)


Midfielders

Andrew Jacobson: 4.60

Justin Mapp: 6.20
- "Glad to see him get the start and what a great ball to setup the goal!" (Robert Gregory)

Stefani Miglioranzi: 5.75
- "He still makes mistakes with his touch or poor passing that mystifies me with his experience." (Robert Gregory)

Amobi Okugo: 5.00
- "I was really happy with his overall play, though he made some rookie mistakes and a few too many touches in a row. His cross early in the came was almost perfect." (Joe Gallelli)

Roger Torres: 5.60
- "I'm glad to see he's healthy again, because his creativity and flair put the opponents on their heels. He's taking fewer touches and making smarter decisions. With some more experience and growth, he could be part of a "magic triangle" - à la Etcheverry, Diaz Arce and Moreno of D.C. United - with Le Toux and Mwanga." (Robert Gregory)

Forwards

Sebastien Le Toux: 6.60
- "Le Toux and Mwanga get high ratings for the first half and the goal, but they seemed lethargic in the second half." (Joe Gallelli)

Jack McInerney: 4.75

Alejandro Moreno: 4.50

Danny Mwanga: 6.20
- "He's grown into a fine striker that is taking fewer touches and uses them wisely with more precision than he did in the beginning." (Robert Gregory)