Archive: March, 2011
Jonathan Tannenwald, Philly.com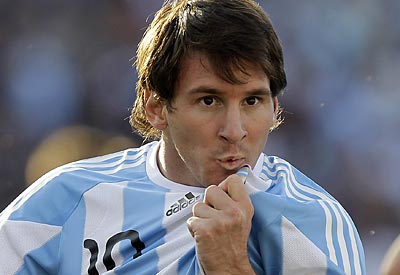 Yesterday afternoon, I got an exclusive interview with ESPN's lead soccer play-by-play voice, Ian Darke. He is in New York this weekend to call the U.S.-Argentina friendly at the New Meadowlands Stadium tomorrow night on ESPN2 (7 p.m.).
If you were paying close attention to your Inquirer this morning, you might have noticed that both of the upcoming U.S. national team games were mentioned in the "7 Hot Games" box on the weekly Soccer Report page.
(Hint: It's on page D2 today.)
Jonathan Tannenwald, Philly.com
Peter Nowak and Danny Califf met the press this afternoon at PPL Park ahead of the Union's home opener against Vancouver. Kerith Gabriel of the Daily News was there, and has this preview of Saturday's game.
Jonathan Tannenwald, Philly.com
Here we go again with another season of your player ratings from each Union game. We have a lot more voters this year, which I'm very happy about. If you'd like to join in, just email me and I'll add you to the list.
Goalkeeper
Faryd Mondragón: 8.17
- "The new captain has a clear calming presence on the rest of the team, especially the defense." (Isaac B.)
- "Mondragon just oozes confidence, charisma and leadership. Barely touched the ball yet had a huge influence on his team." (Alex Seldin)
Jonathan Tannenwald, Philly.com
The big international soccer tournament this summer will take place on the women's side of the game. Sixteen of the world's top national teams will gather in Germany for a World Cup that is shaping up to be the biggest spectacle for the sport since the 1999 Tournament here.
Yes, that includes the 2003 tournament that was played in the United States, including games in Philadelphia. That's in part because it was moved out of China at the last minute, but Germany is due some real credit. The nation has embraced women's soccer more than any other European country, and now will host the Women's World Cup for the first time.
The word from FIFA is that the famed Olympic Stadium in Berlin will be sold out for Germany's opening match against Canada. With a capacity of 74,228 seats, that will make for one of the largest crowds in women's soccer history. Other matches already sold out include Germany's two other group games, one of the quarterfinals, both semifinals and the final.
Jonathan Tannenwald, Philly.com
I didn't get to watch the Union's 1-0 win over Houston until yesterday evening, so I can't fairly call this piece Take Two the way I usually would.
But I figure I might be able to get a few of you talking today, especially if you're stuck at your desks looking for a lunchtime soccer fix. So here are my thoughts on Saturday's game.
- Danny Califf sent a much different message in his first game of 2011 than he did in his first game of 2010. Last year at Seattle, Califf was booked just 16 seconds into the match for landing an arm in Fredy Montero's face. This year, Califf pounced on a loose ball in the box to score a goal in the fourth minute. Califf only commited one foul in the game on Saturday, and in general seemed much more composed and positionally aware than he did last year.
Video: Union defender Danny Califf talks about the goal he scored in Saturday's opening 1-0 win over Houston. It was his first goal as a Union player.
Video: Union manger Peter Nowak talks about the Union's 1-0 win over the Dynamo on Saturday night.
Video: The Inquirer's Marc Narducci reports on the Union's 1-0 season-opening win over the Dynamo.