Archive: May, 2011
Jonathan Tannenwald, Philly.com
TORONTO - When the halftime whistle blew at BMO Field, the Union appeared to be on the way toward by far their most impressive win of the season.
By the end of the game, the Union had to settle for just their most entertaining win - and the most goals ever scored in a game in the club's relatively short history.
After scoring three goals in the first half - including two in the first 11 minutes - the Union gave up two goals early in the second half, then scored three more in the last half hour in a 6-2 win over Toronto FC.
Jonathan Tannenwald, Philly.com
Time: 12:30 p.m. EDT
Venue: BMO Field, Toronto, Ontario
TV: Comcast SportsNet (J.P. Dellacamera and Taylor Twellman
Injury Report
Philadelphia Union
Jonathan Tannenwald, Philly.com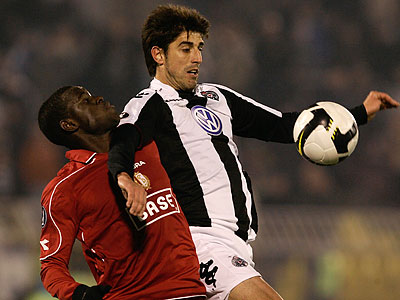 UPDATE: I'm told the signing isn't entirely official yet, or at least it wasn't as of this morning. But discussions are underway, and as Paunović tweeted yesterday, he was at PPL Park for the games against Los Angeles and Chicago. So I think there's something to this.
According to this report from major Spanish news organization AS, the Philadelphia Union have signed 33-year-old Serbian striker Veljko Paunović to a one-year contract.
In addition to the report, which was published May 21 (hat tip to The Brotherly Game for finding it), Paunović tweeted the following (in Spanish) on May 23:
Jonathan Tannenwald, Philly.com
Here are your player ratings for Saturday's game.

Goalkeeper
Faryd Mondragón: 6.75
- "Not one of his best games. Beat shortside badly on the only goal. He did seem to also get a slight deflection on the ball Williams deflected to save a goal." (Pete Olmsted)
- "I've noticed him anticipate/cheat on saves before, and it has cost us two goals: home to LA and Saturday." (Mark Nakahara)
Jonathan Tannenwald, Philly.com
If you pick up the Sunday Inquirer (which you should), you'll see my original story on the Union's 2-1 win over the Chicago Fire at PPL Park last night.
Because of the constraints of print, I wasn't able to get everything into the story that I wanted to. So here's an expanded version. There are video highlights and postgame audio interviews at the bottom of the post. There's also a video analysis piece from me that was shot by Philly.com's Sarah Kazadi.
And if it seems like I didn't go into all that much detail about Ruiz's goal, well... I didn't. It's hard enough to describe a strike like that in print, even harder to do so in a constrained space, and harder still when the game is ending right on deadline. Such is life.



Jonathan Tannenwald, Philly.com
Time: 8:00 p.m. EDT
Venue: PPL Park, Philadelphia, Pa.
TV: Comcast SportsNet (J.P. Dellacamera, Taylor Twellman and Bob Rigby) and Galavisión (Jorge Perez-Navarro, Diego Balado and Ivan Kasanzew)
Injury Report
Chicago Fire
Jonathan Tannenwald, Philly.com
There weren't too many comments posted this week, and the ones that I did get were primarily aimed at Peter Nowak. So I'm going to just post the player scores, and then the comments about Nowak.
A note regarding the player scores: they really all are that similar. Almost all the players got 5 or 6 ratings from the voters.

Goalkeeper
Jonathan Tannenwald, Philly.com
You may have heard some rumors about this, and they are true: the Philadelphia Union are in negotiations to host Real Madrid this summer at Lincoln Financial Field as part of the MLS-sponsored World Football Challenge.
The deal is not done yet, because there are a few major logistical hurdles that need to be cleared. As of now, though, here's what I know.
The projected date for the game is Saturday, July 23. The game would be the last of three matches for Real Madrid on a week-long tour of the United States.
Jonathan Tannenwald, Philly.com
Time and again this season, the question has been asked as to when the Peter Nowak would finally loosen the reins on the Union's offense.
Fans and neutral observers alike have wanted to see more of Roger Torres and Danny Mwanga in particular, especially after their strong performances as substitutes in the last few games.
On Saturday, that wish was granted, as Torres and Mwanga both started against FC Dallas. Perhaps Nowak sensed an opportunity for a road win, since Dallas was without injured playmaking star David Ferreira.
Jonathan Tannenwald, Philly.com
Here's how you rated the Union's performance in Saturday's 1-1 draw with Los Angeles at PPL Park.

Goalkeeper
Faryd Mondragón: 7.42
- "The Dragon was great and he earned some serious fans by gutting out what looked like a pretty serious groin injury." Dave Q.)
- "Faryd gets +1 for playing hurt and making a great save 0.2 seconds after making an appeal to the sideline referee." (Osager)