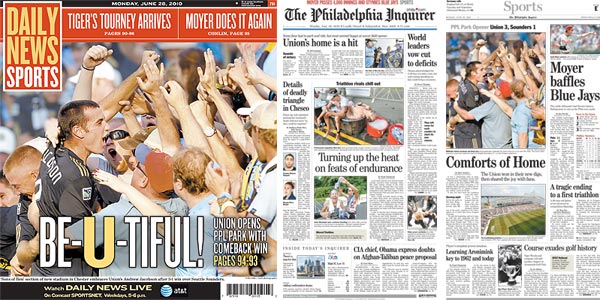 Philadelphia Union 3, Seattle Sounders 1
The game: Photos | Marc Narducci | Kerith Gabriel | Kerith on Jeff Parke | Seattle Times
The fans: Jeff Gammage | John Smallwood | Josh Fernandez | You Talkin' To Me?
Your eyes are not deceiving you. There really is soccer on the back page of the Daily News and the front pages of today's Inquirer A section and Sports section. I know you already went out and bought the papers, because you do every day (ahem). But just in case you haven't, you should.
Here are a few thoughts from me on last night's game, which I thought was the Union's most impressive performance of the season. Afterwards, you'll find game highlights and an audio player with postgame quotes from both teams. There are also two videos in the player at right: one of the pregame festivities and one of the Union's postgame press conference.
- I like the attacking trio Peter Nowak deployed yesterday. It had Danny Mwanga as a forward partnering with Alejandro Moreno, and Sebastien Le Toux behind them. Le Toux is capable of playing just fine as a forward, but he likes making runs from deep towards goal. Mwanga describes himself as an "attacking player," but I'm not convinced that he's best suited playing behind two other players.
Mwanga does better when he finishes the play instead of starting it. So he's well-served to be up front instead of behind the front line.
- Shea Salinas' versatility continues to impress. Earlier in the season, it was moving from midfield to left back. Today, Salinas started and played 90 minutes at right back. It's one thing to add defensive responsibilities to his work on the flank, but to change sides of the field requires a complete change in how the game is played.
- Chris Seitz remains a work in progress, but progress has definitely been made. Seitz's save of Pat Noonan's penalty kick turned the game around, and surely gave him a big boost of confidence. Yes, Seitz has struggled for a lot of this season. He may well have more problems as the season continues.
- Pat Noonan's goal at the end of the first half certainly was not Seitz's fault. The cross from Steve Zakuani took a deflection off Fredy Montero and flew past Cristian Arrieta and Jordan Harvey to the foot of a wide-open Noonan.
Arrieta was caught in no-man's land, and looked like he was anticipating a run from Montero. Harvey appeared to take a move towards Montero as the cross was played. By the time Harvey turned back around, Noonan was a step ahead and on his way to goal.
- It was good to see Fred get his first goal of the season. It was well-deserved, too, as the Brazilian had a couple good chances. The best of the bunch wasn't even his goal - it was a rasping low shot in the 71st minute that came after a nice cut inside from the left wing. Kasey Keller had to make an equally impressive diving save to push the ball wide.
I was initially worried that playing Fred, Roger Torres and Le Toux together in midfield would lead to the proverbial problem of having too many cooks in the kitchen. But the trio worked well together and kept the ball moving around to everyone.
- Why weren't all the seats filled? Yes, it was a sellout, but there were pockets of blue and gold along the sideline across from the press box. I don't know if it was the traffic or the hot sun or what, but you'd think the first ever game in a stadium should see every seat occupied.
- Having said that, the atmosphere was outstanding. And not just because the PPL Park press box is open-air, so I could actually hear it. The Sons of Ben brought it for all 90 minutes, and got some of the other sides of the stadium singing along with them. They even managed to create some kind of vuvuzela-like noise to distract Kasey Keller, No one in the press box could figure out how they did it.
The college basketball fan in me thinks the River End would sound even cooler with a few brass instruments to accompany the vocals. But that would require an overturning of the ban on artificial noisemakers at PPL Park - a rule which came into place explicitly because of the vuvuzelas in South Africa.
Who knew that humans could make the same sound?
- A few words about Seattle. Despite being loaded with attacking talent, their 4-3-3 formation is not working. A team with Fredy Montero, Freddy Ljungberg and Steve Zakuani should be one of the best in Major League Soccer, but the Sounders have scored just 14 goals in 13 league games.
I've seen the Sounders play 4-4-2 this year and get much better results. Having four in the midfield makes it more likely that a team will create one-on-one situations on the flanks. Steve Zakuani is one of the best wingers in Major League Soccer, but to make the kind of moves he's capable of I think he has to start wider out.
Playing three in the midfield and three up top reduces the amount of width that a team plays with - especially when two of those midfielders are Peter Vagenas and Patrick Ianni. Better to drop Zakuani back a bit and play two up top, with Montero partnering either Pat Noonan or Nate Jaqua.
- And one more question about the Union: When will Alejandro Moreno finally score? I know I've asked it before, but it's now almost July. He's done just about everything possible except put the ball in the net.
Please share your thoughts in the comments after checking out the audio and video. I'll be back tomorrow with your player ratings from the game.
Your browser does not support the audio element.