Independence make six picks in 2012 Women's Professional Soccer draft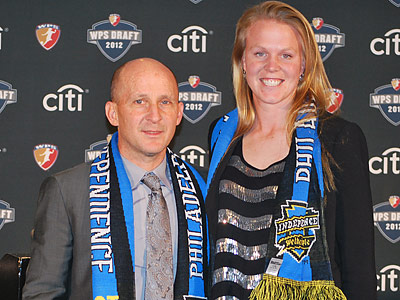 With their first-round pick in the Women's Professional Soccer draft, No. 5 overall, the Philadelphia Independence selected University of Wisconsin-Milwaukee forward Sarah Hagen.
Independence make six picks in 2012 Women's Professional Soccer draft

KANSAS CITY, Mo. - With their six picks in Friday's Women's Professional Soccer draft, the Philadelphia Independence selected three forwards, two defenders and a potential starting goalkeeper.
The team's first-round pick, No. 5 overall, was University of Wisconsin-Milwaukee forward Sarah Hagen.
From the people I've talked to out here, Independence coach Paul Riley has had his sights set on Hagen for a while. My understanding of her style is that she's rather like the Union's first-round pick yesterday, Chandler Hoffman - a pure finisher and a poacher in the box.
The selection of Hagen comes with a significant caveat, though. She's playing professionally in Germany right now, for Bayern Munich. I'm sure many of you have heard of the club's men's team.
Essentially, the Independence now hold her rights for when she returns to the United States. That is expected to happen when the Frauen-Bundesliga season ends in late May.
That's a significant amount of time to miss. But Hagen is likely to arrive just in time to step in for Amy Rodriguez when she leaves for the Olympics. We'll find out then if Hagen is as good as advertised.
With their two second-round picks, the Independence selected UC-Irvine defender Courtney Goodson and Florida State defender Toni Pressley. Goodson was in the room and got to go up on stage, which was a nice touch.
The Independence also had two picks in the third round. With the first of them, they chose Santa Clara goalkeeper Bianca Henninger. Rated as the best goalkeeper in the draft pool, it's likely that Henninger will stand in for Nicole Barnhart when Barnhart goes to the Summer Olympics.
With their second third-round pick, the Independence selected University of Portland forward Danielle Foxhoven. She tallied 57 goals and 25 assists in for years with the Pilots, one of the great programs in women's college soccer history. Paul Riley's final selection, in the fourth round, was Maryland forward Jasmyne Spencer.
How many of the Independence's picks do you think will contribute to the team in 2012?
---
As I wrote in this morning's Inquirer, Women's Professional Soccer gathers today for its draft amid yet another brewing storm.
The court case regarding Dan Borislow's dismissal and the termination of magicJack could legitimately shut the league down before the season begins. Be sure to check out my interviews with Independence owner David Halstead and head coach Paul Riley about the situation.
For now, though, the Independence and the rest of WPS' five teams can put the Borislow controversy aside.
The latest crop of college stars still holds dreams of making it to the pro ranks. Today represents their chance to step into the spotlight.
So come on by for live updates and commentary throughout the afternoon. The Independence hold six picks in the four-round event, starting with the fifth pick overall.
We can also talk about the Union's picks yesterday, or whatever other soccer matters are on your mind.
If you're on a mobile device, click here to follow along and post comments.